Madagascar Inland
Landscape: Dry, red hills with green river valleys on "haut plateau". Rainforest atop Montagne d'Ambre in the north. Isolated occurrence of "tsingy" which is intricately eroded limestone or sandstone.
Visited: 16 October to 19 October 2007.
For more about Madagascar, see the -- now illustrated -- Newsletters we sent out. Also, see our illustrated Madagascar Flora and Fauna pages for information and photos on lemurs, reptiles and birds of Madagascar.
For those folks thinking of visiting Madagascar, we recommend the excellent Madagascar Travel Guide site.
(Amanda) Inland Madagascar was fantastic! You can read about it in detail (and with more photos!) in my Madagascar Journal.
(Sue) Although our time in Madagascar was much shorter than we planned I was determined to get to the interior. We chose to create our own trip, arranging our transportation, lodging and itinerary and it worked out great despite the difficulties of independent travel. A working knowledge of French was pretty essential for this kind of travel and I enjoyed the chance to practice my rapidly rusting Français. Our goals in traveling inland were 3‑fold: to see the countryside, to get a taste of an inland city, and to get to as many nature reserves/parks as we could to see the wildlife, given how few days we had.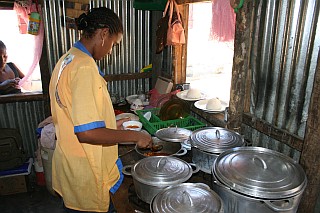 Hot lunch at a tin "hotely" in Madagascar
To see the Madagascar's landscape we chose to travel by power boat from Nosy Be Island to the mainland, which took us close to the west side of Nosy Komba with its dense forest. From the small village of Ankify we took a public mini bus, or "taxi brousse" (jungle taxi) up Madagascar's RN6, the only road to Diego Suarez. At the bustling town of Ambilobe the driver stopped and we 15 passengers piled out for some lunch. The only eatery was a "hotely", a small road-side shack with a few rough-hewn benches along the wall, big pots of food by the back window overlooking the dirt back yard where cook fires blazed in the sun to cook the food. We knew we were taking a chance with GI problems, but to the credit of the cooks, all seemed to be both well cooked and sanitary. No worries. The view from the mini-bus was of distant dry hills and nearby thatch huts arrayed in clusters. We only encountered the famous rainforests of Madagascar in the area of Montagne d'Ambre, a national park in the north. Because of time constraints and travel exhaustion, we flew back from Antsiranana (Diego Garcia) to Nosy Be on Air Madagascar.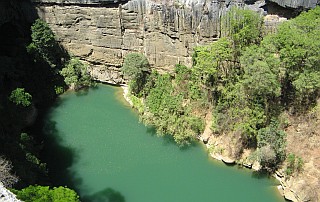 Beautiful, inaccessible Lac Vert, Ankarana.
The reserves we visited were Réserve Spéciale de l'Ankárana, Montagne d'Ambre, and Tsingy Rouge. Each is unique and beautiful in its own right. Because we had 2 days at Ankárana we took an evening walk and then a full day hike. With all the walking time, this park was my favorite of the trip. We stayed at Goulam Lodge just inside the park, and the owner, Goulan, himself was our hiking guide. He was charming and extremely knowledgeable. As we walked he would suddenly stop, look at us and say, "You are very lucky! Today you are very lucky!" That was the cue for us to find an animal he had spotted. Sometimes it was a small nocturnal lemur head poking out of a hole in a branch or perhaps a flat gecko camouflaged against the tree bark.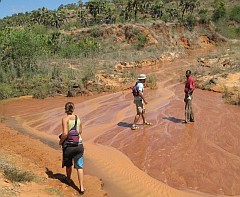 Madagascar's red earth flowing
en route to Tsingy Rouge
Our hike in Montagne d'Ambre took us through dense rainforest where we saw the world's smallest chameleon, new lemur species, and orchids in bloom. An extra full day there would have been fantastic as we barely had time to do the shortest walking loop and there was much more forest to explore. Our final reserve was Tsingy Rouge, a smaller version of the Madagascar's famous Tsingy de Bemeraha park to the south. For this trip we had just a driver (we needed a 4X4 to get there) who was neither an English speaker, nor a guide. But the sheer wonder of the tsingy was worth the kidney-jolting trip, the heat and the long drive. The place is reminiscent of Bryce Canyon, Utah, but smaller.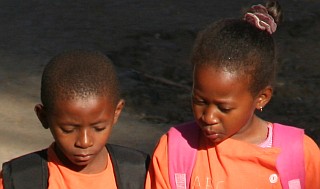 School kids in Diego Suarez, Madagascar
I enjoyed our 2 nights in Diego Garcia (known in Malagasy as Antsiranana) for the lovely restaurant we found and the views of the wind-swept bay below our hotel, the Jardin Exotique. What an incredible, protected harbor -- that is if you can brave the winds to get in from the ocean and tuck in close to shore! the town has a bit of a dilapidated feel to it -- the old hotels looking much worse for wear. But still it was nice to walk and drive the streets to see how the local people lived. We watched uniformed school kids tousling and chatting en route to and from classes, peddlers with unfamiliar foodstuffs on woven trays on their shoulders, business men and women going to work on bicycles or in bicycle-pulled rickshaws, and the usual busy-ness of a small city going about its day.
(Jon) Traveling around the interior of Madagascar is certainly an ethnic experience (unless you want to throw bags of money at it). But this is exactly why we like to visit third-world countries. You can't help but meet and interact with the local people, to learn their point of view, their values.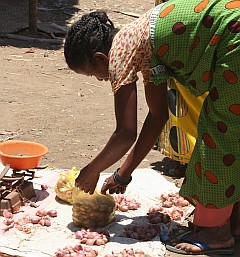 Malagasy woman selling garlic
This trip was mainly to learn about the natural environment of Madagascar. Personally, I was expecting a lush tropical countryside but apparently that's farther south and east, in the higher mountains. What we found was pretty arid, a dry countryside done in many hues of red earth. The people had very few possessions, less than anywhere else we've been, but they seemed happy and contented and proud. We saw lots of road-side stalls selling fruits or vegetables, but no beggars at all, which was a refreshing change from, say, Indonesia, where most of the kids think nothing of coming up to any boat and asking for sweets, money, or whatever meets their fancy.
Rather than our normal mad driving trip, we spent much of our time hiking through various national parks, usually with a naturalist/guide. This was wonderful, as many of Madagascar's animals are small and/or difficult to see.
Up | Madagascar Coast | Madagascar Inland | Madagascar Home | Madagascar Letters | Madagascar Journal | Mad Flora & Fauna | Cruising Madagascar
Indonesia | Singapore | Malaysia | Thailand | Nepal | India | Sri Lanka | Maldives | Chagos | Seychelles | Madagascar | Mayotte
Top Level: Home | Destinations | Cruising Info | Underwater | Boat Guests | Ocelot | Sue | Jon | Amanda | Chris | Site Map | Make a Comment
---
Lifetime
Commodores
of the
Seven Seas
Cruising
Association

If our information is useful,
you can help by making a donation
Copyright © 2000‑ Contact: Jon and Sue Hacking -- HackingFamily.com, svOcelot.com. All rights reserved.