Heading for India
Tuesday, 8 February 2011, Andaman Sea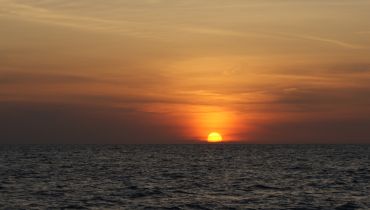 Glorious sunset on the Andaman Sea
Dear Friends and Family,
It is, once again, one of those glorious afternoons. The sea is a deep blue with only little flecks of whitecaps. The sky is a paler blue at the horizon, deepening overhead, with playful little cotton-ball clouds drifting to and fro on errands of their own. The air is heavenly - soft, warm, delightful, and blowing about 12 knots from the north. Ocelot's sailing northwest with all plain sail, happily bouncing over the small chop, close reaching at 5 knots. The fishing lines are out, the engines are (finally) off, and life is good.
We left you last in Thailand, at a bit of magic called Ko Rok Nok, frolicking in the clear water with our neighbors, Erik and Jules on board. Neither of them had ever done much snorkeling, so it was fun to show them our underwater world. We continued north with them, up into Phang Nga Bay, visiting the elaborate limestone formations, caves, and "hongs" - giant holes in the rock with vertical walls festooned with jungle vegetation and clear sky above. We explored on foot, in Tomcat (our dinghy) and underwater. Where possible, we explored restaurants ashore, sampling Thai curries as we talked over the day.
When Erik and Jules left we had a 3‑day break before Mike and Laura Jean arrived, which Jon spent trying to get our new washing machine working. Our Venezuelan washer died in Malaysia, its sides completely rusting away over the last 8 years (although the mechanism still mostly worked!) Our new one has plastic sides(!) so shouldn't rust. But it also has no pump, to pump the used water out (maybe we should have expected some shortcuts for only $200). So we had to build it a new platform to raise it up a foot or so to get it above water level. Then we plumbed it into one of our bilge-pump lines. Voila!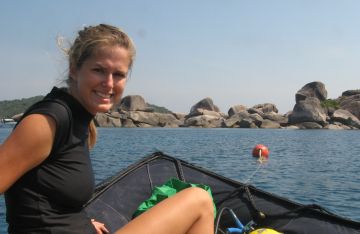 Rachel from Vamp before a dive in Similans
Laura Jean's an old hand at cruising, having circumnavigated with her parents in the 80s but it was all new to Mike. We explored more limestone formations, walked beaches, explored new snorkeling sites in search of exotic shells, had delicious Thai massages and thought about climbing some of the magnificent rock near Krabi, but sanity prevailed in the end. The wind came up towards the end of their week, giving us some great sails in the protected waters. Since Mike has that slightly translucent complexion blonds get in the northwest, he had to be very careful of the sun here. Even so, he went home about the color of a strawberry sundae.

After Mike and Laura Jean flew off to Bangkok, we were joined by our friends on Vamp and all headed over to the west side of Phuket Island to then sail 65nm northwest to the Similan Islands. These are far enough offshore to have beautifully clear water so we did lots of snorkeling and diving. But it was time for some new exploration.
So yesterday morning we dropped our mooring lines and headed across the Andaman Sea towards the Andaman Islands of India, almost 400nm away. We hope to make the crossing in 3 days, but for the first 36 hours the winds were light and mostly in our faces, forcing us to motor. After burning 100 liters of diesel, the winds have finally arrived, much to everyone's enjoyment. As we left the Similans, we were joined by South Africans Dez and Chris on their HUGE catamaran, Trigger, so we're now 3 boats sailing together. Always nice to have friends around in the middle of the ocean.
At noon today we were at 10°04'N 95°43'E, or about 140nm from the Similans with 200nm still to go to Port Blair. We're taking a slight dog-leg course to go north of an underwater sea-mount called Invisible Bank. All is well on board, if a bit sleep deprived as we get back into the rhythm of ocean passages with only 2 of us.
Fair Winds and Calm Seas -- Jon and Sue
India Letters: Up | Heading for India | Approaching India | Andaman Arrival | Swimming with Mantas | Glorious Sailing | Not a Bad Day | Bay of Bengal 2 | Bay of Bengal 3 | Friends are Good | Approaching Chennai | Chennai Arrival | Celebrities | Northern India
Destination: Laos Letters | Vietnam Letters | India Letters | Nepal Letters | Indonesia Letters | Malaysia Letters | Thailand Letters | Sri Lanka Letters | Maldives Letters | Chagos Letters | Seychelles Letters | Madagascar Letters | Mayotte Letters | Africa Letters
Top Level: Home | Destinations | Cruising Info | Underwater | Boat Guests | Ocelot | Sue | Jon | Amanda | Chris | Site Map | Make a Comment
---
Lifetime
Commodores
of the
Seven Seas
Cruising
Association

If our information is useful,
you can help by making a donation
Copyright © 2000‑ Contact: Jon and Sue Hacking -- HackingFamily.com, svOcelot.com. All rights reserved.