Northern India
16 April 2011, Chennai, India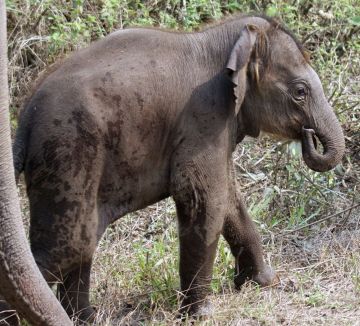 Baby elephant at Jaldapara Wildlife Sanctuary
Dear Friends and Family,
Since we last wrote we've done a 3‑week inland tour of northern India. We visited another game park, toured an organic Tea Plantation, rode on a narrow-gauge railway, and explored several hilltop towns. But the most fun was an 8‑day camping trek into the Himalayas to see Mt Kanchendzonga (Kanchenjunga), third highest mountain in the world!
We left Chennai and flew to Calcutta, then on to the access point for the Himalayas in Eastern India: Bagdogra. We met our friends on Vamp there (they'd been touring the Deli/Agra area). Sue had arranged for a private jeep that took us east through low-land tea plantations to our hotel at the Jaldhpara Wildlife Preserve. The next morning we did both jeep and elephant safaris in the preserve, watching barking deer, sambar deer, mongooses, one‑horned rhino and many birds.
That afternoon we drove back past Bagdogra and then north into the West Bengal Hills, where we spend the night at home stays on the regions first (and only) organic tea plantation: Makaibari Tea Estates. Very basic homes and outhouses (ours was still under construction) with only footpath access but all built tightly on the steep hills. Got a tour of the newly operating factory (plucking season had just begun) and a guided walk through the fields.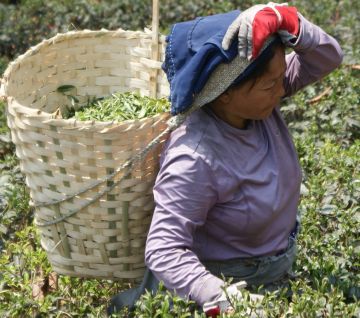 Tea plucker, Makaibari Organic Tea Estate
At 3pm we caught the 100‑year old narrow-gauge "Toy Train", a great 3-hour ride. It winds slowly up the hills to Darjeeling, passing through small villages and giving great views. They have both diesel and at least 3 cute little steam engines making the run. First class has comfortable seats (which faced backwards) but second class was packed in like sardines.
We stayed in Darjeeling for 2 nights at the lovely Dekeling Hotel. You have to walk up 3 flights of stairs (past 2 restaurants) just to get to the reception area, and then another 1‑3 flights to get to your room. At 7,000' (2100m) elevation, this can get you winded. But it has lots of polished wood, a lovely Tibetan owner and a great guest area to mingle with other travelers with heater, lounge chairs, sofas, tea on request and great views of both the mountains and the town. We wandered the small streets of this hilltop town, ate in numerous tiny restaurants and bought warm clothes for our upcoming trek.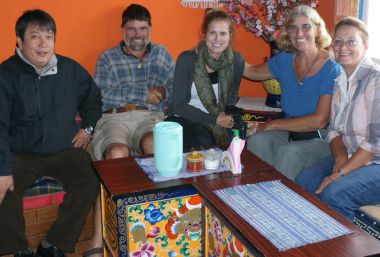 Sailesh Pradhan and the gang at lunch, Gangtok
Since we were still 5, we again bought a private "jeep" (actually a knock‑off, built by the Indian car manufacturer Tata) for the 5 hour trip to Gangtok. On the way we stopped in at the famous Rumtek monastery, where we saw and heard the Buddhist monks praying and playing their numerous (and unharmonious) bells, horns, cymbals and drums. Strangely, there were several military armed guards about, as they'd had some troubles there earlier.
Gangtok is in Sikkim, which was an independent kingdom until annexed by India in 1975 (Sue had met the king, or chogyal, in 1974). There we were met by the wonderful Sailesh Pradhan, who Sue has known since 1992. Sailish runs a nursery and tour agency (Sikkim Adventure) and had organized our whole trek for us. He and his father are instrumental in directing how tourism will develop in the Sikkim Himalayas. They don't want it to become like Nepal, but want it preserved more as a wilderness. The problem is that, while they want to cater to high-end tourists, those folks usually don't want to sleep in tents. We had one day in Gangtok with Vamp to explore the cute markets and shops and restaurants before they left to return to their boat in Chennai.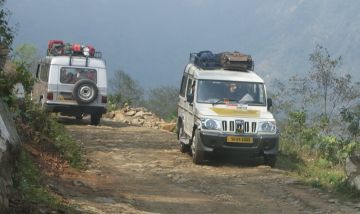 Jeep travel in Sikkim demands strong nerves
The next morning we took a "share-jeep" 5 hours west to our trail-head at Yuksom. Most road transportation in the mountains is by "share-jeep" where they pack 2+driver in the front seat, then 4 in each of the 2‑3 rear seats (and sometimes some on the roof, which is always packed high with luggage). This might be OK for Indians but doesn't leave much legroom for us, so we ended up buying both front seats and 2 spots in the next seat back, so we'd have enough room. These "jeeps" are built in India. They're only 2 wheel drive and the roads are brutal so they're pretty tired vehicles, usually with retread tires, suspensions that clunk ominously and no seat-belts or other amenities. The roads wind up and down precipitous cliffs as they cross over a mountain ridge only to dive down to cross a river before climbing up the next ridge. Pretty hairy.
That night we got a big hotel room to sort out all our stuff. The next morning we were met by our guide, Thupten (also Sue's guide from her 1992 Sikkim trek) who directed the loading of the Tibetan ponies. It's been said that trekking in Sikkim is like Nepal 30 years ago, and that's mostly correct. There are few support services in these mountains, so a camping-trek is necessary. (It's also the only legal way for foreigners to trek there!) Our entourage included Thupten as guide, a cook, 2 helpers, and a horseman to handle the ponies. Gear included sleeping bags for us (including hot water bottles!), a brand new tent, comfortable sleeping mats, a huge cook-tent, table and chairs, a vast array of cooking implements, and even a toilet tent! We carried kerosene for cooking as we're not allowed to use wood.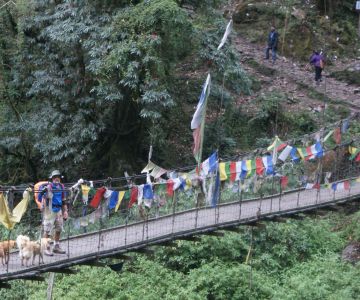 Jon on one of many bridges on the trail to Tshoka
Thupten had specified ponies instead of Yaks (actually a bovine cross-breed called Dzo or Dzopkyo). Dzo tend to hibernate a bit in the winter and he felt they weren't strong enough yet for trekking. He was probably right, as 2 dzo died on the trail while we were up there.
We were served 3 delicious meals a day plus a snack (and warm washing water!) when we arrived at our day's destination. Tea or hot lemon (or even hot ginger-lemon!) was served with all meals. Breakfast was usually an omelet, toast and porridge but sometimes included French toast or pancakes with honey or Druk "mixed-fruit" jam. Lunch and dinner always started with delicious hot soup and finished with some sort of fruit for dessert. In between would be rice or some sort of bread with 3‑4 other dishes like curried vegetables, fried chicken, dal (lentils), potatoes, stews, green beans, and even pizza. All of this was varied to stay interesting, and hygiene was never a problem. Looking at what other trekkers got, ours was definitely a high-end trek.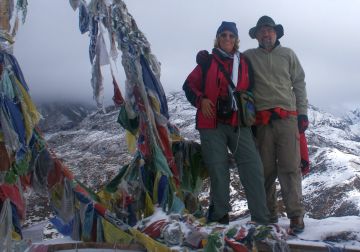 Frozen prayer flags & snowy views on Dzongri hill
We started up into lush forest, massive trees covered in thick moss and huge split leaf philodendron. Our trailhead started at 6,000' (1800m), crossed the Teesta River at 7,000' (2100m) and over 7 grueling hours we climbed up through light rain to the tiny trekking village of Tshoka at 10,000' (3000m). Here we actually had a real (but very rustic) room with hard beds and a fire we could warm up by. We decided to take an acclimatization day at Tshoka but we still got up early to see the views of Mt Pandim and the other high mountains ahead of us. Mornings are usually clear and the best time for these views. After breakfast we visited the tiny monastery, spun the prayer wheels (clockwise, always) and took a short loop-trail through thick rhododendron and magnolias with Thupten telling us more about the area's flora.
From Tshoka we went up another 3,000' (1000m) to Dzongri at 13,000' (4000m), a small yak-herding village. The trail wound through rhododendron forests with some species blooming, but the rain started early. At 11,500' (3500m) it turned into corn-snow, which was actually better as it tended to bounce off us. The trail was often rock steps (falling into disrepair with all the animal traffic) or wood slats which were better but could only be used on flat terrain. The trees gradually gave way to dwarf rhododendron (R. anthopogan) and other low shrubs as we climbed above the tree line. Dzongri actually had a building with rooms to stay in, but all of them were full with other trekkers so we stayed in our snug new yellow tent.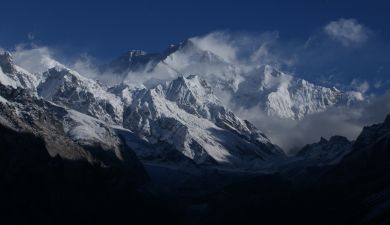 Kanchenjunga view from above Thangsing in early morning
Got up at 5am to hike up 1,000' (300m) to a hilltop viewpoint to see the snow-capped mountains. Got peek‑a‑boo views of several, including Mt Kanchendzonga, but the clouds came in fast so we went down to our camp and had breakfast in the cook-tent. We could have spent another night at Dzongri to acclimatize, but instead opted to hike to Thangsing, as it's much the same elevation. After climbing up from Dzongri, the trail did a fairly level traverse through snow and dwarf rhododendron before dropping 1,000' (300m) down through thick rhododendron forest to cross the Prek Chu river. There was a small hut at the river which provided protection from the corn-snow for a delicious hot lunch. From there we walked north up the river, along the Thangsing valley, slowly climbing above the tree-line again.
Thangsing has a couple of huts but they're very broken down, with walls and roofs missing. Here we rescued a 22-year-old Bianca (from California) who'd been abandoned by her guide! She'd been given a porter (who spoke little English) but insufficient food and no tent. Thupten generously allowed her to sleep in the cook-tent with our entourage and she ate our food (there was always more than we could eat). Apparently there are several fly‑by‑night trekking companies who will offer budget treks that don't come anywhere near expectations, as we saw a few other instances of people being "rescued".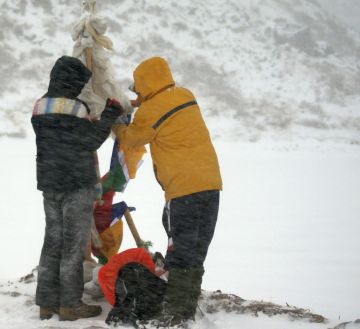 Bianca & Thupten string prayer flags in a blizzard
The next morning we were again up before the sun to climb east up a neighboring ridge. An Indian group (5 guys in 1 tent and no guide) joined us, but they stopped at the first view of Mt Kanchendzonga. We continued climbing up the ridge, eventually reaching 14,500' (4400m) for some stunning views of all 5 peaks of Mt Kanchendzonga as well as the entire Kabru range to the left and Mt Pandim looming above us.
When the clouds came in we returned to our camp for breakfast and our only opportunity to wash our hair, which amused all the locals. Our hike that day was pretty short, just continuing a few miles up the wide Thangsing valley to the foot of the glacial moraine at Lamuney (a grandiose name for a wide spot on the trail with the walls of a single broken-down hut). On our way we spotted a herd of wild "Blue Sheep" with their huge curled-back horns! Our tents were setup in the depression of an old stream-bed, to provide some protection from the strong winds coming up the valley.
It was only at Lamuney that we came across our first Mani-stones, piled into walls. These are flat rocks into which prayers have been laboriously chipped (usually "Ohm‑Mani‑Padme‑Hum"). The Mani‑walls are placed along trails, and hikers are expected to leave them to their right as they pass. That way, when you return down the same trail, you will have circled the Mani‑stones clockwise, which will send all the prayers off to where they need to go. We saw Mani‑walls all over Nepal, but Sikkim had fewer.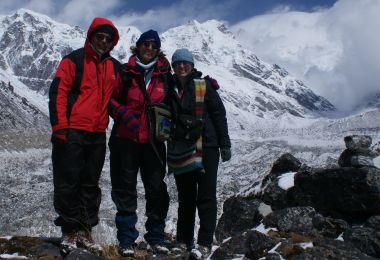 Kabru Peaks & Goechala (rt) at our high point w/Bianca
The next morning we got up very early for a quick breakfast in the cook-tent. It was blizzarding outside with snow and a fierce wind behind us, but we decided to try to go up to the viewpoint anyway. We climbed up over several moraines until we got to sacred Simiti Lake. Here Thupten struggled to put up a string of prayer‑flags he'd brought. We weren't looking forward to having to face into the wind on the way back to our camp, but as soon as the prayer‑flags were up, there was a flash of lightning, a crash of thunder, and ... the wind started veering! It started coming from the side of us as we made our way back down to our camp for a snack of hot lemon and popcorn. But after our snack we looked outside and saw ... blue sky! The blizzard had passed and it wasn't snowing anymore and we had clear skies! (Very effective prayer‑flags!) So we set out once again, climbing up past Simiti Lake and continuing up past more moraines to an excellent viewpoint above the glaciers. Here we could see the entire Kabru range, Mt Kanchendzonga, Mt Pandim, and several lesser peaks all looking down on us as our camera shutters clicked madly. The sun was warm when we got out of the wind, and we were able to find enough protection for a restorative snack after our strenuous climb.
We got back to our camp, packed up, and walked back down past Thangsing to the hut at the Prek Chu River. We slept inside the hut, but it was old and funky enough that there were certain places we couldn't step or we risked falling through the floor. There's a short-cut from here that bypasses Dzongri but it stays low, in the forest, and the trail is reputed to be narrow and muddy. Since the next morning dawned bright and sunny we decided not to take the shortcut but to hike back up the 1,000' (300m) to the high traverse, as we knew it would have beautiful views that we hadn't seen on our way up, when we'd been hiking in clouds. There was still considerable snow on the ground up high but the views more than made up for it. Dwarf rhododendron (R. anthopogan) emits a lovely smell when it gets warm so we had delightful smells as well. Lunch was in a shallow depression on a ridge-top above Dzongri at 13,500' (4100m) with excellent views on both sides.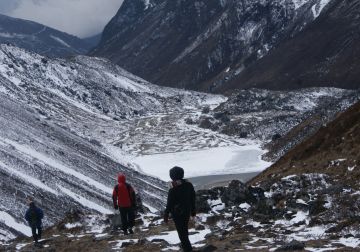 Long trail down, past Samiti Lake, towards Thangsing
We spent the night at Tshoka and continued down to Yuksom the next day. That night was the day before Jon's birthday so the cook prepared a sumptuous meal that included a frosted cake with the words "Happy Borday Jon" written in icing.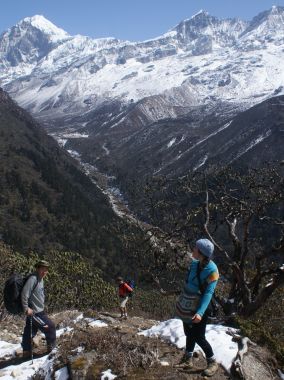 1000' up from Prek Chu, Pandim on left
We had booked one more day of trekking, but due to the extreme cold at night (always below freezing) and Sue's new head cold, we opted for leaving the mountains one day early. We made good use of that day by taking a side trip (again by share jeep) to the hilltop town of Pelling, Sikkim, which is famous for it's mountain views and beautiful old monasteries. We found a nice hotel near the ridge of upper-town with a rooftop veranda and restaurant. Here we shared a real birthday dinner with new trekking friends, had long hot showers, then fell into soft beds.
Next morning saw us in another jeep for the 5 hour trip back to Gangtok. We wanted to see Sailesh again, and to meet up with TD, one of the guides that had helped Sue's father get to the Dzongri viewpoint (almost 14,000' or 4200m) in 1992 when he was 83! We had a couple of relaxing days in Gangtok, then took a jeep back to Darjeeling where we spent the weekend. Both Sailesh and Thupten offered connections for us to visit Jamling Norgay (son of Tenzing Norgay Sherpa, who climbed Mt Everest with Hillary in 1953) at the family home in Darjeeling. Sue bought one of Jamling's books (which he signed!) "Touching my Father's Soul" about his own experiences climbing Everest in 1996 with the IMAX expedition, in the wake of the many deaths on the mountain that season. Jamling and his wife Soyang were personable and friendly and we enjoyed tea and a visit to the family museum. Jamling also knows our dear friend Pema, from Khumjung, Nepal, as he has stayed in her home several times (and wrote about her in his book). Our last day in the mountains we spent at the Himalayan Mountaineering Institute and the neighboring 60-year-old zoo of Himalayan animals, to see our first Red Pandas. It's nicely done with big enclosures akin to those in Seattle.
After more share jeeps and airplane rides and 3‑wheeled auto rickshaws we're back aboard Ocelot in Chennai harbor. The coal dust and crows made a major mess of the deck and it took more than 5 hours of 2 of us scrubbing (with running hose) to clean it up. Then there was the inside ... and the port engine ... and the laundry. We plan to leave on Sunday the 17th and will be taking a Chennai friend, Shantha Ravikumar, with us as crew. She is a competitive laser sailor here with the Tamil Nadu Sailing Association and great fun. It'll be nice to have more crew for night passages and a fun friend aboard!
Fair winds and calm seas -- Jon and Sue Hacking
India Letters: Up | Heading for India | Approaching India | Andaman Arrival | Swimming with Mantas | Glorious Sailing | Not a Bad Day | Bay of Bengal 2 | Bay of Bengal 3 | Friends are Good | Approaching Chennai | Chennai Arrival | Celebrities | Northern India
Destinations: Laos Letters | Vietnam Letters | India Letters | Nepal Letters | Indonesia Letters | Malaysia Letters | Thailand Letters | Sri Lanka Letters | Maldives Letters | Chagos Letters | Seychelles Letters | Madagascar Letters | Mayotte Letters | Africa Letters
Top Level: Home | Destinations | Cruising Info | Underwater | Boat Guests | Ocelot | Sue | Jon | Amanda | Chris | Site Map | Make a Comment
---
Lifetime
Commodores
of the
Seven Seas
Cruising
Association

If our information is useful,
you can help by making a donation
Copyright © 2000‑ Contact: Jon and Sue Hacking -- HackingFamily.com, svOcelot.com. All rights reserved.