Friends are Good
Monday, 28 February 2011, 240nm from Chennai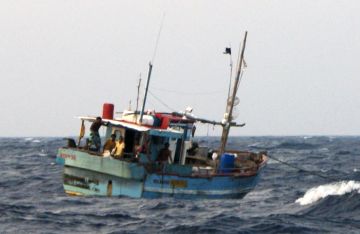 Fishing boat anchored at sea, 300 miles from India
Dear Friends and Family,
As we mentioned yesterday, there's a go‑fast cat up in front of us called Out of the Bag. They arrived in Chennai at about 3pm yesterday, only to be met by a police boat and told to go away! How sad to have sailed 750nm and then be told that! Some officials have no idea of the unnecessary pain they sometimes inflict.
Luckily, a guy we've been corresponding with from the local Sailing Club was out on the water with his family (it being Sunday) and saw this happening. He went over to Out of the Bag, got their particulars, and phoned them to the Commodore of the Club (who used to be the Harbor-Master) who then contacted the authorities and talked some sense into them (thank goodness!) The result was that they were allowed to come back and they're now enjoying Chennai hospitality at the sailing club's dock!
We're doing OK. Now that our bodies have gotten used to Ocelot's motion we're sleeping better. Problem is that we're going too fast! With 18‑22 knots off the quarter Ocelot wants to do 8‑9 knots, but we need to keep her down to 6 knots or we'll arrive in the dark. But that's difficult to do on a broad reach. We've tucked 2 reefs into the main, depowered it a bit, and we've done the same to the jib. We're now doing a smidge over 6 knots, but the GRIBs say that the winds will decrease as we get closer to land. Just you watch - we'll be motoring before this is over!

At noon today we were at 12°29'N 84°45'E, or 470nm from the Andamans with 260nm still to go to Chennai. As always, you can see our position reports charted on a Google Map at our position reporting page. Last night at 6pm we'd covered 177nm in the previous 24 hours for an average of 7.4 knots, but today's noon to noon run was only 158nm or 6.6 knots. It's sad to have such nice winds out here but not be able to use them.
Fair winds and calm seas -- Jon and Sue Hacking
India Letters: Up | Heading for India | Approaching India | Andaman Arrival | Swimming with Mantas | Glorious Sailing | Not a Bad Day | Bay of Bengal 2 | Bay of Bengal 3 | Friends are Good | Approaching Chennai | Chennai Arrival | Celebrities | Northern India
Destinations: Laos Letters | Vietnam Letters | India Letters | Nepal Letters | Indonesia Letters | Malaysia Letters | Thailand Letters | Sri Lanka Letters | Maldives Letters | Chagos Letters | Seychelles Letters | Madagascar Letters | Mayotte Letters | Africa Letters
Top Level: Home | Destinations | Cruising Info | Underwater | Boat Guests | Ocelot | Sue | Jon | Amanda | Chris | Site Map | Make a Comment
---
Lifetime
Commodores
of the
Seven Seas
Cruising
Association

If our information is useful,
you can help by making a donation
Copyright © 2000‑ Contact: Jon and Sue Hacking -- HackingFamily.com, svOcelot.com. All rights reserved.