Glorious Sailing
17 February 2011, Entrance to Humphrey Straits


Blackfin barracuda
Dear Friends and Family,
We don't usually send these out so often, but today was one of those magic days. Actually, it started last night, as Ocelot hosted 7 other cruisers from 2 other boats for dinner. Everyone brought interesting dishes, including curried chicken over rice, a wonderfully exotic salad, and a breaded fillet from a freshly caught Giant Trevali. Good conversation lasted well into the night as the moon waxed overhead. No other lights or signs of habitation were visible at all in this deserted anchorage.
Sailing is often a bit like skiing - it's OK most of the time, raining sometimes, and occasionally glorious. Today we left our anchorage at 4am to sail up the west coast of the Andaman Islands chain. The moon was almost full, casting plenty of light for us to get underway. It turned deep orange just before it set and we had about 30 minutes of starlight before the first loom of the rising sun was visible to the east. Sunrise itself was as awesome as sunrises here usually are, starting with light pastels and moving through brilliant orange and gold as the sun burst forth.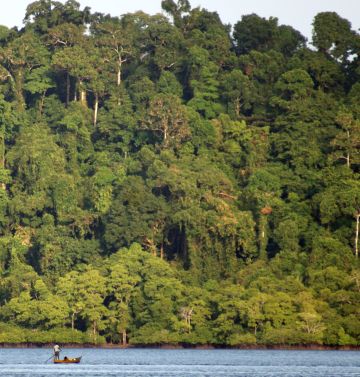 Local fishing boat & the jungle of S. Andaman Is
By mid-morning a nice breeze had come up and we were able to shut the engine down. Ocelot was just as happy as could be, close reaching at 6‑7 knots in 12‑16 knots of breeze. Since it was blowing from the land, the water was essentially flat and we could scoot along without even any wave action. Pan‑Tropical Spotted Dolphins visited a couple of times, playing off our bows, zipping back and forth in front of us in the clear water.
About noon we were both on the helm seat reading when the port-side fishing line went taught. At first we thought it was just another bit of seaweed (we'd already caught several "seaweed-fish") but no, it was a lovely 3' barracuda! Sue pan-fried a bit for lunch and also made some of her South Pacific Poisson Cru (marinated in lime juice and served with garlic, ginger, and coconut cream). So tonight Ocelot will again host 7 guests for dinner.
The officials here limit where we can go quite severely. At first we didn't like that, but now we see some of the reasons why. The indigenous people of the Andamans are so basic that they often don't wear clothes. They're also known for greeting strangers with bows and arrows! Best to avoid them. We're not sure how the officials are trying to preserve the indigenous culture, but we have to applaud their efforts, even if those efforts get in our way sometimes.
We're anchored tonight in an archipelago, entirely surrounded by islands. We're in the jungle, surrounded by interesting calls from birds and/or monkeys. Again, our anchorage should be visible at our position reporting page. The full moon has risen, casting a silvery sheen on the water, and our guests should be arriving in a few minutes. Tomorrow we'll wander down the Andaman Strait - sort of like a 20nm river between 2 closely spaced islands. Should be fun...
Fair winds and calm seas -- Jon and Sue Hacking
India Letters: Up | Heading for India | Approaching India | Andaman Arrival | Swimming with Mantas | Glorious Sailing | Not a Bad Day | Bay of Bengal 2 | Bay of Bengal 3 | Friends are Good | Approaching Chennai | Chennai Arrival | Celebrities | Northern India
Destinations: Laos Letters | Vietnam Letters | India Letters | Nepal Letters | Indonesia Letters | Malaysia Letters | Thailand Letters | Sri Lanka Letters | Maldives Letters | Chagos Letters | Seychelles Letters | Madagascar Letters | Mayotte Letters | Africa Letters
Top Level: Home | Destinations | Cruising Info | Underwater | Boat Guests | Ocelot | Sue | Jon | Amanda | Chris | Site Map | Make a Comment
---
Lifetime
Commodores
of the
Seven Seas
Cruising
Association

If our information is useful,
you can help by making a donation
Copyright © 2000‑ Contact: Jon and Sue Hacking -- HackingFamily.com, svOcelot.com. All rights reserved.