Approaching India
Wednesday, 9 February 2011, Andaman Sea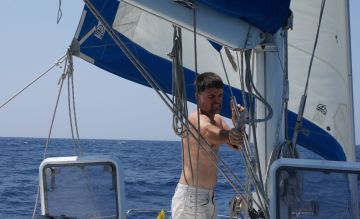 Jon at the mast, always something to do
Dear Friends and Family,
We've only got a sliver of a waxing moon these days. It's funny, when we're on Ocelot, we can tell you almost the exact phase of the moon at any time, but when we're on land we don't track it nearly as closely. So we had a few hours of the moon lighting a silvery track for us off our port bow, but once the moon set the stars came out in riotous splendor. They were so bright we could often make out the horizon. About midnight the Big Dipper started crawling over the horizon. We're far enough north now that we could also see the North Star that The Dipper points to, yet we're also far enough south that we could see the Southern Cross. There's no equivalent of the North Star in the southern hemisphere, so sailors devised a way to find due south, using the Southern Cross.
Dawn brought pastel skies behind us, growing ever brighter until the sun burst through, fiery orange from behind a cloud. Daylight brought more fine weather (thank goodness) but somewhat calmer conditions. This makes for comfortable living on board but the breeze has died away. We could ghost along at 3 knots, but we wouldn't arrive in Port Blair until nightfall, so we've got port engine ticking over.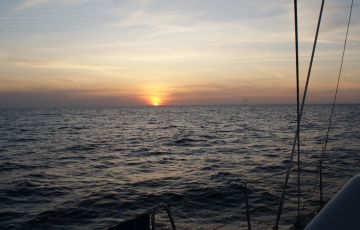 Oh Yeah. Another awesome sunset at sea.
Apparently, the Indians have taken bureaucracy to a high art form. Not only are they one of the only countries to require us to get $100 visas before arrival ($30 more for US citizens, presumably because they don't like our aid to Pakistan) but they want us to report our position twice a day, by radio. We're even supposed to have an itinerary drawn up before we get there, to be approved on arrival. This goes against the free-spiritedness of us cruisers, but we learned long ago to give officials what they want. Thank goodness for our new laser printer/copier! India is also the only country to request a full inventory of Ocelot, as well as written letters requesting clearance. Yeesh! Presumably they've got vast warehouses full of old paperwork. The clearance procedures are expected to last 2 full days, which is why we want to arrive no later than Thursday morning.
At noon local time (we switched from Thai time to India time yesterday) we were at 11°12'N 94°07'E, or 260nm from the Similan Islands with 90nm to go to Port Blair.
BTW, you should now be able to see our position on the web! Go here and it should show you our last few reported positions. We're still experimenting with this (I'd like to hook up something similar to our home page) but we'll try to submit a new position report whenever we're moving. We've generally been checking email twice a day, and we send a position report each time we connect.
Thanks to those of you who've written to us! Reading our email is a high-point of our day, especially when we're on passage.
FLASH: Just before we were going to fire up the SSB radio to send this, Sue calls out "Fish ON!" So we now have a nice small Dorado (Mahi‑mahi) for dinner - probably the best eating fish in the tropics! Yum...
Fair winds and calm seas -- Jon and Sue Hacking
Up | Heading for India | Approaching India | Andaman Arrival | Swimming with Mantas | Glorious Sailing | Not a Bad Day | Bay of Bengal 2 | Bay of Bengal 3 | Friends are Good | Approaching Chennai | Chennai Arrival | Celebrities | Northern India
Laos Letters | Vietnam Letters | India Letters | Nepal Letters | Indonesia Letters | Malaysia Letters | Thailand Letters | Sri Lanka Letters | Maldives Letters | Chagos Letters | Seychelles Letters | Madagascar Letters | Mayotte Letters | Africa Letters
Top Level: Home | Destinations | Cruising Info | Underwater | Boat Guests | Ocelot | Sue | Jon | Amanda | Chris | Site Map | Make a Comment
---
Lifetime
Commodores
of the
Seven Seas
Cruising
Association

If our information is useful,
you can help by making a donation
Copyright © 2000‑ Contact: Jon and Sue Hacking -- HackingFamily.com, svOcelot.com. All rights reserved.