WHAT'S NEW ON THE SITE

Newcomers, see our
website description section

Welcome to the Hacking family website with Sue, Jon, Chris, and Amanda on Ocelot, our 45-foot Wauquiez designed catamaran. We've been on this trip since December 2001, sailing from the northeast Caribbean through the Panama Canal, across the South Pacific, and into the Indian Ocean.

Our trip has many goals, but a primary one is to teach ourselves, and especially our children, about the values, thought processes, and cultures of the different people in our world. Many people never learn what's important to other cultures and too often feel that other people should feel as they do. But we know that other cultures have very different values from our own, and we feel it's important, especially for the coming generation who will be leading our society in only a few years, to know this as well. We hope that with better understanding, future generations will be better equipped to defuse some of the strife that threatens world peace.

Although sailing to Australia was our original goal when we left St. Maarten in 2002, we joined the Darwin-Kupang, Indonesia Rally which left in July 2006. This put us deeply into SE Asia, and formed a commitment to continue on around the world!

After cruising Indonesia for 3 months, we arrived in Singapore and immediately flew back to the USA for the month of November. This gave us a chance to celebrate Thanksgiving with the entire Hacking clan, which we haven't been able to do for many years.

From Singapore we sailed up the Straits of Malacca to Malaysia and Thailand. Christopher joined us for 3 months (his winter quarter at university) for our adventures in Malaysia, Thailand and Sri Lanka. After he left from Colombo, Jon, Sue and Amanda sailed south to the Maldives and the Chagos archipelago.

In late June 2007 we left Chagos for the Seychelles, switching continents from Asia to Africa! From there we plan to sail south to Mayotte and Madagascar - but like most cruisers, our plans are prone to change on short notice! Stay tuned!
---
Ongoing improvements to photos -
In general, if you see a caption under a picture, or if your mouse-pointer turns into a hand when you mouse-over a photo, then clicking on the picture will bring up a larger version. With 1,500 photos on the site, this is still an evolving process.
Click on the example below: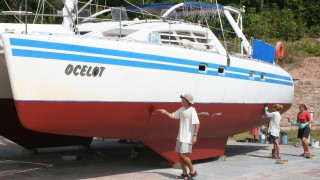 Ocelot gets new bottom paint in Malaysia 2006
----- September 2007 -----
Sue has just completed 3 new pages on Sri Lanka Flora and Fauna. But the artistic credit goes to Amanda and Chris who did the photography of these beautiful birds and animals.
See our Sri Lanka Flora & Fauna...
----- July 2007 -----
Latest News! We've arrived in the Seychelles, in the western Indian Ocean, and have posted illustrated versions of the newsletters we sent while on passage.
See our Seychelles Newsletters...
We've now started a whole new Indian Ocean Landfalls section with almost 20 new pages! Our first area to cover is Indonesia, with 6 brand new pages on the places we visited.
See our Indonesia section...
Other new Indian Ocean Landfalls areas we've added include:
Singapore (just 1 page)
Malaysia (4 new pages)
Thailand (3 new pages)
Sri Lanka (3 new pages)
The Maldives (just 1 page)
See our new Indian Ocean section...
Amanda's cruising buddy Rachel joined us for 10 weeks as we cruised Singapore, Malaysia, and Thailand. Her sparkling Aussie attitude was a delight to have on board.
See Rachel's page...
Our Reef Animals (previously Underwater Photos) section has been considerably expanded with the many new species of fish that we've photographed in the Indian Ocean
See our Reef Animals pages...
We've now illustrated our newsletters from the paradise of Chagos.
See our Chagos Newsletters...
The cooks have added 15 new cruising recipes, and a whole new page on different breads.
See our Cruising Recipes pages...
----- April 2007 -----
We've now added illustrated versions of the 3 newsletters we sent out from Malaysia and Thailand.
See our Thai-Malay Newsletters...
---
We've now trashed our old, automatically generated site map in favor of a much more compact and intuitive page with explanations.
Check out our new Site Map...
Want to build your own website? Jon has published some tricks and traps for others attempting to put together a website like ours.
Read Jon's FrontPage 101...
---

Christopher has been enrolled at the University of Washington in Computer Science and Engineering studies since September of 2005. He took time out to visit us for 3 months beginning Christmas 2006.
More about Christopher...
----- September 2007 -----
Jon has expanded his FrontPage information with a new FrontPage Frequently Asked Questions page.
See Jon's new FrontPage FAQ page...
Our Boat Guests section has now been brought up to the standards of the rest of the site. Previous visitors especially should check it out!
See our Boat Guests section...
----- July 2007 -----
We did some great scuba dives in Indonesia, Thailand and the Maldives, with some of our best dives to date. We've also included GPS locations for our dives.
See our 6 Indonesia dives...
See our 6 Thai dives...
See our 4 Maldives dives...
Amanda has added a new section of journal entries she's written, including day-by-day descriptions of our travels through interior Thailand and Sri Lanka.
See Amanda's Journals...
Our Cruising Info section has really expanded (over 25 pages now) so we've divided it up by oceans. We've moved Sue's Cruising Recipes and Provisioning there, and added new pages on S Pacific weather & schedules, Australia, Indonesia, Galle (Sri Lanka) and the Maldives.
See our Cruising Info pages...
We've tried something new in our Cruising Info section: We've added a big page that includes descriptions, depths, photos, and exact positions of all 38 anchorages we visited in Indonesia. Since there's no cruising guide for Indonesia, we hope that this will help cruisers following our wake.
See our big Cruising Indonesia page...
We did the same with Australia, adding a big page that includes positions, depths, detailed descriptions, and photos of all 32 anchorages we visited in Australia.
See our detailed Cruising Australia page...
Sue has greatly expanded her Australian Flora & Fauna section, especially the birds!
See our Australian Flora & Fauna page...
----- April 2007 -----
We've now added illustrated versions of the 4 newsletters we sent out from Sri Lanka.
See our Sri Lanka Newsletters...
We sent out 4 newsletters on our way from Sri Lanka to the Maldives but they were never received because our list-server was having problems. Now we've published them here for the first time, with photos.
See our Maldives Newsletters...
---
Jon has started brewing his own beer and found it's not only cheap but fun and tasty! He's added a section on how to do this on board.
Read about Jon's beer-brewing...
---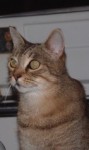 Where is Arthur? Our beloved sailing cat was going to suffer greatly crossing more oceans and sitting out months of quarantine in Australia. In March 2005 we flew him "home" to Northern California to live with Jon's brother's family where he is now happily climbing trees and warming laps in a non-floating house.
More about Arthur the Sea Cat...