Hello! Welcome to the Hacking family website with Sue, Jon, Chris, Amanda, and Arthur (the sea-cat) on Ocelot, our 45-ft catamaran. As we write this (April, 2003), we're currently in Manta, Ecuador. We started in St. Martin in the NE Caribbean in December 2001, heading basically south. We're heading west soon towards the Galapagos and French Polynesia. Our goal is to stay out for at least two years, and probably end up in New Zealand or Australia. But who knows...

(Scroll down for more)
New On The Site - Check it out!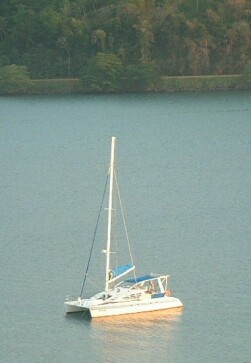 Bienvenidos a Panama! We have now added a new Landfalls section that we've called the Southwest Caribbean. It includes pages on Bonaire, Curacao, and our first long Passage to the beautiful palm-tree-covered islands of the Panamanian San Blas. There we once again met up with our friends on Vamp whom we had not seen for a year. We cruised with them and Wanderer 4, another boat with kids on board, through the many islands of the San Blas and also on to Portobelo, the beautiful Chagres River, and into Colón. Read about us line handling on other boats as well as our own transit to the Pacific! It's amazing to be able to cross between oceans so quickly and easily, but it's a bit of a shock to be in 17 foot tides! We've also moved maps and "old news" to our new Web Archives section, where we've archived our old home pages.
Latest News
After a successful transit of the Canal on March 22, 2003, we spent a week moored off the Balboa Yacht Club, near Panama City, Panama. It was a hectic week of provisioning for 7 months of travel, installing a new anchor gypsy (the cog on the anchor winch that pulls up the chain) and 250 feet of new anchor chain, working on lots of little boat projects, fueling up, and updating our paper and electronic charts of the South Pacific. On March 31 we left on northerly winds for the 600 mile passage south to Manta, Ecuador. We plan to travel inland in Ecuador for a week or so enjoying the cool air of high elevations and the mountain scenery before sailing west to the Galapagos Islands later this month.
Old News: Our home page was getting too big, so we've moved some of our earlier information to our new Web Archives section, including Amanda's excellent, hand-crafted & hot-spotted maps of our previous cruising grounds.
Site Stats: We now have over 175 pages on the site, having added the new Southwest Caribbean section (which includes Bonaire, Curacao, and several pages on Panama) with this latest version. We have almost 600 pictures and maps, and well over 3,300 hyperlinks. In all, the site fills some 25MB. Check it out!
New Quiz Questions! (You'll find the answers or information for them somewhere on the site.)
What's Ocelot's maximum recorded speed to date?

All four Hackings are now qualified to do what?

What's the main commercial crop of the Kuna Indians?

What sea creature with its mouth on the underside of its body surprised us by jumping six or seven feet out of the water?

When you transit the Panama Canal from the Caribbean, which direction are you heading?
Last Update's Quiz Answers
What was the punishment for the first man to found Mérida, Venezuela? To be dragged through town by the tail of his horse until he was dead, and then to be quartered and the separate pieces of his body were to be staked out at street corners. No part of him was to be buried. (He escaped before this could be carried out.)

Why is the boat now completely covered in red dust? We slipped at Chacachacare, Margarita, and the red dust gets over everything.

What was the first thing that Margarita ran out of during the Venezuelan "paro?" Beer.

How many oil birds live in Venezuela's Guacharo Caves? 30,000

What poisonous snake does the harmless brown tree boa resemble? Fer-de-lance
On The Site
If you're wondering where we are, or where we've been, (and what we each thought about it) check out the Landfalls pages. The Web Archives section contains a synopsis of where we've been and what we've done, as well as previous home pages. On the Ocelot page you can see pictures from all over the boat, and read its specifications and our impressions of the boat. On Jon's pages you can read about the US intervention in Grenada in 1983, and his technical slant on some of the boat systems. Check out Sue's pages if you want birds, recipes, flora & fauna of the places we visit, and comments on the cruising life and changes to the Caribbean in the past 14 years. Chris writes about our inland travels, his projects and schooling. Amanda brings lots of pictures, plus stories about our adventures in Africa and New Zealand and Australia from past trips. The Boat Guests pages are designed to make everyone jealous of our visitors and want to come down themselves.

Archived Homepages: June 2020 | January 2018 | September 2016 | August 2015 | November 2014 | April 2014 | November 2013 | September 2012 | January 2012 | May 2011 | October 2010 | October 2009 | July 2009 | April 2008 | September 2006 | April 2006 | December 2005 | April 2005 | July 2004 | January 2004 | April 2003 | January 2003 | November 2002 | May 2002 | April 2002
Jon's Pages: Pre-History Stories | Contact Us | Brewing Beer | FrontPage 101 | FrontPage FAQs | Radio Email | Resume | Web Archives
Top Level: Home | Destinations | Cruising Info | Underwater | Boat Guests | Ocelot | Sue | Jon | Amanda | Chris | Site Map | Make a Comment

Lifetime
Commodores
of the
Seven Seas
Cruising
Association

If our information is useful,
you can help by making a donation
Copyright © 2000‑ Contact: Jon and Sue Hacking -- HackingFamily.com, svOcelot.com. All rights reserved.