Newcomers, see our
website description section

Welcome to the Hacking family website with Sue, Jon, Chris, and Amanda on Ocelot, our Kronos 45-foot (14m) Wauquiez designed catamaran. We've been on this trip since December 2001, sailing from the Eastern Caribbean through the Panama Canal, across the South Pacific and the Indian Ocean to Africa.

Our trip has had many goals, but a primary one has been to teach ourselves, and especially our children, about the different cultures of the people in our world, and the values those people possess. Many people never learn what's important to other cultures and too often feel that other people should feel as they do. But we know that other cultures have very different values from our own, and we feel it's important, especially for the coming generation who will be leading our society in only a few years, to know this as well. We hope that with better understanding, future generations will be better equipped to defuse some of the strife that threatens world peace.

Although sailing to Australia was our original goal when we left St. Maarten in 2002, we joined the Darwin-Kupang, Indonesia Rally which left Australia in July 2006. This put us deeply into SE Asia, and formed a commitment to continue on around the world!

After cruising Indonesia for 3 months we sailed up the Straits of Malacca cruising through Malaysia and Thailand. Christopher, taking time off from university, re-joined us there for 3 months and sailed with us to Sri Lanka. Jon, Sue and Amanda spent the rest of 2007 on the voyage across the Indian Ocean, switching continents from Asia to Africa, with stops in the Maldives, Chagos Archipelago, Seychelles, Madagascar, Mozambique and South Africa.

While we'd originally planned to go around South Africa and continue on to the Caribbean to sell Ocelot and move ashore for a while, we decided in 2008 that we'd like to continue cruising. We had planned to sail from South Africa in June 2008 (after cyclone season had ended) to the northern Indian Ocean (via Mayotte) to catch the monsoon across to the northern Maldives and back to Langkawi, Malaysia.

But the summer in the US beckoned, so in June 2008 so we left Ocelot at Tuzi Gazi Marina in Richards Bay, South Africa and flew with Amanda back to the States. She entered the University of Washington, Seattle, as an oceanography major in September 2008. Jon and Sue spent another 6 months in the States, working and visiting family and friends.

In April, 2009 Jon and Sue returned to Ocelot. After much boat work and once the pirate activity in the western Indian Ocean calmed down, we sailed north to Mayotte, Madagascar, and the Seychelles.

LATEST NEWS: We're in the Seychelles, preparing to leave for our next landfalls: southern Maldives and Langkawi, Malaysia

Stay tuned!
---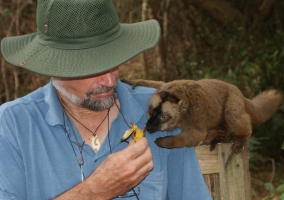 Jon with a wild lemur in Mayotte
Ongoing improvements to photos -
In general, if you see a border around a picture, or if your mouse-pointer turns into a hand when you mouse-over a photo, then clicking on the picture will bring up a larger version. Use the Back Button to return.
Click on the example above