---
Does Ocelot sail with just Sue and Jon? Well, yes, but it's a lot more work! Chris and Amanda are now both attending the University of Washington and we miss them like crazy -- both as friends and as crew!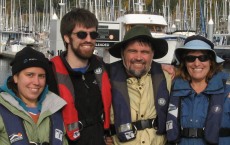 ---
Christopher has been enrolled at the University of Washington (UW) in Computer Science and Engineering studies since September 2005. He took time out to visit us for 3 months beginning Christmas 2006. He is almost finished his degree, and was an intern at Microsoft in the summer of 2009 for the second time.
More from Christopher...
---
Amanda is also studying at UW -- Oceanography! (surprise) She lived aboard for 6.5 years and logged more than 20,000 miles on Ocelot. The summer of 2009 she worked on a 100 foot (30m) powerboat in the Pacific Northwest.
More from Amanda
---
Where is Arthur? Our beloved sailing cat was going to suffer greatly crossing more oceans and sitting out months of quarantine in Australia. In March 2005 we flew him "home" to Northern California to live with Jon's brother's family where he is now happily climbing trees and warming laps in a non-floating house.
More about Arthur the Sea Cat...
---
We've now trashed our old, automatically generated site map in favor of a much more compact and intuitive page with explanations.
Check out our new Site Map...
---
Want to build your own website? Jon has published 2 pages of tricks and traps for others attempting to put together a website like ours.
Read Jon's FrontPage 101 and FrontPage FAQ pages

WHAT'S NEW ON THE SITE

----- February 2010 -----
We've added a new page on Anchors and Anchoring under our Equipment section, with our impressions of both gear and techniques - what works under what conditions and why, from those of us who depend on our anchors.
See our new Anchors page
Sue has added a story from when Chris was a baby in Venezuela and a local woman wanted to "borrow the baby".
Read Sue's Latin Milk story
----- January 2010 -----
How do you put long-lasting copper-based antifouling paint on your sail drives? Check out our new Sail Drives page to find out! You'll also see how to prevent water from sneaking past your lower seals, and other good info.
See our new Sail Drives page
Can you repair inflatable dinghies with epoxy? Yes, and it works even better than specialized contact cements! Find out how on our new page on Epoxy Work, along with several other tips we've learned over the years.
See our new Epoxy Work page
Jon has added a new page to his Pre‑History section - a humorous piece on our introduction to the Spanish Main.
See Jon's new Spanish Main page
----- December 2009 -----
We've added a new report on Watermakers to our new Equipment section under our Cruising Info pages. We've also updated our Solar Panel page to reflect Kyocera's excellent support policies.
See our new Watermaker page
----- November 2009 -----
We've added a new Equipment section to our Cruising Info pages. Here we'll write about what's good & what's not so good, to help other cruisers make more informed buying decisions.
See our new Cruising Equipment pages
We made it! Three months and 5,000 nautical miles of sailing, to arrive at last in Langkawi, Malaysia. On our Seychelles to the Maldives leg we returned to Addu Atoll in the south.
See our new 2009 Maldives Newsletters
After several days in Addu the winds were getting light, so we set sail for Langkawi, Malaysia.
See our new 2009 Malaysia Newsletters
CRUISERS! We've updated our cruising information pages on both the Seychelles and Maldives.
See our Cruising Seychelles pages
See our Cruising Maldives pages
We've now added to our coverage of Mayotte, in the Comoros, by adding 2 new pages to go with our 4 previously published newsletters pages.
See our Mayotte Home and Cruising Mayotte pages
Website improvements: We've added headings to the navigation bars on the left side of most pages, to help show the relationships between the different nav-bars. (Many pages have 3, and they're all related)
Comments appreciated - Tell us what you think!
----- September 2009 -----
In mid-July Sue and Jon (only!) sailed Ocelot up the Mozambique Channel, avoiding whales this time! Our passage to Mayotte turned out to be our 3rd longest passage to date, after we hadn't sailed in 20 months!
See our new Mayotte Newsletters pages
After Mayotte we crossed over to Madagascar, which we'd visited in 2007. There we met our friends who'd sailed in from Chagos.
See our new Ocelot Returns Newsletters
For cruisers, we've now updated our Cruising Madagascar pages to include listings of several new anchorages (in the extreme north, and around Nosy Be) we had not visited on our first trip.
Revisit our Cruising Madagascar page
From Madagascar we continued NE for a very fast passage, returning to the Seychelles.
See our new additions to our Seychelles Newsletters
Now that the kids are starting their own lives at university, Sue has published an article on 2‑handed cruising
See Sue's 2‑Handed Cruising article
Having arrived in the Seychelles after an incredibly boisterous sail, Jon developed a torn retina in his right eye. Read about it, and our emergency trip to Johannesburg to fix it.
See our newsletter The Eyes Have It
Newcomers, see our
website description section
Welcome to the Hacking family website with Sue, Jon, Chris, and Amanda on Ocelot, our Kronos 45-foot (14m) Wauquiez designed catamaran. We've been on this trip since December 2001, sailing from the Eastern Caribbean through the Panama Canal, across the South Pacific and the Indian Ocean to Africa, then back to Asia.
LATEST NEWS: We're back in SE Asia, having sailed 5,000 nautical miles in 3 months from Richards Bay, South Africa to Langkawi, Malaysia.
Our trip has had many goals, but a primary one has been to teach ourselves, and especially our children, about the different cultures of the people in our world, and the values those people possess. Many people never learn what's important to other cultures and too often feel that other people should feel as they do. But we know that other cultures have very different values from our own, and we feel it's important, especially for the coming generation who will be leading our society in only a few years, to know this as well. We hope that with better understanding, future generations will be better equipped to defuse some of the strife that threatens world peace.
Although sailing to Australia was our original goal when we left St. Maarten in 2002, we joined the Darwin-Kupang, Indonesia Rally which left Australia in July 2006. This put us deeply into SE Asia, and formed a commitment to continue on around the world!
After cruising Indonesia for 3 months we sailed up the Straits of Malacca cruising through Malaysia and Thailand. Christopher, taking time off from university, re-joined us there for 3 months and sailed with us to Sri Lanka. Jon, Sue and Amanda spent the rest of 2007 on the voyage across the Indian Ocean, switching continents from Asia to Africa, with stops in the Maldives, Chagos Archipelago, Seychelles, Madagascar, Mozambique and South Africa.
Although we had planned to go around the Cape of Good Hope in 2008 and up to the Caribbean we realized that we weren't ready to stop cruising. We enjoyed more than a year in South Africa, and 9 months in the States visiting family and friends. We settled Amanda into the University of Washington as an oceanography major in September 2008.
In April, 2009 Jon and Sue returned to Ocelot. After much boat work, and once the pirate activity in the western Indian Ocean calmed down, we sailed north to Mayotte, Madagascar, Seychelles, and east across the Indian ocean back to SE Asia.
---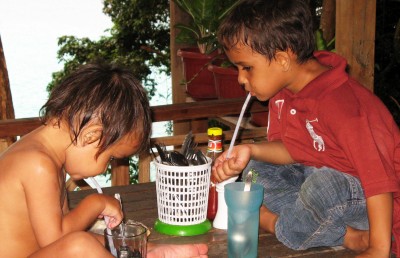 Cute Indonesian kids on a table
Ongoing improvements to photos -
In general, if you see a border around a picture, or if your mouse-pointer turns into a hand when you mouse-over a photo, then clicking on the picture will bring up a larger version. Use the Back Button to return.
Click on the example above
Ongoing
We are continuing to put Google Ads on selected pages. This has been a difficult decision as our site has always been completely non-commercial. But at well over 650 pages, it also requires significant maintenance. We're hoping that Google's reputation for appropriate ads will not detract from your experience. Your feedback here would be appreciated, especially if you see an inappropriate ad (we've eliminated 6 so far).