----- Site Description -----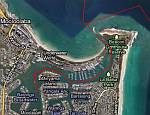 Under Cruising Information you'll find great info for sailors following in our wake: A big equipment section, articles on cruising with teens, yacht provisioning and recipes, FAQs, downloadable Track Files plus pages on specific areas like Solomon Islands, Australia and Indonesia.
---
| | |
| --- | --- |
| Our Underwater pages showcase our underwater photography, reef life and scuba‑diving. Dive sites include GPS locations so others can find these sites as well. We have new dive information on Raja Ampat and Triton Bay, Indonesia. | |
---
| | |
| --- | --- |
| | On our Ocelot pages you can see pictures of the original boat plus her layout, specifications and some of the modifications we've made to turn her into an ocean cruiser. More recent pages take you through the details of our major Thai Refit. |
---

Our Landfalls pages are divided by ocean -- Caribbean, Pacific, and Indian. They're all about where we've been and what our impressions were. They're as much for land travelers as cruisers. Amanda 'hot‑spotted' most maps, helping to clarify the geography.
---
| | |
| --- | --- |
| | We've illustrated the newsletters emailed from the Pacific Ocean and Indian Ocean. Read about our travels and "passage notes" while at sea. To get our e‑newsletters you can sign‑up and manage your own subscription. Our mailing list is never shared with anyone. |
---
| | |
| --- | --- |
| The Flora and Fauna pages document many of the plants, animals, birds and marine mammals we've encountered in our travels. It's organized by geographical regions. | |
WELCOME
to the Hacking Family website with Sue, Jon, Chris, and Amanda on Ocelot, our Kronos 45' (14m) now 48' (15m) Wauquiez‑designed catamaran. We've been on this trip since 2001 sailing from the Caribbean through the Panama Canal, across the South Pacific and the Indian Oceans to Africa, then back to Asia and the South Pacific. There's so much world to see!

WHAT'S NEW on the SITE

LATEST NEWS: Sue and Jon are back in the South Pacific! After doing 5 treks in Nepal with a nephew and cruising friends from April‑June 2018 we sailed back to Borneo with the Passage to the East rally. Chris joined us for a trek in Nepal, and wildlife and diving in Borneo! Once back in Indonesia we did some wonderful diving in Raja Ampat where Amanda joined us! In January 2019 we sailed over the top of Papua New Guinea (PNG) and into the Solomon Islands. We've been sailing in company with 3 other boats, exploring WWII history sites, diving on wrecks, and meeting the wonderful people of PNG and the Solomons. Our next journey takes us back north towards Indonesia, retracing our route down, but with lots of new stops. After that? Who knows? We always manage to surprise ourselves!
For Folks in Washington State or with Friends/Family there:
Sue's hiking guidebook is selling well in bookstores and on-line. The 4th edition(!) of Take A Walk (published by Sasquatch Books) features 120 parks and walking trails within 30 minutes of Seattle and Puget Sound (Olympia to Everett) and has lots of new and updated trails. A great too for finding nearby walks.
See Sue's latest Take A Walk book!
Everyone:
We've added to our Diving Indonesia page again with more new dive sites through Raja Ampat and Triton Bay, Bali and Biak. These unspoiled waters provide superb diving.
We've added to our Nudibranchs page in our Underwater Reef Animals section. Picasso critters!
We welcome your input! Just click the Make a Comment link at the bottom of any page to share your thoughts.
Cruisers:
With the help of our friend Behan on s/v Totem, we've now got 2015 information for Cruising Maldives, updated from our last visit in 2009.
We've updated our Sail Drives page with more modifications every sail drive owner should know about.
Do you know the difference between cut‑thread & rolled‑thread turnbuckles? Or how to check which you have? It turns out to be important. Before you buy your next turnbuckle, Check out our new Turnbuckles page.
We are now publishing track files in both OpenCPN & MaxSea formats. We are also asking cruisers to email us their tracks so other cruisers can download them. Lets start a Track File Bank! See our updated Track Files page
Builders:
Want to Build a Bimini? We've now brought all our bimini building info together on just 1 page, for easier reference. It has over 30 illustrations and many links back to the days we actually did the work. See our new Bimini Building page.