WHAT'S NEW ON THE SITE

Welcome to the Hacking family website with Sue, Jon, Chris, and Amanda on Ocelot, our 45-foot Wauquiez designed catamaran. We've been on this trip since December 2001, sailing from the Caribbean through the Panama Canal and on across the South Pacific. We spent a year in the Republic of Fiji, where we enjoyed the colorful Indo-Fijian culture and food as well as the easy, laid-back Fijian hospitality. In October 2005 we sailed southwest about 700 miles to the French territory of New Caledonia. After a glorious month inside the reef of New Caledonia we crossed 800 miles of the Coral Sea to Brisbane, Australia, arriving in November, 2005. Sadly, we gave Vanuatu a miss: partly for time and partly due to the malaria issues.
Sailing to Australia was our original goal when we left from St. Maarten in 2001. Now that we've arrived - well, there's so much more world to see! After waiting out cyclone season in S Queensland, we want to go to Darwin by June. We've signed up for the Darwin-Kupang rally (July) and we're preparing for 3 months in Indonesia. Current plans put us in Thailand for Christmas, but like most cruisers, our plans are prone to change on short notice!
---
Ongoing improvements to photos -
In general, if you see a caption under a picture, or if your mouse-pointer turns into a hand when you mouse-over a photo, then clicking on the picture will bring up a larger version. With 1,400 photos on the site, this is still an evolving process.
Click on the example below: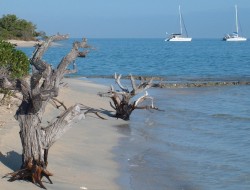 Ocelot and Scud, alone off
Tenia Island, New Caledonia
----- April 2006 -----
Our coverage of New Caledonia now includes new pages on Noumea, the western reef, the Isle of Pines, and Prony Bay.
Read more about New Caledonia...
We sailed from New Caledonia to Brisbane, Australia in November 2005.
Read our Aus passage Newsletters
We've added some new photos and information on parrotfish, sharks and butterflyfish from the dives we did in Tonga, Fiji, and New Caledonia.
Check our Underwater Photos...
----- December 2005 -----
Friends have loaned us a mobile phone so we can now be contacted instantly (only while we're in OZ): +6143 141 8826.
See our contact page for more...
Our initial coverage of New Caledonia has illustrated copies of the newsletters we sent on passage and our first few weeks there.
See our New Cal newsletters...
We have now added more pages on the Flora & Fauna of Tonga & Fiji. Plus there's a whole new section on Marine Mammals.
More on Tonga & Fiji Flora & Fauna...
----- August 2005 -----
Jon's published some tricks and traps for others attempting to put together a website like ours.
Read Jon's FrontPage 101...
---

Christopher has decided that, while cruising on Ocelot was wonderful, higher education was calling him. He moved back to Washington and started his Computer Science studies at the University of Washington in September of 2005.
More about Christopher...
----- April 2006 -----
After Chris went to university we were very glad to have Amanda's cousin Tianna come visit for 2 months.
Read more about Tianna's visit
Jon has started brewing his own beer! He's added a small section on how to do this on board.
Read about Jon's beer-brewing...
----- December 2005 -----
Our Fiji coverage now includes new pages on S Vanua Levu, E Viti Levu, Southern Islands, W Viti Levu, the Mamanucas & the Yasawas.
More on Fiji...
Our Fiji Diving page includes the 4 dives we did in the Mamanucas. We've also added GPS positions for all of our dives.
More on Fiji Diving...
Sue's Log pages have now been restructured and reorganized. Her newest log entry talks about relationships on board.
Read Sue's cruising logs...
----- August 2005 -----
We've been trying to get Sue's brother's daughter, Emilia, to visit for several years, and finally got our wish.
More about Emmy's June '05 visit...
---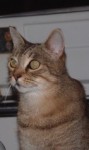 Arthur, our beloved sailing cat, was going to suffer greatly crossing more oceans and sitting out months of quarantine in Australia. In March 2005 we flew him "home" to Northern California to live with Jon's dad where he is now happily climbing trees and warming laps in a non-floating house.
More about Arthur the Sea Cat...