1-2 June 03
Hey there, Everyone,
This is Sue with the Sunday June 1, 2003 update on Ocelot. Life is pretty normal today. This morning Jon and Chris went over his latest 3 AP physics tests and Amanda worked on getting still farther ahead in math. Chris and Sue had a short conversation in French, and Sue took a 2 hour nap. We worked out the strategy for hanging new mosquito nets (made by Sue and Amanda), picked up the daily catch of squid and flying fish off the deck, did morning chores -- cleaning the cat box, filling the sun shower to lay in the sun, and picking up the galley and salon from night watch. I just beat Chris at backgammon (that's not normal), Amanda is deep into a fantasy novel, Jon is napping, and we're all digesting lunch.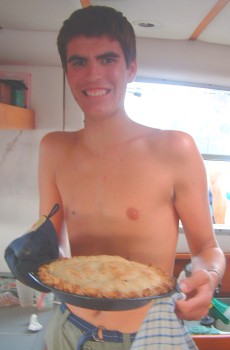 Chris turns out a fantastic apple pie!
Why all the napping? Because each of the Ocelot crew stand watch for 6 hours out of each 24, in 90 minute blocks. That means we each have 2 dark watches, and two daylight watches. (We're pretty lax on the day watches, but hold to the night schedule pretty tightly.) Theoretically we could each sleep for 4.5 hours at a time, but we rarely do. Two nights ago we were all up reefing the main (bringing it part way down, to reduce the amount of sail) because we had sustained winds of over 28 knots. Last night the winds and seas were so boisterous (blowing at about 24 knots) that the waves were slapping the hull and whooshing past like a stretch of white water on a river. Not very relaxing.
To make up for the lack of sleep, we're eating well. Not lots, just well. For example, Sue's incredibly competent galley companions have concocted dinners like dorado gado gado (Indonesian), homemade meat pies, beef fajitas and homemade tortillas, Waldorf salads, eggs benedict with homemade English muffins, homemade cinnamon rolls, several versions of banana cream pie (gotta use up 30 lbs of bananas that all ripened at once...), fresh watermelon, then watermelon batidos (smoothies), fresh tuna salad, roast chicken, homemade chicken-lentil soup, wahoo sushi rolls, and teriyaki wahoo with vegies. Yes, the kids do the cooking most nights and that leaves poor mom to do the dishes. But I don't mind -- I love how the kids get creative. I do still have to supervise new things, like the making of tortillas or gado gado sauce but their cooking repertoires are growing exponentially.
Fresh vegies, like lettuce and peppers, were the first things to disappear, though we still have a few carrots, cucumbers and tomatoes. Dangling over the cockpit are nets of grapefruit, limes and cabbages, and hampers in the cabins contain pumpkins, onions and garlic, and paper-wrapped apples. We have on board an incredible amount of canned and dried foods, flours, beans, rice and pasta, milk powder, plus essentials like chocolate and peanut butter. With the watermaker we don't really have to carry juices (we have lots of real-pulp syrups on board) but we stocked up on long-life juice boxes in Venezuela and Curacao so now we need to reduce the load on the boat by drinking mango, apricot, and mixed fruit juices. Life's rough.
We don't drink alcohol on passage, so the 240 cans of beer, 40 liters of wine, and miscellaneous rums stay untouched. We are making a dent, though, in the canned tonic water and canned Fresca for the kids.
At 3pm local time, we are at 5° 23' S, 112° 27' W, with 1,590 miles left to go. We are sailing wing and wing (headsail out to starboard, mainsail out to port), running downwind in 18-22 knots of breeze. The fishing lines are still out, the kids are back into school work, and all is well on board.
So, with that, I wish you bon appetite, wherever you may be.
Fair winds -- Sue, Jon, Chris and Amanda
S/V Ocelot sailing into yet another green flash tropical sunset
1-2 June 03
2 June 2003
Dear friends & family,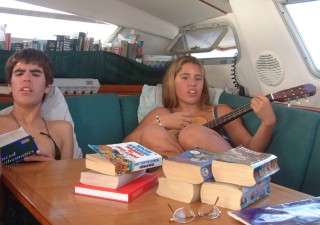 Chris and Amanda sing along with
Amanda's guitar playing
Things have gone decidedly lighter on us recently. Winds are down to about 15 knots from the east - directly behind us. This is comfortable, but not a very fast point of sail for us. Also, our mainsail, with its 5 full-length 3/4" fiberglass battens, is heavy enough that the seas rocking the boat tend to make it slam around unless there is enough wind to keep it full. So, since we're not in a tremendous hurry, we dropped the main (ah, blessed quiet), rolled up the jib (hey, how're we going to go anywhere?), and sent up the spinnaker (oh, OK). So we're happily cruising along at about 5 knots on this immense ocean, under a beautifully blue sky punctuated with puffy clouds. We've just passed the dark of the moon, so we get an hour or so of moon (increasing an hour each night) before the brilliant stars and the milky-way take over the night sky.
At 1:30 this afternoon we passed our 1/2 way mark (a dotted line on the ocean) to Fatu Iva. Unfortunately, we probably won't be going there. While it has been reported that the French were allowing boats to have some time there before officially checking in, we just heard over the SSB radio that they recently boarded several cruisers there. Those that had not checked in were fined $600-1,000 US!! Hiva Oa is the next closest island, and a clearance port, but the clearance procedures there are unknown and possibly arduous. We've heard that clearance at Ua Pou is very easy, with Americans given 3 months without needing a visa or needing to post a bond (equal to plane tickets for everyone back to Hawaii!). We were unable to get visas before we left Panama, and I'd rather not have to fork up a $3,000 bond, even if I do get it back eventually. We're still collecting info from boats in front of us, so we'll let you know.
At 3:30 local (MST) we were at 5° 21' S, 115° 0' W, with 1,440 miles still to go to Fatu Iva (we haven't reprogrammed the GPS for our new destination yet). Chris cooked us a delicious pizza lunch to celebrate, so we're all lazing around digesting - except for Amanda, who's serenading us all with her delightful guitar.
Fair winds to all -- Jon, Sue, Chris and Amanda Hacking
s/v Ocelot, sailing into yet another tropical pacific green-flash sunset
Up | 23-24 May 03 | 26-27 May 03 | 29-31 May 03 | 1-2 June 03 | 3-4 June 03 | 5-6 June 03 | 7-8 June 03 | 9-10 June 03 | 11-12 June 03 | 13-14 June 03 | 15 June 03 | Ua Pou Letter | Nuku Hiva Letter | Cruising Info
Fr. Polynesia Home | Marquesas Letters | Tuamotus Letters | Diving | Polynesia Flora/Fauna | S Pacific Cruising
Panama Letters | Ecuador Letters | Galapagos Letters | Marquesas Letters | Tuamotus Letters | Tonga Letters | Fiji Letters | New Caledonia Letters | Australia Letters
Top Level: Home | Destinations | Cruising Info | Underwater | Boat Guests | Ocelot | Sue | Jon | Amanda | Chris | Site Map | Make a Comment
---
Lifetime
Commodores
of the
Seven Seas
Cruising
Association

If our information is useful,
you can help by making a donation
Copyright © 2000‑ Contact: Jon and Sue Hacking -- HackingFamily.com, svOcelot.com. All rights reserved.