11-12 June 03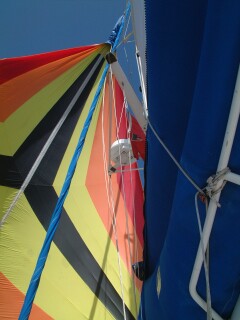 Crossing the S Pacific trades
under spinnaker and full main
Dear Friends & Family,
I don't want to disturb the magic by mentioning it, but cruising out here is wonderful. We've had the spinnaker and full main up for more than 3 days now, just drifting along in 8-12 knots of gentle breeze. Of course, that breeze was from the NE 3 days ago, and now it's from the SE, prompting Amanda and Jon to have to jybe both sails around by themselves at 3am. I didn't realize how much of a true salt my daughter had turned into until, in the middle of flying sheets and sails Amanda shouted "Dad! Should I release the starboard fore-guy?" You go, girl!
Now we're sitting in the middle of the vast, empty Pacific, with only a few whitecaps to be seen. We've had green-flash sunsets for the last 2 nights. For those who don't know, a "Green-Flash" sunset is the holy grail of sunset aficionados. It occurs when the bright sun sets into a clear horizon. The blue gets scattered (ergo the blue sky) and the red of the sunset gets bent so much that for the last instant the sun appears emerald green. Although it's actually a photographable event (not just an "anti-orange" from staring at the sun too long), it is also true that more Green Flash sunsets have been seen after a rum or 2 than otherwise.
This morning we caught what I think was a nice Dorado, but he managed to throw the hook just at the back of the boat. First time that's happened to us. Usually we don't notice we have a fish on until it's so tired that it comes up to the surface and we can just reel it in. We noticed this one early, and Chris and I tried to haul it in right away, which was probably a mistake as it was still strong enough to wrench away. At least we didn't lose the lure, as so many others have.
In all honesty, we could use a bit more wind as the sails flap occasionally and our daily progress has slowed considerably, but with life so idyllic out here, why rush? The moon will be full in a day or 2, and we should get to Ua Pou in the next 3-5 days, one way or another. At 3pm Alaska time (Alaska?!? we're in the tropics!) we were at 7° 26' S, 133° 45' W, or about 390 miles from Ua Pou.
Fair winds to all -- Jon, Sue, Chris & Amanda
s/v Ocelot, sailing into the tropical South Pacific sunset
11-12 June 03
12 June 2003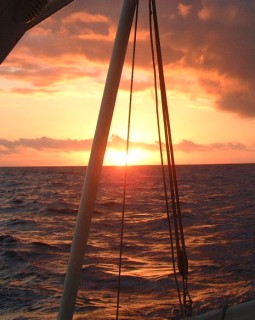 South Pacific sunrise in full glory
Dear friends & family,
Ok, OK, OK - I apologize to any deity(s) I may have offended by even obliquely mentioning an arrival date. I'm sorry - I'll try not to do that again! Since we sent that email out, we've gone ... nowhere. The wind was about 5 knots all last night and today, prompting us to drop the main (to keep it from slamming as Ocelot rocks in the gentle swell) and run under spinnaker alone. This resulted in a very peaceful day (and night) but we'd sort of hoped to arrive sometime this year. On the other hand, it allowed the kids to get on with their school-work, Sue to finally sort through and throw away mounds of accumulated paper, and Jon to attend to some engine maintenance. The breeze was just enough to cool the sun, keep the spinnaker full (most of the time), and provide enough speed (1-2 knots) for the autopilot to keep us pointed in the right direction. Actually, we're lucky - One of the other boats we talk to in the mornings just celebrated their 28th day at sea.
Being becalmed gives one a bit more of a perspective on just how big the Pacific Ocean is. We see birds every day, but we haven't seen another boat in weeks. The Pacific just goes on and on. Yes, we have a fair amount of diesel, possibly even enough to motor all the way to Ua Pou, but that would use it all up, and we're not sure we could replace it before Tahiti. We're not in a big hurry, and the wind will show up eventually. Actually, what's sucking up the trade winds is a low pressure area several hundred miles south of us. It's surrounded by clockwise rotating winds (we're in the southern hemisphere, remember), which are canceling out the SE trades we should be experiencing. When the low moves away, the trades will return. We hope. Soon.
This morning, Sue and I were treated to the most amazing sunrise. First, the skyline went through the amazing pastel color banding that we get in the tropics. Then the clouds on the horizon became edged in gold which got more and more fiery. Even when we thought it just couldn't get any brighter, it just kept getting more magnificent. The sun bursting through in blazing glory from behind a cloud was almost anti-climactic.
At 5pm Alaska time, we were at 7° 38' S, 134° 55' W, or about 315 miles from Ua Pou. In the last hour we've actually had a little breeze come up, so we're ghosting along at about 3 knots in perhaps 7-10 knots of breeze from the ENE. Amanda's serenading the sunset on her guitar, and all is well on board.
Fair winds -- Jon, Sue, Chris & Amanda
s/v Ocelot, sailing into another tropical South Pacific green-flash sunset
Up | 23-24 May 03 | 26-27 May 03 | 29-31 May 03 | 1-2 June 03 | 3-4 June 03 | 5-6 June 03 | 7-8 June 03 | 9-10 June 03 | 11-12 June 03 | 13-14 June 03 | 15 June 03 | Ua Pou Letter | Nuku Hiva Letter | Cruising Info
Fr. Polynesia Home | Marquesas Letters | Tuamotus Letters | Diving | Polynesia Flora/Fauna | S Pacific Cruising
Panama Letters | Ecuador Letters | Galapagos Letters | Marquesas Letters | Tuamotus Letters | Tonga Letters | Fiji Letters | New Caledonia Letters | Australia Letters
Top Level: Home | Destinations | Cruising Info | Underwater | Boat Guests | Ocelot | Sue | Jon | Amanda | Chris | Site Map | Make a Comment
---
Lifetime
Commodores
of the
Seven Seas
Cruising
Association

If our information is useful,
you can help by making a donation
Copyright © 2000‑ Contact: Jon and Sue Hacking -- HackingFamily.com, svOcelot.com. All rights reserved.