23-24 May 03
Dear friends and family,


Villamil was probably our favorite Galapagos anchorage
This morning at about 11am we left Villamil, Isla Isabela, Galapagos (1° S, 90° W) bound for the Marquesas at about 10° S, 140° W. The GPS says that the trip should cover some 2,905 nautical miles, or the equivalent of most of the way across the USA. But instead of the 5-6 hours a 747 would take, we'll probably be sailing for 20-30 days.
Given the prevailing trade winds, we probably won't take a straight line. Instead, we're currently motor-sailing SW, looking for wind. There usually isn't any around the Galapagos - we've had to motor between the islands. (Luckily, diesel is only $1/gal). We should start picking up the SE trades at about 3° south. Once we do, we'll head pretty much due west, keeping the wind just aft of the beam. Once we get to about 110° west, the trades should be blowing pretty much due east, or dead behind us, so then we'll start edging south. That's the plan, anyway...
We're all well on board, but we'd love to hear from you. We'll probably be sending these progress reports out every few days, but don't be concerned if there's a gap. Email from the boat takes a complicated path and it doesn't always work.
All the best -- Jon, Sue, Chris, and Amanda
s/v Ocelot at 1° 38' S, 91° 41' W
23-24 May 03
24 May 03
Hi All,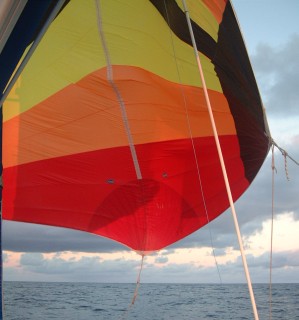 Sailing doesn't get much better than this.
Flying the chute on the open ocean!
We've had a lovely, if a bit slow, day out on the blue, blue Pacific. The swells are low and long, and the motion on the boat is minimal. It's mellow enough that we got projects done like repairing broken sandals (glue, needle and thread), and sewing up the ripped throw rug. Amanda is creating curried meat pies and coleslaw for dinner. We aren't fishing yet, having a fridge full of meat and fish from the Galapagos.
We (finally) cut the engine at 6am this morning, content to drift along at 4 to 5 knots. Then as the wind clocked around behind us, we popped the chute and have been sailing under its red, yellow and black shadow all day. Our day-time watch schedule is very relaxed -- sort of whoever feels like checking the sails and horizon does so. About dinner time we begin the official schedule, a rotation of 90 minutes per person, with a designated back-up. Seems to work well, though we may vary it in a week so that Sue and Amanda get to see sunrise, which they don't now.
We've had pods of dolphins cavorting off in the distance but they never came to play. The big excitement was that we saw what appeared to be a small pod of blue whales(!) given their lack of dorsal fins and HUGE bodies. They were escorted by a pod of spinning, jumping (like, 6' in the air!) dolphins.
Our position at 6pm CST was 2° 42' S, 93° 13' W, or (only) 2,750 miles to go. Even though we're well south of our rhumb-line course, we're still edging our way slowly south, looking for a bit more breeze. There are 15 other boats spread out in front of us (hundreds to thousands of miles) and they're all down between 5-6° south. We all check in with each other on the SSB radio at 7:30am to get weather reports and make sure everyone's OK.
All the best -- Jon, Sue, Chris, and Amanda
Up | 23-24 May 03 | 26-27 May 03 | 29-31 May 03 | 1-2 June 03 | 3-4 June 03 | 5-6 June 03 | 7-8 June 03 | 9-10 June 03 | 11-12 June 03 | 13-14 June 03 | 15 June 03 | Ua Pou Letter | Nuku Hiva Letter | Cruising Info
Fr. Polynesia Home | Marquesas Letters | Tuamotus Letters | Diving | Polynesia Flora/Fauna | S Pacific Cruising
Panama Letters | Ecuador Letters | Galapagos Letters | Marquesas Letters | Tuamotus Letters | Tonga Letters | Fiji Letters | New Caledonia Letters | Australia Letters
Top Level: Home | Destinations | Cruising Info | Underwater | Boat Guests | Ocelot | Sue | Jon | Amanda | Chris | Site Map | Make a Comment
---
Lifetime
Commodores
of the
Seven Seas
Cruising
Association

If our information is useful,
you can help by making a donation
Copyright © 2000‑ Contact: Jon and Sue Hacking -- HackingFamily.com, svOcelot.com. All rights reserved.