7-8 June 03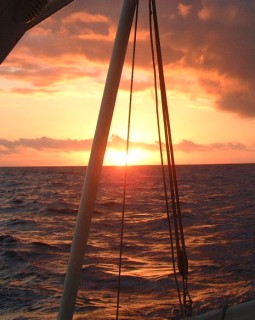 A glorious Pacific Ocean sunrise
7 June 2003
Dear friends and family,
It's 3:30am and we're running an engine to charge batteries. We're gently sailing along in about 15 knots of breeze - well behind us so we're making 5-7 knots.
Night watches have changed. When we started, we were approaching the dark of the moon, so it didn't feature much. Now, we've got about 1/2 a moon so my watches (9pm and 3am) are very different. With the moon so bright on my evening watch, we sail down a bright silvery path. The deck, clouds and horizon are clearly visible and only the brightest stars can be seen. The sea takes on a slightly oily appearance as the waves slide by us. Having everything so visible feels more comfortable somehow.
By my morning watch, the moon has set. The stars are out in bright profusion, the Big Dipper on our right to the north and the Southern Cross on our left. The Milky Way reigns supreme, a glowing band stretching in an arc over our heads and wheeling gently as the night progresses. The horizon is usually discernible, but clouds are just blacker blobs against the stars. The sea is a heaving black mat under us that sparks with phosphorescence behind us or when some fish disturbs it. By the end of my watch, I can just see the loom of approaching dawn behind us.
(Time break) It's 3:30pm PST now, and we're running wing and wing before about 20 knots of breeze, making a comfortable 7 knots or so. Our position is 5° 51' S, 126° 35' W, or 770 miles to go to Fatu Iva. If the wind keeps up we should cover that in 5-6 days, but the boats ahead of us are running out of wind so we're not holding our breath. The sky is clear and the sea is blue and life is good. Yesterday we had a visit from a 6-8' hammerhead shark. He drifted by us (we saw him by his dorsal fin), turned and followed us for a while, but decided not to eat us in the end.
Fair winds to you all -- Jon, Sue, Chris, and Amanda
s/v Ocelot, sailing into the South Pacific sunset
7-8 June 03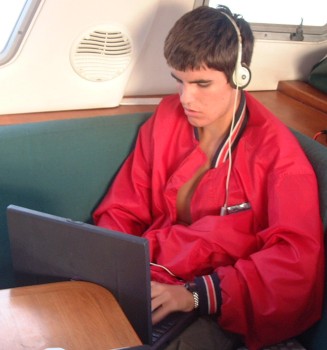 Chris working on email before we send it out
8 June 2003
Dear friends and family,
We really appreciate all the email we've received from all of you, but please excuse us if we don't answer all of it individually. Sending email has become very difficult for us recently. We worked at it for 2 hours last night before giving up. Our closest Winlink stations are now about 2,500 miles away (Hawaii and Southern California) - a bit far for our battery powered radio and random wire antenna. But since ground stations usually have ample power, big radios and beam antennas, we're usually able to receive just fine.
Last night was a bit sleepless, as the wind piped up to 20-30 knots for no apparent reason. The moon showed a clear sky as we reefed the main at midnight. That stopped us from hurtling along at sustained 10 knots, and the roaring and crashing below diminished so we could pretend to sleep.
Then this morning the wind all just faded away. We shook out the reef, rolled up the jib, popped the chute and we've had a delightful day just ghosting along at 4-6 knots in 8-12 knots of breeze. Chris made us a delightful Thai curry beef last night, and a loaf of fresh bread and a garlic-cheese spread for lunch today, which revived everyone's spirits.
At 3:30pm PST we were at 6° 17' S, 128° 47' W, with 640 miles to go to Fatu Iva, which means that we crossed the 3/4 mark last night. Amanda has been working on no-see-em proof covers for our hatches, and practicing her guitar (always delightful to listen to) while Chris has been working on physics and math schoolwork and beating his mother at backgammon.
Fair winds to you all -- Jon, Sue, Chris, and Amanda
s/v Ocelot, sailing into another green-flash South Pacific sunset
Up | 23-24 May 03 | 26-27 May 03 | 29-31 May 03 | 1-2 June 03 | 3-4 June 03 | 5-6 June 03 | 7-8 June 03 | 9-10 June 03 | 11-12 June 03 | 13-14 June 03 | 15 June 03 | Ua Pou Letter | Nuku Hiva Letter | Cruising Info
Fr. Polynesia Home | Marquesas Letters | Tuamotus Letters | Diving | Polynesia Flora/Fauna | S Pacific Cruising
Panama Letters | Ecuador Letters | Galapagos Letters | Marquesas Letters | Tuamotus Letters | Tonga Letters | Fiji Letters | New Caledonia Letters | Australia Letters
Top Level: Home | Destinations | Cruising Info | Underwater | Boat Guests | Ocelot | Sue | Jon | Amanda | Chris | Site Map | Make a Comment
---
Lifetime
Commodores
of the
Seven Seas
Cruising
Association

If our information is useful,
you can help by making a donation
Copyright © 2000‑ Contact: Jon and Sue Hacking -- HackingFamily.com, svOcelot.com. All rights reserved.