3-4 June 03
Dear friends and family,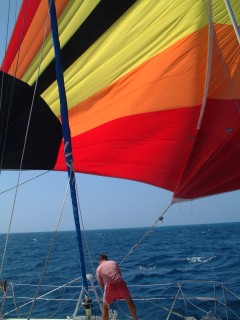 Jon is often on the bow adjusting
the set of the spinnaker
After a very relaxing (if relatively slow) almost-24 hours under just the spinnaker, the winds started increasing this morning. So we "handed" (took down and put away) the spinnaker and put up a reefed main and the full jib. Then we set our course so the wind (which is blowing from the ENE) came it at 120-130° apparent (30-40° aft of the beam). Since then, we've been flying along at 7-8 knots, with higher spurts.
This morning we held a half-way party on the radio, with boats reading poems, jokes, or limericks they'd made up - good fun. Some of our submissions:
(from Chris):
There once was a foolish yacht crew,
For whom the trades never blew,
So in order to sail, they entered a gale,
A decision they later did rue!
(from Sue):
There once was a cat on a boat,
Who was happy the whole thing could float,
When fish flew aboard, the waste he abhorr'd,
So he stuffed 20 fish down his throat!
(Every morning we find flying fish and squids on deck - Arthur is actually not interested in eating anything that doesn't say Cat-Food very prominently on the bag, so they go on the hooks of our fishing lines.)
(from Amanda):
There once were 2 kids who went sailing,
On a sailboat without any railing,
They rode very well, over many a swell,
Without any shaking or ailing!
At 5:30 local (MST) we were at 5° 11' S, 117° 25' W, with 1,300 miles to go to Fatu Iva. We're still heading due west but we'll probably start veering slowly south again by about this time tomorrow.
Fair winds to all -- Jon, Sue, Chris & Amanda Hacking
s/v Ocelot, sailing into yet another tropical pacific green-flash sunset
3-4 June 03
4 June 2003
To our dear friends and family
Once again, this is Amanda, doing my share of explaining to y'all what's been happening here in the middle of this wide, wide, ocean. Today has been an exceedingly wonderful day, with blue sky and wonderfully poofy white clouds, lots of sun for the panels, and just enough wind to keep us moving somewhere. We could have dealt with more wind, or put the spinny up, but so far it has been a nice, easy sail, and why would we want to change that?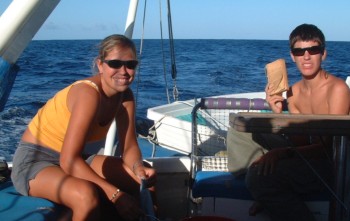 Hanging out on a glorious Pacific Ocean crossing
Last night the wind died down a tad, although seas were still sometimes up to ten feet, but we found if we bore off - I suppose "came up" would be more truthful - so that the wind was at a constant 140-160 degrees apparent off our starboard quarter, we went like a bat. This also made our track somewhat more northerly, in the hopes that when the wind straightened out from the east, we could have a good, fast angle into the Marquesas. But I believe my father has already mentioned our semi-long-term plans several times, so I won't be redundant.
Incidentally, last night we got an email mentioning that cruisers were allowed 24 hours in Fatu Iva, but then they had to move on. This is good news to us, as we have heard that Fatu Iva is a beautiful island, and we would like to see it, even if for only a short amount of time. If we don't go there first, it is unlikely that we ever will, as it is upwind - as much wind as there is around the Marquesas - from all the other islands. Hurray!
I was happy to wake up this morning to notice that the swells had died down somewhat, although that meant that the sea is now much more lumpy. I wouldn't say flat, as I can still look out the salon hatches and see mounds of blue and white against the horizon, but they aren't quite so towering. Lumpy seas make for a bit of an uncomfortable sail, but perhaps they'll die down a bit more. Hopefully keeping the wind. Right now, at 14:30 mountain time, we are at 4° 41' S and 119° 29' W, sailing with a full main and a full jib at about 5 knots. It does seem a bit slow, after our trip record of 18.3 (peak, not continuous) but it's better than nothing. Winds are about 11 knots from 140° to starboard. Water temperature is 82° F (28° C), as my mother just told me, and extremely hot after the 72° F (22° C) water in the Galapagos.
An odd thing we noticed - for several days out of the Galapagos, we didn't see any flying fish. Until the sea temp got up to 76° F (24° C), we hardly saw even single one, but then they started leaping onto the boat left, right, and center. It's quite disturbing to be on watch and suddenly hear a thwack! as one hits the deck, and then whack-a-whack-a as it flaps around. We try to get them overboard again before they die, but they don't all land in the cockpit.
And now, before my tall brother eats all the cookie dough, I shall say buen viaje (see, I AM learning Spanish!) and have a wonderful day
The Ocelots - Jon, Sue, Chris, and Amanda Hacking, with our wonderful sea-cat Arthur
Up | 23-24 May 03 | 26-27 May 03 | 29-31 May 03 | 1-2 June 03 | 3-4 June 03 | 5-6 June 03 | 7-8 June 03 | 9-10 June 03 | 11-12 June 03 | 13-14 June 03 | 15 June 03 | Ua Pou Letter | Nuku Hiva Letter | Cruising Info
Fr. Polynesia Home | Marquesas Letters | Tuamotus Letters | Diving | Polynesia Flora/Fauna | S Pacific Cruising
Panama Letters | Ecuador Letters | Galapagos Letters | Marquesas Letters | Tuamotus Letters | Tonga Letters | Fiji Letters | New Caledonia Letters | Australia Letters
Top Level: Home | Destinations | Cruising Info | Underwater | Boat Guests | Ocelot | Sue | Jon | Amanda | Chris | Site Map | Make a Comment
---
Lifetime
Commodores
of the
Seven Seas
Cruising
Association

If our information is useful,
you can help by making a donation
Copyright © 2000‑ Contact: Jon and Sue Hacking -- HackingFamily.com, svOcelot.com. All rights reserved.