5-6 June 03
Dear friends and family,
Some of you might be wondering how we provisioned for such a long trip, especially when there are no grocery stores out here until American Samoa, and what little is available is very expensive. So, for this trip, we left with lots of food. How much food? A ton of food. Literally. 2,000 lbs or 900 Kg.
53 lbs ( 24 kg) of pasta
66 lbs ( 30 kg) of powdered milk (to make 135 gallons or 500 litres)
175 lbs ( 80 kg) of fresh fruit, vegetables, meat and cheese
175 lbs ( 80 kg) of sugar, flour and oats
325 lbs (150 kg) of juice and juice concentrates
350 lbs (160 kg) of beer, wine, etc.
360 lbs (165 kg) of canned fruit, vegetables, soup, meat, and seafood
You get the idea. We normally also carry about a ton of water and diesel (200 gallons or 800 litres of water, and 60 gallons or 240 litres of diesel). Now that we have our watermaker going, I wish those numbers were reversed, but Ocelot's an ex-charter boat. Charterers like their showers and they don't cross oceans. We left with full tanks (of course) but we also put on 600 lbs (about 70 gallons or 240 litres) of extra fuel in jugs. All this extra weight has pushed us down on our lines and slowed us down considerably, but that will change eventually.
We crossed another line yesterday: we're now in a new time zone - Pacific standard (not daylight) time. We've had nice, light winds lately. Since there was weather to avoid south of us, we stayed north. At 5pm PST we were at 4° 21' S, 122° 01' W, with 1,055 miles to go. We're making about 6 knots in about 15 knots of breeze. We've had the spinnaker and full main up all day, so we've had a glorious sail. And to top it off, we just caught another 25" Wahoo and a 31" Dorado (our first!), the best eating fish out here!
Fair winds to you all -- Jon, Sue, Chris and Amanda
s/v Ocelot, sailing into the South Pacific sunset
5-6 June 03
6 June 2003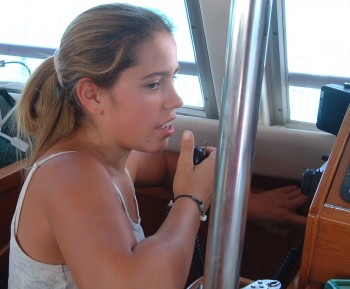 Amanda on the SSB radio with cruising friends
Yo, folks!
Happy news! During my 0130-0300 watch, we passed the 1000-nautical-miles-to-go line, marked as a dark squall line above the water (the not-so-happy news). Nothing special about the squall, just that it provided me with great amounts of adrenalin just before I was supposed to go to sleep. I was happy about the 1000-mark (still am, come to think of it), but this morning we reached a point that I believe more people can relate to - the 2/3 point, at 960 miles to go. That's 2/3 to Fatu Iva, which we're not sure is going to be our landfall anymore, but Ua Pou, a good check-in location, is not much further. To celebrate, Mom and I (the great dessert-baker) just made an apple cake, which we have not tried before, but the batter (more like dough, really) tastes delicious. We'll be having that tonight, along with some of our not-so fresh-anymore fish. Day-old! Really, it's abominable. (Don't worry, we haven't really gotten that snobby.) We only had half the dorado last night, so we still have 2-3 more meals of fish. Oh, Mom just took the apple cake out of the oven, and it smells delicious!
Several people, I have noticed, have asked why squid and flying-fish seem to enjoy killing themselves by leaping up onto our deck in the middle of the night. We're not sure of the reason, but we do have several theories - they consider themselves intrepid travelers, and wish to view the other world, if it's the last thing they do; they sense the boat coming and wish to get out of its way, but find they're facing backwards, and they end up coming AT the boat; they have dutifully sacrificed themselves to the noble Arthur, who does then not disdain to eat them; or, they're just really, really stupid. Personally, I think they're just really stupid.
If some of you are wondering how many other boats are doing this crazy passage, the answer is quite a few. And to my happiness, at least five others have kids on board. To keep in touch, because not all of them have onboard email, we have radio schedules on the SSB in the morning and, in my case, midday. The 11:00 net is not all that big, simply Pacific cruising kids on their way to Fiji, New Zealand, or Australia. It's nice to have it to look forward to during school in the morning, because then we teens can have a chance to catch up with our friends and do a daily quiz - highly biased towards Kiwis and Aussies, but I do whip them all once in a while.
Currently, at 16:30 PST, we are at 04° 52' S and 124° 24' W, sailing wing and wing at about 5 knots - we've slowed down considerably since this morning, possibly because we only have about 10 knots of wind. Seas have built again, up to a steady 8 ft, but we're riding comfortably.
Fair winds and easy days -- The Hackings - Amanda (haahaa, I get to place myself at the front!), Chris, Sue, Jon, and our inquisitive little Arthur-kitty
Up | 23-24 May 03 | 26-27 May 03 | 29-31 May 03 | 1-2 June 03 | 3-4 June 03 | 5-6 June 03 | 7-8 June 03 | 9-10 June 03 | 11-12 June 03 | 13-14 June 03 | 15 June 03 | Ua Pou Letter | Nuku Hiva Letter | Cruising Info
Fr. Polynesia Home | Marquesas Letters | Tuamotus Letters | Diving | Polynesia Flora/Fauna | S Pacific Cruising
Panama Letters | Ecuador Letters | Galapagos Letters | Marquesas Letters | Tuamotus Letters | Tonga Letters | Fiji Letters | New Caledonia Letters | Australia Letters
Top Level: Home | Destinations | Cruising Info | Underwater | Boat Guests | Ocelot | Sue | Jon | Amanda | Chris | Site Map | Make a Comment
---
Lifetime
Commodores
of the
Seven Seas
Cruising
Association

If our information is useful,
you can help by making a donation
Copyright © 2000‑ Contact: Jon and Sue Hacking -- HackingFamily.com, svOcelot.com. All rights reserved.