15 June 03
Dear friends & family,
Late last night, when our progress was such that we could predict our arrival, we realized that we'd arrive at Ua Pou at about midnight. Not good. So we altered course slightly and headed for Ua Huka instead. Ua Huka is about 40 miles closer, and not a port of entry, but boats are allowed a loose 24 hours there before proceeding to a clearance port.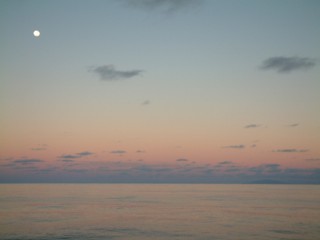 Land Ho! With the full moon above, the small
bump to the right is Ua Huka, Marquesas
(click on the picture to see a bigger image)
The wind for the last day has been very light from the north, so we bagged the chute, set all plain sail, and watched our wind instruments. If there was less than about 8 knots of breeze, we'd keep a motor ticking over at about 1,800 rpm with the sails up to help push us along. When the wind exceeded 8 knots, we'd cut the motor and ghost along in silence. Since the sailing was so pleasant and I (Jon) was so keyed up, I didn't even wake Chris when my watch was over at 0430, but waited for sunrise and our first view of land in 3 weeks. And there it was! A fantastic sunrise behind us, and the almost full moon setting over Ua Huka 25 miles ahead of us.
Running the motor had the beneficial side effect that we could run the watermaker to fill our tanks, and the seas were flat enough that we could run 3 weeks of laundry through the washing machine. So as Ua Huka loomed closer and became more detailed, we worked to get Ocelot back in port mode.
Ua Huka has 2 possible anchorages on the south side, and since what wind there was today was from the north, we thought both would be OK. We went into the first and decided it would be difficult to get the dinghy ashore, so we motored over and anchored in the 2nd, which was narrower but has a protected dinghy landing. We are the only cruising boat here. We set a stern anchor (most Polynesian anchorages require a stern anchor - we're going to get very good at setting it) and we all piled into the dinghy and headed for shore.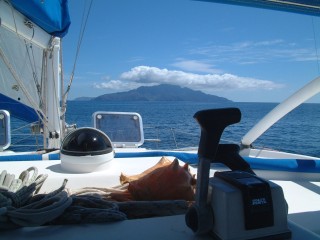 Ua Huka! Our landfall after 24 days at sea!!
Ua Huka is a very pretty island, what we've seen of it. The steep interior headlands are majestic, and the villages are rustic but well kept. Dwellings are modest, but lawns are trimmed (goats?) and little stone walls abound. The people are friendly, but not particularly surprised by our presence. Arriving on a Sunday, the entire village was down by the soccer field at the head of the bay, with the men playing bocce ball, and the women playing bingo under a shelter. They greeted us and returned our smiles, but didn't engage us in conversation, despite Sue's fluency in French (although it will take her several days to work the Spanish-isms out of her French). Ua Huka is well to windward of most of the Marquesas, so not many boats stop in here, so the locals attitude was unexpected. But the land smells - Jasmine, frangipani, and citrus - were intoxicating to us as we walked through the village.
In all, we sailed 2,935 nautical miles (5,436 km) in 24 days 8 hours, for an average speed of 5 knots - pretty slow for us, but we spent several days just drifting along with the current. In truth, the sail was delightful, and much more restful than if we'd had 20 knots of wind the whole time. Bouncy passages make for a lot of noise below, so I prefer slower, gentler passages. In a day or 2 we'll head off for Ua Pou, but I think this will be our last progress report until we head for the Tuamotus in a week or 2. Until then,
Fair winds to all -- Jon, Sue, Christopher, and Amanda Hacking
s/v Ocelot, anchored in Baie de Vaipaee, Ua Huka, Marquesas, French Polynesia
Up | 23-24 May 03 | 26-27 May 03 | 29-31 May 03 | 1-2 June 03 | 3-4 June 03 | 5-6 June 03 | 7-8 June 03 | 9-10 June 03 | 11-12 June 03 | 13-14 June 03 | 15 June 03 | Ua Pou Letter | Nuku Hiva Letter | Cruising Info
Fr. Polynesia Home | Marquesas Letters | Tuamotus Letters | Diving | Polynesia Flora/Fauna | S Pacific Cruising
Panama Letters | Ecuador Letters | Galapagos Letters | Marquesas Letters | Tuamotus Letters | Tonga Letters | Fiji Letters | New Caledonia Letters | Australia Letters
Top Level: Home | Destinations | Cruising Info | Underwater | Boat Guests | Ocelot | Sue | Jon | Amanda | Chris | Site Map | Make a Comment
---
Lifetime
Commodores
of the
Seven Seas
Cruising
Association

If our information is useful,
you can help by making a donation
Copyright © 2000‑ Contact: Jon and Sue Hacking -- HackingFamily.com, svOcelot.com. All rights reserved.