29-31 May 03
Hi All,
It's amazing how much ocean there is out here. Blue water as far as the eye can see (all the way to the horizon, all the way around). Blue sky - several puffy clouds today, and even a welcome sprinkle of rain. A long gentle swell from the S and a smaller one from the SE. But it just goes on and on, day after day.
This is Sue with the Ocelot update. Some questions have come in by email, and so I'll answer some. In case you missed it, we're headed towards French Polynesia, specifically, the Marquesas Islands. They are green and mountainous which is nice for a landfall after weeks at sea: they'll be visible from afar. Also, the French do such a good job of celebrating Sue's birthday (14 July).
Does it get lonely out there on the open ocean? Well, yes and no. We miss the social life of having other boat friends around, the daily get-togethers, the camaraderie. But as a family of 4 we have a fair number of interactions during the day (and night), so that there's always someone to talk to or sing with or make silly jokes with. The wildlife off the boat is fascinating and ever-changing: we check for landed squids and flying fish each morning (they're now going on our fishing lines), love spotting dolphin pods, either in daylight or at night (seen by the bio-luminescence), and watching the antics of the sea birds. Yes, there are birds out here, 700 miles from land.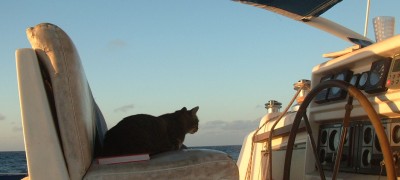 Arthur on his usual seat while underway
Who is Arthur? Shame, shame. Someone hasn't read every one of the many hundreds of pages of our website (see Arthur's page). Arthur is our long-suffering sea-cat, a transplanted field-loving feline, now confined to a life aboard a moving, water noise-surrounded plastic and teak decked boat. Actually, he's making his peace with the boat's motion, and venturing off the helm seat several times a day to eat or use his litter box. He is also our early-warning-system for dolphins, as he probably hears them before we do.
Have we heard whale song through the hull yet? No, unfortunately. When we can spare the energy we have our CD player on but we're not yet sure what type of music the whales like.
"Spare the energy..." The autopilot and instruments, combined with the solar panels being shaded by our sails, means that we're having to run engines to charge batteries, which we haven't had to do in about a year. We tried to get a towing generator before we left, but couldn't.
At 4 pm CST we're at 5° 5' S, 102° 13' W or 715 miles from the Galapagos with 2,190 miles to go. Our wind is lovely at 13 knots from the SE, well aft of the beam. It was very light yesterday so we didn't make much distance. We're now making 5-7 knots under spinnaker alone, as the mainsail was slamming a bit last night in the light winds. Maybe tomorrow we'll think about putting up the main as well...
Fair winds all -- Sue, Jon, Chris & Amanda Hacking
s/v Ocelot, sailing into the tropical South Pacific sunset
29-31 May 03
31 May 03
Dear friends and family, (no message yesterday, so nix-panicus)
The sailors out there would just love this - broad-reaching across the trades for days on end. After flying just the spinnaker for over 24 hours, we finally took it down and put up all "working" sail (full main and full jib) about 11am Thurs. Since then, we've been flying along. The wind has been about 15 knots from 30-50 deg aft of the beam, and we've been averaging over 7 knots during the day (with bursts over 11). The brilliant blue ocean remains amazingly flat (touch wood), the skies continue huge, blue and cloudless, so Ocelot just surges along happily.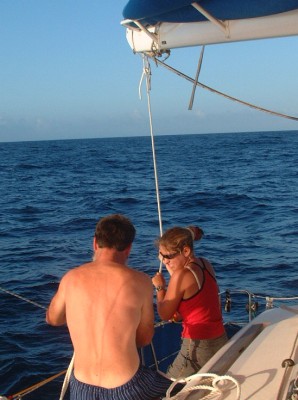 Fixing the chafed-through boom-vang
We had our boom-vang chafe through the other day. On Ocelot, this is a 5/8" double-braided line, essentially a second main-sheet. It runs inside the boom (where it broke) and back to its own dedicated winch in the cockpit. First we rigged some emergency lines from the end of the boom (the big bar at the bottom of the mainsail), just to keep it from flailing around too much. Then we unrolled some stiff wire and threaded it along the inside of the boom (which already has 3 reefing lines, the outhaul, and the mainsheet inside it). Once we found the wire at the other end, the hard part was done. We connected the wire to a length of rope and pulled it through to act as our temporary vang. Then Amanda and Jon spliced the old vang back together (making a very smart job of it) and pulled it through with the temporary vang to effect a permanent repair.
(From Beard & McKie's delightful Sailing Dictionary: Splice - Method of joining 2 ropes by weaving together the individual strands of which they are composed. The resulting connection is stronger than any knot. Splicing is something of an art and takes a while to master. You can work on perfecting your technique at home by practicing knitting a pair of socks or a stocking cap out of a pound or so of well cooked noodles.)
At 2 pm today Sue went out to the cockpit and the rest of us heard that wonderful cry, "Fish ON!" Actually, we must have gone through a school because both lines had fish on them. With Jon reeling in one and Amanda on the other, we eventually landed a pair of young Wahoo, each slightly more than 2' long. They will feature prominently at dinner, and Sue is also preparing sushi starters (love that wasabi!)
We crossed several major (if artificial) lines recently: less than 2,000 miles to go, 1/3 of the way there, and more than 1,000 miles traveled so far. We're still running basically west along 5 degrees south latitude. We also moved 1 hour west to Mountain Time (how can we be in MST when we're in the middle of the ocean?) At 5pm local time, we were at 5° 20' S, 107° 34' W, with 1,875 miles left to go. We're cruising gently along at about 7.2 knots with about 15 knots of apparent wind 40 degrees aft of the beam. The sun is preparing to do its nightly show for us, and all is well on board.
Fair winds to all -- Jon, Sue, Chris & Amanda Hacking
s/v Ocelot, sailing into the tropical South Pacific sunset
Up | 23-24 May 03 | 26-27 May 03 | 29-31 May 03 | 1-2 June 03 | 3-4 June 03 | 5-6 June 03 | 7-8 June 03 | 9-10 June 03 | 11-12 June 03 | 13-14 June 03 | 15 June 03 | Ua Pou Letter | Nuku Hiva Letter | Cruising Info
Fr. Polynesia Home | Marquesas Letters | Tuamotus Letters | Diving | Polynesia Flora/Fauna | S Pacific Cruising
Panama Letters | Ecuador Letters | Galapagos Letters | Marquesas Letters | Tuamotus Letters | Tonga Letters | Fiji Letters | New Caledonia Letters | Australia Letters
Top Level: Home | Destinations | Cruising Info | Underwater | Boat Guests | Ocelot | Sue | Jon | Amanda | Chris | Site Map | Make a Comment
---
Lifetime
Commodores
of the
Seven Seas
Cruising
Association

If our information is useful,
you can help by making a donation
Copyright © 2000‑ Contact: Jon and Sue Hacking -- HackingFamily.com, svOcelot.com. All rights reserved.