26-27 May 03
Dear friends and family,
I think we've finally got to the trades. We're now surging along at 7-9 knots - good time for us. The wind is just aft of the beam, which makes for comfortable, fast sailing. Ahh... reaching across the trades, gentle warm breezes caressing us, the seas showing nice, mature ocean swells with only bits of white and a hint of chop, the skies a brilliant blue with a few fluffy clouds, and the sun setting in glorious green-flash splendor just in front of us. It doesn't get much better than this.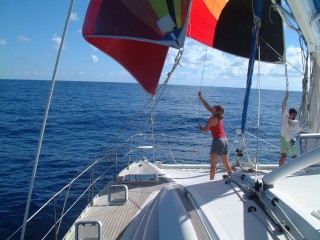 We got pretty good at dowsing the chute
We started out from the Galapagos having to motor for the first 100 miles or so, like everyone else. Then, for the last 2 days we've been just ghosting along with very little wind. It was actually very relaxing. We took down the main to keep it from slamming back and forth and put up the spinnaker (called "the chute" for its resemblance to a colorful parachute). We cruised gently along under the chute alone for over a day. Then, over the space of perhaps 30 minutes (luckily, just at lunchtime) the wind went from about 7 knots up to 15-20. Down came the chute and up went the full main and jib to welcome the trades.
There are currently something like 20 other boats making this same 2,900 mile passage right now. We keep in touch over the radio every morning, giving our position and local weather. Given what the other boats are experiencing, there's little wind for the last about 300 miles, so I suspect the spinnaker will be coming out again before too long.
At 4pm CST, our position was 4° 12' S, 95° 40' W, or about 320 miles from the Galapagos - only 2,588 miles to go! We've turned almost due west to keep our favorable 1 knot current. Further west, the trades, currently coming from the SE, usually back further to come from due east. Then we'd like to turn a bit south again, as sailing with the wind off the quarter is much nicer than with it dead behind us.
All the best -- Jon, Sue, Chris & Amanda Hacking
s/v Ocelot in the South Pacific
26-27 May 03
27 May 03
Yo, folks!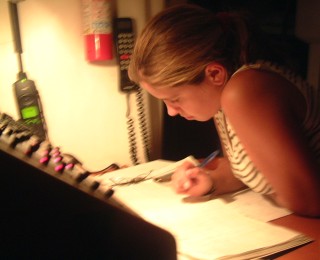 Filling in the log, a vital part of night watch
We are all taking turns writing these to you every night, so this is Amanda, writing to you from the beautiful (as much as you can call waves and sky beautiful), warm (for most of you), and rolly Pacific Ocean. We kept our wind through the night, and continued sailing at an average of almost 7 knots, and have recently completed a 160-nautical-mile day. The seas are still delightfully low (knock on wood) and we hope they stay that way.
Wildlife out here has been particularly amazing. We've seen Audubon shear-waters, a tiny type of bird not much bigger then a swallow, for the past five days, and just today Mom saw a juvenile masked booby, 400 miles from anywhere. How do they sleep? This morning we discovered a whopping record of animals that had somehow made it onto our boat in the nighttime - 5 flying fish, and 12 squid. It's a pity they dry out in the night, or Arthur might have had a delicious and fresh meal of fish, and us one of calamari.
Last night, as I was standing my watch with Mom, who stayed awake to keep me company, we saw a marvelous happening that will stay with me for quite a while. It was Arthur who noticed them first, perking up on the helm seat and staring at the water. At first we saw nothing except for a white streak which I immediately thought was a breaking wave, but then I heard a whoosh and saw a dolphin leap out of the water, surfacing for air. There were only 5-6 of them, not a large size for a pod, but it was amazing, seeing their trails of phosphorescence rippling out behind them. They were only around the boat for a minute or so, but they came back perhaps 4-5 times during my 90-minute watch. It was very cool.
And now, at 17:30 CST, our position is 4° 39' S, 98° 30' W, or about 500 miles from the Galapagos with 2,400 nautical miles to go! We are sailing at 7.5 knots with 16 knots of true wind 30 degrees aft of the beam, and the sun is over the yardarm. Not that we have a yardarm, but it is definitely time for sun-downers. So I leave you now to dive into my Fresca and peanuts, anticipating delicious fajitas a la Christopher for dinner.
Cheers to all - Amanda, Chris, Jon, Sue, and Arthur;
S/V Ocelot sailing into the South Pacific Sunset
Up | 23-24 May 03 | 26-27 May 03 | 29-31 May 03 | 1-2 June 03 | 3-4 June 03 | 5-6 June 03 | 7-8 June 03 | 9-10 June 03 | 11-12 June 03 | 13-14 June 03 | 15 June 03 | Ua Pou Letter | Nuku Hiva Letter | Cruising Info
Fr. Polynesia Home | Marquesas Letters | Tuamotus Letters | Diving | Polynesia Flora/Fauna | S Pacific Cruising
Panama Letters | Ecuador Letters | Galapagos Letters | Marquesas Letters | Tuamotus Letters | Tonga Letters | Fiji Letters | New Caledonia Letters | Australia Letters
Top Level: Home | Destinations | Cruising Info | Underwater | Boat Guests | Ocelot | Sue | Jon | Amanda | Chris | Site Map | Make a Comment
---
Lifetime
Commodores
of the
Seven Seas
Cruising
Association

If our information is useful,
you can help by making a donation
Copyright © 2000‑ Contact: Jon and Sue Hacking -- HackingFamily.com, svOcelot.com. All rights reserved.