3 First Extension
Summary: Golf's team started removing the varnish from Ocelot's interior with a heat gun. Jon removed all of the headliners from the salon as well as all the cabins and they were all taken to the workshop for storage. Meng, our woodworker, started repairing the whale damage in Amanda's cabin. With the teak removed from the deck, the workers started grinding off the mastic that was under the teak, as well as grinding off the gelcoat on the cabin-top. A plywood frame for Ocelot's transom extension was built, waxed, and 6 sheets of heavy fiberglass was laid in it before the plywood was cut away.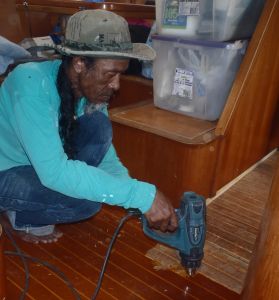 Removing varnish from our cabin sole
Monday, November 7:
We arrived late at the boatyard as Golf was not to be there until late in the afternoon, and Jon needed to see a dentist and have a haircut. We both walked, Sue first. She got there to find the long-haired older guy (got to learn some names!) working on taking off varnish from salon floor with a heat gun and wide scraper. It seems to be a very efficient, easy, and non-messy system. He worked all through the salon and then down onto the floor of the port hull. We need to take up the floor as soon as possible so it doesn't get wrecked while its just naked wood.
Meng removed the last of the cockpit fittings (like the aft gates and the hinges off scuba lockers). One guy worked on the aft-most teak. Meng also took off port emergency hatch and started on starboard. These emergency hatches are required on French multihulls, but they're a pain in the patootie. They weep a bit, so they need to be sponged dry pretty regularly. We plan to remove them and refurbish them, but then fill the holes with sheets of polycarbonate (Lexan). We'll keep the emergency hatches in case a future owner wants to reinstall them.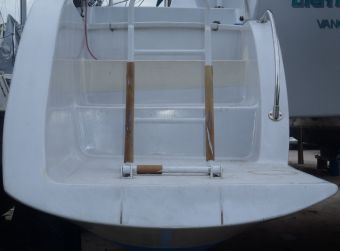 Lighten Up's extension - OK, but wider than we want
Sue talked with Phil and his wife on Jigsaw, an Aussie cat they built. He had some ideas about the extension on our transoms, such as using stiffer boards or even aluminum angle to run the line from the hull back, as he could see that what we had was curved inwards.
Sue got on the internet to read about extending transoms on cats. Lots of interesting info, but the bottom line is that any lengthening is good, and much is aesthetics. Getting the transom out of the water is an honorable goal to give a clean wake. Sue also talked at length with Bill and Ju on Lighten Up about how they did their extension. Theirs is more flat underneath and quite wide. Not sure how that would look on Ocelot.
We took a last(?) big load of stuff to the workshop, including the 8-man life raft and all the reefing lines from the boom. Amazing how heavy a set of lines can be!
We had a quiet night in the apartment after a home-cooked (well, microwaved!) dinner of rice noodles and Thai coconut soup and chicken. YUM.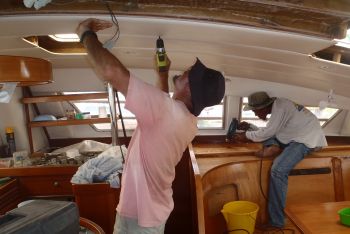 Jon taking off the salon headliner - an all-day job
Tuesday, November 8:
What a busy day it was! We arrived to find our salon all moved around so that the varnish scraping could continue up on the side of the settees. This went on all day, and it was hot in there due to the heat gun. Our older Thai worker with the long hair can squat into the smallest spaces! Outside, the last of the teak decking came off. Tomorrow they're supposed to start removing the old mastic that held it down.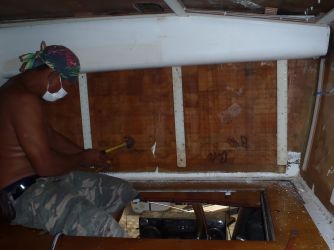 Meng working on the whale damage in Amanda's cabin
Down in the port hull Meng was busily pulling Amanda's bunk apart to assess the whale damage from 2007. That meant taking off the headliners, the book shelves, the side bulkhead coverings, and breaking off the (already broken) rim of fiberglass that holds the bunk in place. The whale really did a number on that bed! Meng spread himself over several jobs (and boats) today, but always with a smile.
Our only female worker, Nam, worked alongside Sue sweeping up the varnish bits, and helping to clean the fiberglass flooring under the salon teak. Yep. All that teak flooring (now without varnish) got pulled up today! At day's end we carted it off to Golf's workshop where it will be varnished, varnished, and revarnished with 8‑10 coats, then kept there, all pretty, until we're just about to re-launch.
Realizing that the tearing apart of the interior was going rapidly, Jon got busy pulling off the salon headliners, following electrical wires, labeling things, cutting wires, and generally making us look like an unfinished boat! We found some places where water has seeped in from hatches over the years and damaged some cosmetic plywood that holds our nice cushy interior liner, so that will have to be replaced, but we'd sort of figured on that. Can we say "Domino effect?"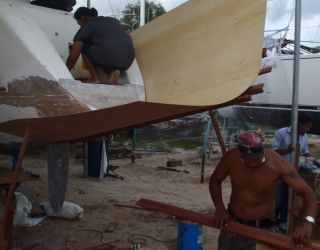 Building the forms for extending our sugar-scoops
The big excitement outside was the work on the hull extension. Meng and his helpers took off last week's plywood frame and started over. Working with photos of the stern, and drawing lines with, can you believe it, Paint! we estimate we will be extending the hulls by about 4' (1.2m) to get the transoms out of the water. Eat your hearts out, naval architects! Microsoft Paint is the new CAD. Well, OK. Maybe not. But at least it helped us figure out how far aft to build the plywood frame.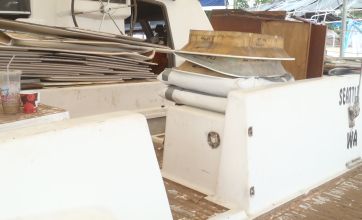 Headliner bits in cockpit to go to Golf's workshop
All this boat work is not without its hazards: a couple days ago a young worker had a piece of teak shaving whack his eye. He refused to go the the hospital, but did douse it with eye cleanser and an eye cup over and over. Next day the eye was clear and bright and he was smiling. Nam stepped on a screw today and pierced her foot. Sue washed her foot and helped her bleed the piercing, then she refused to bandage it, stood up, and carried on working in bare feet! We've taken to wearing Teva's or thongs on the boat now, due to all the teak shavings and uneven surface. But our workers are still barefoot on board, and wear only rubber thongs down in the boat yard. Let's hope that's the end of the mishaps!
The news is full of tales of the floods in Bangkok, and while there are many people suffering with sanitation issues, flooded houses and food shortages, a less publicized but widespread difficulty is in the industrial sector. The floods are affecting many of the smaller businesses, importers and warehouses that supply goods to the rest of the country. Each day Golf is struggling to find a supplier for the paints, epoxies, and wood that he needs to finish the boats he has lined up. Good news for us, apparently our new (aged and dry, high quality) teak arrived at his house in Phuket Town yesterday. [ed: We later found out that this was a complete lie. Golf never had the teak that we paid for, although he claimed several times that he did.]
We are trying to research buying a new oven here in Thailand. Bringing one back by plane would cost major bucks and hassles, but our local supplier says his contact in Bangkok is under 6' (2m) of water and the store room is sealed and inaccessible. We have to wait at least 2 weeks for the water levels to recede enough that the Bangkok supplier can get into his warehouse to get to his computer to even see what's in his inventory! Fun and games in Paradise...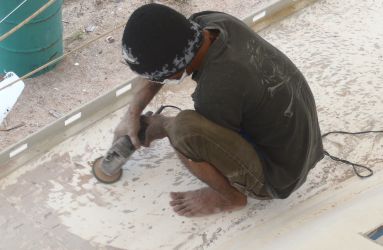 Port deck gets the mastic ground off to the gelcoat.
Wednesday November 9:
A bit of a grubby grinding day, as the workers used grinders to take off the tough mastic that held our decks down. This caused dust to blow all around and through Ocelot, making life below a bit untenable. Where the deck hatches were is now sealed off, which prevents the dust from blowing below but also makes it rather airless. Jon worked at removing the headliners from the cabins, but was soon dripping sweat and found he could only work for about 10 minutes before coming up for a cool air break.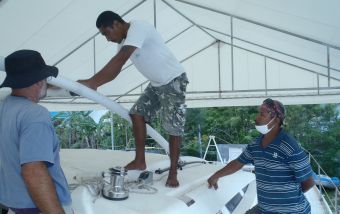 Jon, Golf and Meng discuss hard bimini ideas
This morning Sue set off walking. Got to get some exercise somehow! But it was not to be. Less than 10 minutes after leaving the apartment Sue heard a motorbike pull up behind her, and a soft Thai voice saying, "Madam. Madam." It was Nam, our woodworker Meng's wife. She had a child on the motorbike, but room for Sue, too. Since their only shared language is the greeting (Sawadee ka) and Thank you (Kap kun ka) Sue thought it would be difficult to explain that she would rather walk. The last thing we want to do is offend our workers and Thai friends! So much for the exercise...
Sue arrived at the yard to find the same older worker squatting over the heat gun, removing varnish in the salon. But the fine white gritty and sometimes itchy fiberglass dust made the salon not a nice place to hang out! A morning squall left the workers unperturbed. Hooray for the big white tent! But Sue had to climb down the wet ladder to seek refuge under Ocelot to get out of the swirling dust. She eventually gathered up the little computer that we schlep back and forth every day and headed back to the apartment -- on foot! -- for a grit-free lunch.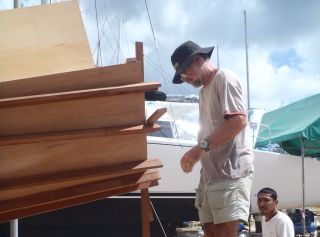 Checking out the angles on the stern extension
Jon had a successful dental event ($50 to restore, re-seat and cement a crown!) then rode back to the yard on his rented scooter. The afternoon consisted of lots more grinding, and now the side decks are almost ready to be filled and glassed. Jon and Meng took the hatches off the main salon so we are looking more and more like an unfinished boat!
The main discussions today centered on the shape of our sugar‑scoop extensions. Bringing the natural slope of Ocelot's bottom up to the waterline extends Ocelot about 4' (1.2m) which is somewhat longer than we were expecting. Meng's wooden mold is now very solid, but we'll probably try to bend it up at the back a bit. This will tend to bulge it out and make a slightly wider final platform, which is fine with us. The change in angle for the water should be gradual enough not to be noticed.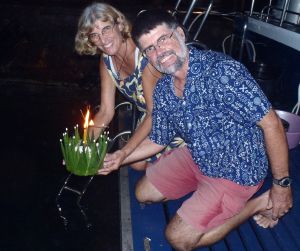 Sue & Jon launch their "krathong"
We had a relaxing evening once again with Steve and Gayla from Ariel. We enjoyed a delightful dinner at Anchor Inn, and then some lively website and computer discussions at our air‑conditioned apartment. We also had fun reminiscing about "hippie" travel around the world in the 70's. We'd all "been there and done that" in one form or another.
Thursday November 10 (Loy Krathong):
Jon, Meng (our woodworker) and Golf put in a lot of time on the plywood mold for the sugar-scoop extension. Our goal is to get the sterns completely out of the water, but it's tricky figuring out just how far aft of the current stern we need the extension to go. We should, of course, off‑load a few tons of junk and thereby let Ocelot float a few inches higher, but, well, that means getting RID of stuff. Pretty radical for us, but we'll try.

It felt extra hot today as we toiled down in the cabins removing the headliners, lights, fans, and bookshelves, so the varnishers can get to the wood easily. Sweat city! Ocelot is looking more and more naked as bits and pieces of her get hauled off to Golf's workshop.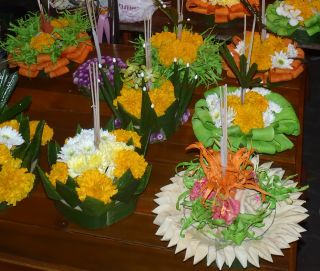 So many beautiful "krathong" offerings
Meng continued to work on repairing Amanda's whale-damaged bed. When we removed the walls we were happy to see that we may be able to extend both of the aft‑cabin bunks by 2‑3" (~6cm). The French builders spaced the inside wall of the aft cabins that far from the bulkhead. Not sure why they did that, but removing the spacing will allow us taller folks to use those aft beds more comfortably.
Today is the day of the full moon of the twelfth lunar month of the Thai calendar. It's a very special day, called Loy Krathong, when Thais make small floating offerings and launch them with prayers and wishes. Tradition says that if the offering floats away from you, your wishes will come true, so it's good to watch which way the wind is blowing. After yet another wonderful Thai dinner (Massaman curry and Tom Kha Gai with rice) we joined our Swiss friends Rolf and Daniela and walked down to the big pier at Ao Chalong (along with several hundred Thais). On the way we picked up (completely organic) floating offerings from one of the many street vendors, complete with flowers, incense sticks, and a candle. We launched all of our offerings from the end of the pier and watched them float away under the full moon with their candles and incense lit.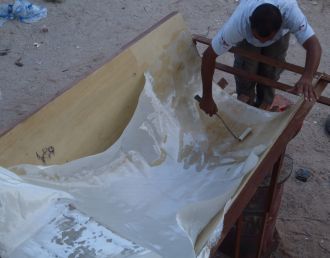 Wetting out the second layer of fiberglass
The Thais also have a tradition of sending off small hot‑air balloons on these sorts of festive occasions. These are translucent white bags about 3' (1m) high, with a solid fuel ring suspended under the opening. Spread the bag, light the fuel, wait for the air inside the bag to get warm, and then launch it into the sky. We saw several being launched, and off towards Phuket Town we saw dozens more lifting gracefully into the sky. All of this lit by a beautiful full moon!
Friday November 11:
Ocelot has a glass ass! Well, on one side, anyway. Late this afternoon the workers put some sort of cream release onto the wooden mold for the sugar‑scoop extension and started laying fiberglass into it! WOOT! It is so very exciting to see some progress towards improvements, rather than just de‑provements. They are glassing right over the old transom, without cutting anything away. The idea is that the new extension will be joined to the boat, but will also be safely sacrificial, in that the original transom is still intact. It will be interesting to see just how well this epoxy sets up tomorrow morning.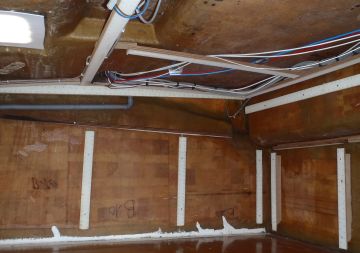 Ocelot's bones. White is Velcro for holding interior walls.
Note removable spacers on right to make the bed longer.
Jon finally removed all of the headliners and side‑walls in all of the cabins. These are stuck in with strong Velcro, but they have to be removed (and replaced) in a certain order, which is not always obvious. The object of the exercise is to expose all the varnished wood so it can be worked on, and also to inspect Ocelot down to her bones. Two huge truckloads of walls need to go to Golf's workshop. Some of the panels have some water‑damage and they're being held out to be remade. Golf wants to have all the interior varnishing completed by the time we return in January. We can hope, but everyone says that little happens unless we're here to push. [ed: In fact, nothing positive happened on Ocelot while we were gone - what work was done actually caused more damage than movement forward. We suggest that folks having any work done in Thailand oversee it personally, to make sure it's done right.]
Outside, we have 2 guys grinding on Ocelot's deck. They've removed virtually all of the mastic that held the teak decks down so Ocelot's looking all white now. Today they moved on to removing the gelcoat non‑skid on the cabin‑top, which looks like it will take some time. It's good to see progress, but a bit scary to see our familiar little white circles of non-skid being ground into oblivion!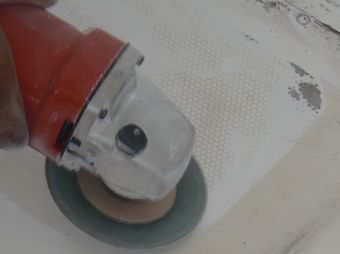 Grinding away our dotty anti-skid on the foredeck
Sue walked to the yard again this morning, but hitched a ride with Golf back to the apartment 15 minutes later when she realized that the majority of the days' work would be grinding gelcoat on the deck. Messy, dusty, messy. She made good use of the day (in A/C comfort while all the rest of us slaved away in the heat!) studying the Thai language on-line, sleeping, and cooking dinner. We still have some food to eat up so why pay $12 for dinner when we can reduce the stores that we bought earlier.
Meanwhile, Jon slaved away in the heat and humidity. He was soldering several wires ends and then put his soldering gun down and was packing up what he'd worked on when he stepped on the (still hot) soldering gun. OUCH! Luckily the fridge is still on so he could grab some ice from the freezer to put on his 2 barbecued toes. The drinks lady never showed up today, which made the afternoon extra long and thirsty! Jon was pretty knackered when he got home at 5:45. Tomorrow is our Saturday end‑of‑the‑week "party" so we are off to buy more sodas, as those seem to be about as popular as the cold beers.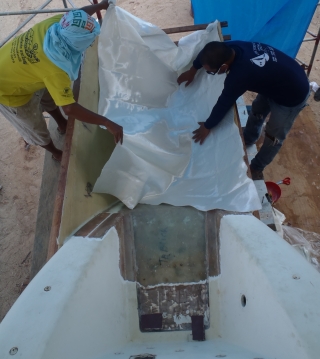 More bi-axial fiberglass for our sugar-scoop extension
Saturday November 12:
The main new event today was the addition of 4 more layers of fiberglass to our starboard side sugar‑scoop extension. The first 2 layers went on late yesterday. Golf is using biaxial glass which is not woven into a cloth. Instead, the strands are just laid down - first at a 45° angle to the left, then at a 45° angle to the right - and then the strands are lightly sewn together to form a mat. This makes for a very strong layer (stronger than we really need) as the fibers are not kinked by weaving. It also goes over irregularities easily, as it's easy to push the strands to where you want them.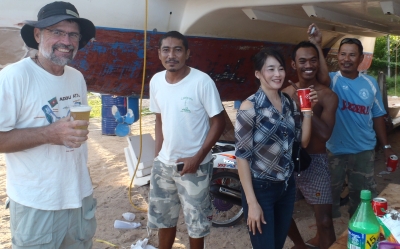 Jon, Golf, Golf's wife Mai, a worker, and Meng, our carpenter
Golf says he wants to remove the plywood mold tomorrow. We'll be interested to see how easily it comes off, as he didn't seem to put much of a release-agent on the wood. Once the mold is off, we want to mount a laser-level to see exactly where the waterline will catch our extension. We may have to bend it up a bit, as we want the extension to clear the water by about 3" (7cm). Once we get the height right, we'll epoxy in 3/4" (19mm) of foam and another few skins of fiberglass. This will lock in the shape of the extension, as that sort of sandwich construction is very stiff and strong. Bending the bottom of the extension up may make the sides bulge out a bit, but that's OK, as it will simply create a slightly wider swim platform. The trick will be making the 2 sides look the same...
Life onboard was pretty untenable today, as there are 3 guys grinding off our old gelcoat. on top of the cabin and in the cockpit. The dust blowing around gets into everything, so we abandoned ship to the refuge of our (air‑conditioned) apartment, which is about 1.2 miles (2km) or a 20 minute walk from the boatyard.
Saturday is the end of the nominal work week (although Golf intends to work on Sunday) so we threw our workers a small party with beer, sodas, chips, and nuts. Moral seems pretty good, but we worry a bit about Golf. Ours is a big project for him, and he seems to put his concerns in his stomach, so he's not feeling very well much of the time. But now some of the other boats he's been responsible for have launched, so he should have fewer worries. He doesn't like to turn down work, so he's taken on a bit more than he can really do. Luckily, we're not in a time crunch (yet) so we try to cut him what slack we can.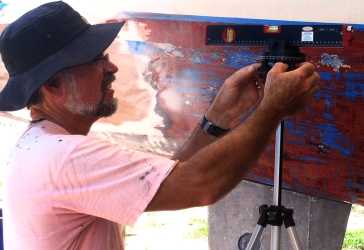 Jon setting up the laser transit to check the waterline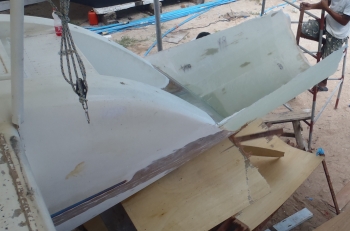 Pulling the wood mold off the starboard extension
Sunday 14 November:
Not that much work happened today unless you count epoxy quietly curing itself. Jon borrowed a laser transit and used it to find where our waterline would come on our new sugar‑scoop extensions. It looks like the back of the starboard side extension will be about 2" (5cm) above the water, and we should be able to push it up another inch or 2 if necessary. But the interesting part is that the extension is an inch short of 4' (1.2m) long! That's about twice as long as we'd thought it would be. So Ocelot may become a 49' (15m) boat suddenly!

The excitement today was the removal of the mold for the starboard extension. Some of the plywood stuck to the fiberglass, but not much. Unfortunately, the mold didn't quite follow the hull at the very tail end of Ocelot, but Golf assures us that it can be faired in. Now the interesting part will be making the port side identical to the starboard side...
Thai Refit: Next | Up | Previous | 60 Christmas | 59 Fair Sugar-Scoops | 58 Finish Galley Wood | 57 Deck Filler | 56 Fire Golf! | 55 Hull Joint | 54 Sink Cabinet | 53 New Eyebrows | 52 Foredeck Work | 51 New Hatches | 50 Test Bimini | 49 Fwd Cabin Hatches | 48 Hatch Frames | 47 Glass Scoops | 46 Inject Bimini | 45 Cockpit & Bimini | 44 Scoop Steps | 43 Bimini Mold | 42 Level Ocelot | 41 Mast Conduits | 40 Replace Helm | 32 Fly to USA | 31 Raise Transoms | 30 Foam Foredeck | 29 Rebuild Engines | 28 Grind Spars | 27 Foredeck Repairs | 26 Transom Walls | 25 Foam Helm | 24 Shape Transoms | 23 Start Transoms | 22 New Bows | 21 Cockpit Surgery | 20 Dismantle Cockpit | 19 Fair Topsides | 18 Remove Forebeam | 17 Dismantle Engines | 16 More Deck Work | 15 Start Deck Repairs | 14 Rip Apart Galley | 13 Remove Decks | Xmas Break | 4 Strip Ocelot | 3 First Extension | 2 Remove Teak Deck | 1 Haul Out
Ocelot Pages: Rebuild Decks | Extend Transoms | Cockpit Area | Below Waterline | Bimini | Spars | Deck Hardware | Exterior Lockers | Salon | Galley | Cabins | Heads | Interior Floors | Electrical | Maintenance | Weekly Logs 2012 | Weekly Logs 2013
Top Level: Home | Destinations | Cruising Info | Underwater | Boat Guests | Ocelot | Sue | Jon | Amanda | Chris | Site Map | Make a Comment
---
Lifetime
Commodores
of the
Seven Seas
Cruising
Association

If our information is useful,
you can help by making a donation
Copyright © 2000‑ Contact: Jon and Sue Hacking -- HackingFamily.com, svOcelot.com. All rights reserved.