17 Dismantle Engines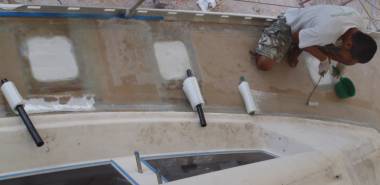 Golf laying 3 strips of glass in increasing widths
Summary: The foaming and glassing of the side decks was almost completed - all the foam was put down and glassed over, the hatch openings reinforced, and several strips of reinforcing glass were laid along the edges of the decks. All that remains is to fair the side decks and then cover them with the final 2 layers of biaxial glass. Houa is extending the entire port side of the galley by a few inches to make the new stove and oven look like they belong. He's building a new drawer under the oven and creating a new door for the storage area next to the stove and sink. Hem, our mechanic, took the injectors, injector pumps, heat exchangers, water‑injection elbows, exhaust manifolds, freshwater pumps, and saltwater pumps off both engines. He also took the whole head off starboard engine. These will be serviced and reinstalled. We would have gotten more done this week but Golf claims he's been having severe back and leg problems, which he says have been painful enough for him to go to the hospital. [Ed: Perhaps, but we now know that Golf is an accomplished liar so we don't know how much of what he tells us is true. And the fact that he's out of money means that he's spending a LOT of our money on himself, possibly on drugs.]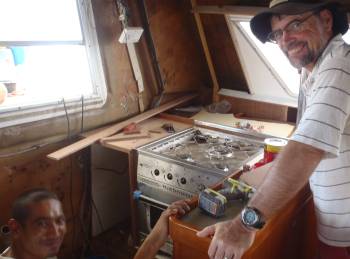 Golf & Jon discuss the new stove & oven location
Monday, February 13:
The week started off with sanding rather than grinding. One problem with Golf's team is that sometimes they get a bit carried away, and they don't always appreciate the difference between structural fiberglass and glass that's simply in the way. And while Golf is great on aesthetic issues, he usually defers to Jon for structural issues. It's a good division, as Jon is all into function, not form. In that way, they complement each other well.
But Jon had to ask Golf to tell his team that gelcoat can be ground back with their powerful grinders if necessary, but fiberglass that we've already laid is to be sanded, not ground. Otherwise they take too much off and damage the structural integrity of what we're trying to achieve.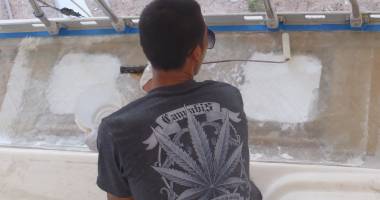 Handsome Max reinforcing 2 hatch openings with extra fiberglass
So today the entire deck got a light sanding in preparation for more fiberglass. The fiberglassing today was all on port side. Since we started this deck work on port side several weeks ago, we learned some things that were eventually applied to starboard side, but not port. On starboard, the little ridge that marked the edge of our teak decks (about ½" or 12mm high and perhaps twice that wide) was ground completely off before we started laying fiberglass on top of the foam. The slope was merged with the natural slope of the emerging cabin‑top in a pleasing (and strong) arc. On port, the glass was laid before that ridge was completely ground off, and when they did grind it off, it cut through some of the structural glass we had already laid. To regain the deck strength and connect the deck properly with the cabin‑top, we had to lay strips of glass along where that ridge was, to make sure the deck‑glass could securely transfer any loads to the cabin‑top.

Jon & Handsome Max reinforce stbd deck hatch openings
Also, the areas we've been filling with foam and fiberglassing have mostly been between our deck hatches, but the 4 aft hatch openings themselves have not been reinforced (the forward 2 hatch openings were reinforced when we laid extra‑long fiberglass over the forward cabins). The aft‑most hatch we'll reinforce when we foam and glass that area, but today we reinforced the 3 middle hatch openings, then laid 3 strips of biaxial glass along where the ridge was ground down. Each piece of fiberglass was cut a few inches wider than the previous one, so each could share some of the load, and so the deck could be faired more easily later.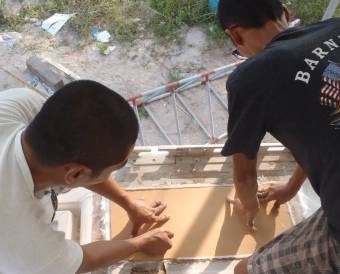 Golf & Max laying down foam, port aft
In the galley, Houa installed the shelf that the stove/oven will sit on, and also cut new access holes for us to run some of the displaced wires and gas lines. We're going to let him finish with the stove and sink area before we call the stainless steel fabricators to build us a new pair of sinks. That way sizes will be known and can be measured easily.
Tuesday, February 14:
Another good day! It started out with Jon trying to get some bolts out of our fore‑beam, so we can remove the 2 bow pulpits. Unfortunately, these bolts were screwed into aluminum 10 years ago, and the aluminum has reacted with the stainless steel bolts to essentially weld them in place. Jon dosed them with penetrating oil several times over the course of the day, but it may take more drastic measures to loosen those bolts.
About noon Handsome Max wanted to reinforce the starboard side deck‑hatch openings. Everyone else was at lunch but Max wanted to get the patches down before eating, so Jon pitched in to help him. We laid 2 sheets of glass over each of the middle pairs of hatch openings on starboard side. One sheet of glass had to be recut, but otherwise everything went without a hitch. Jon told Max that Max was the boss, that Jon was only the helper, and that Max had to make sure everything was done right. Max laughed but got the point.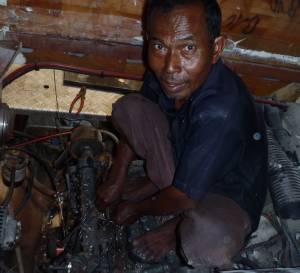 Hem working (& sitting) on Ocelot's port engine
Later in the afternoon the guys laid 3 more strips of glass down the outside of the port‑side deck. These strips are to help transfer any deck loads to the outer hull, and also to repair a cut that was made down the length of the deck while we were away in the USA.
Finally, Golf shaved down a piece of foam for the aft‑most port‑side depression. We had started to foam and glass this spot some time ago, before we realized that it wasn't prepped correctly, so it had some leftover epoxy in the bottom. Since then, the area has been expanded a bit aft after we found more wet balsa.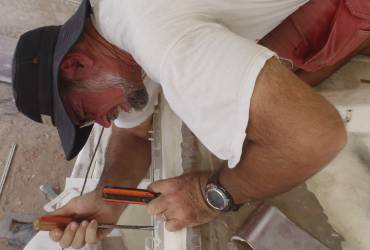 Jon wrestling with recalcitrant bolts on the tramp-tracks
It's funny - ever since we got back from the US we've been unable to walk on much of the deck. Now that they've finished foaming and glassing most of the deck, it looks like we can walk almost everywhere - but these latest fiberglass patches can't be walked on, and they're almost invisible. You have to know where they are and avoid them. So we're back to tip‑toeing around the deck again...

Wednesday, February 15:
Today we got a new worker, although he doesn't work for Golf. Hem is the main mechanic at Coconuts boatyard and comes well recommended. At $10/hour he should be pretty good, as our best workers make about half that. Hem is quite small (good for getting in and out of tight engine rooms) and speaks a bit of English. He probably understands more but we don't know how much. We originally told him we wanted the injectors and the heat‑exchanger (the marine equivalent of a car's radiator) serviced, and the salt water impeller changed. Our engine cooling water is cooled by running it into a heat exchanger, which in turn is cooled by seawater which is then sprayed into the exhaust and blown over the side. But Hem's finding more things that want doing, like changing the seals and bearings on the fresh water pumps, changing all the hoses, and servicing the injector pumps and maybe even the oil‑coolers as well. Although he's relatively expensive, he seems pretty good and it's very difficult for us to get a mechanic on board. We also don't like our engines out of action when we're on the water, as we might need them at any time. As long as we're giving Ocelot a thorough going over, we might as well do the engines as well. They're running well but they're 16 years old and have run 6,000 hours, so probably about half their nominal life.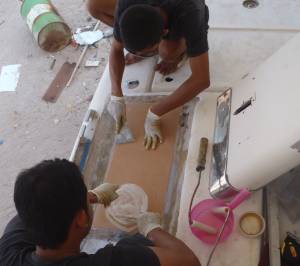 Boy & Max stick down foam patch #14 (of 15)
Jon spent the morning removing our "seagull striker" - the A‑frame cable that goes across our fore‑beam - and trying to remove the sail‑tracks that held our trampolines in place. These are bolted to Ocelot's bows, but the nuts aren't captive, and only about half of them are accessible. He's had to cut 2 of the bolts off already, and it looks like he's going to have to cut 3 more before all's said and done. Golf says he'll put PVC pipe there and wrap it in fiberglass before cutting sections out of the pipe. Then we can run a fiberglass rod inside the pipe and tie the trampolines through the cutout sections. We've seen this on other cats - it looks good and should be much stronger than our sail‑tracks.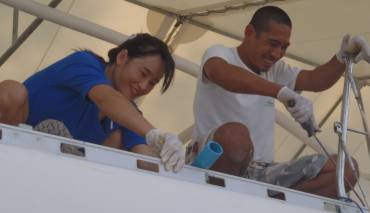 Mai, Golf's wife, is always delightful to have around
Jon also cut some holes in the foam that was laid down yesterday. Our aft cleats and the pushpits bolt through that area, and we don't want the bolts going through foam, so we cut out the foam in a big circle where the bolts will go & then fill the area with epoxy mud. That way, the bolts are squeezing on something much more solid that foam (or even balsa) so they shouldn't work loose and leak.
After lunch, the guys worked on starboard side of the deck, first epoxying down the foam in the starboard aft corner, then laying down 2 strips of biaxial glass on the inside of the deck (where it connects to the main cabin) and another 2 strips on the outside of the deck, against the toe‑rail. Finally, they tried to fill the holes that Jon had cut out of the foam on port side with epoxy mud and then glass over that foam, but the epoxy mud was allowed to sit too long and in too big a lump, so it started to kick off too quickly. Epoxy curing is an exothermic reaction, meaning that it generates heat, which in turn accelerates the reaction. If too much heat is generated, the reaction runs too fast and the epoxy boils or even catches fire. So some of it had to be redone, and more of it will have to be reworked in the morning.
Thursday, February 16:
We ground down some of the epoxy that had kicked off too fast yesterday, but the whole thing was full of bubbles. This doesn't really matter for the aft‑most of the 2 sections, as that only has the base of the pushpit bolted through it. But the forward area has to take our big aft cleats. These have to take mooring loads in marinas, which can sometimes break lines or tear cleats out of decks if there's a surge running. We've also had to pull a couple of boats off rocks or reefs with those cleats. Best that they be as strong as possible.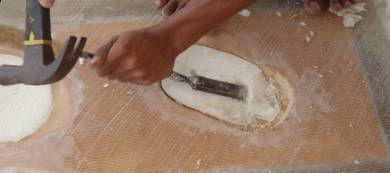 Chiseling out overcooked epoxy from our cleat base area
So Max chiseled out all of the bad epoxy that would hold the cleat and we tried refilling the hole with epoxy mud and re‑glassing the foam, only to have exactly the same thing happen again! We quickly pulled off the still wet fiberglass, and pulled out the bubbling epoxy mud before it got too hard. Clearly, that hole is just too big, and filling it with a big blob of epoxy forms a "critical mass" that can't get rid of its reaction heat fast enough. So we put just a bit of epoxy mud in the bottom, waited for that to start to harden (about 30 minutes), put a bit more mud in the bottom, waited again, and finally filled the hole completely. We did it this way for both of the areas where our aft‑cleats go (one on each side), but the delays meant that the fiberglass top coats will have to wait until tomorrow.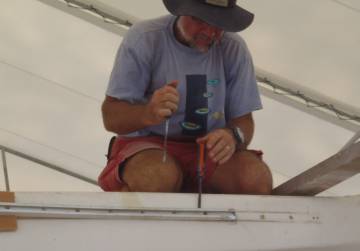 Jon wrestling to remove the track that held our trampolines
Boy gave the decks a good sanding in preparation for laying a long piece of biaxial glass down the whole port side. As soon as we get the small patches aft covered (the ones where the cleats go) then we'll start laying 2 topcoats of biaxial along each side‑deck, as finish coats. Then they'll be sanded and Golf can start building up the hatch supports and laying down his new anti‑skid.
Jon spent much of the morning wrestling with the bolts that held the trampoline tracks on. The nuts behind the bolts were not made captive, so each one needed a wrench on the nut to get the bolt out. Problem is, only about half of the nuts are accessible - the others are in a compartment that's almost completely inaccessible, which sometimes required that Jon cut the track into sections and rip it off, then cut the head of the bolt off. But the good news is that, in exploring to find a way to get to those nuts, Jon found a pair of stainless steel water tanks that we didn't even know were there! The holes for filling the tanks had been blanked off (presumably by SunSail). Now Jon is contemplating using those tanks for diesel storage (Ocelot could really use more diesel tankage). All we'd have to do is run a hose from these tanks back to the aft cabin (our diesel tanks are under the aft bunks, just in front of the engines) with a valve so they could gravity feed into our main tanks. Hmmm...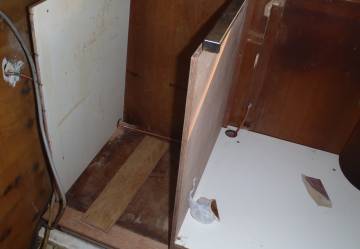 New cabinet (left) & oven area, with the new gas line.
Houa, our carpenter, has been quietly working on a new cabinet that will go next to the stove and oven. It will have a much larger opening than our last one, so should be more usable. But rearranging the stove and oven has meant that some electrical wires and the incoming gas line had to move. We replaced as much of the copper gas line as we could (part runs through an area we can't get to) so Jon was threading the new pipe through where it had to go and attaching it to the old pipe. Tomorrow he hopes to extend the electrical wires and thread those as well.
Houa also took the oven out so we could replace 8 non‑stainless screws that we found holding on the back cover of the oven. Why did Dickenson build a completely stainless steel stove/oven and then use silly plated steel screws to hold on this one part? We're talking about a $1,300 oven here. <sigh> Luckily, they're a common size so easy to replace.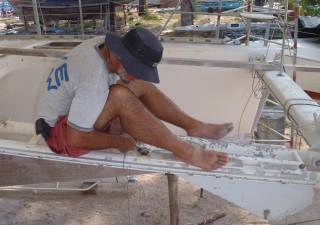 Jon balances on anchor/chain strut to remove rollers
Hem, our mechanic, was wrestling with his own recalcitrant bolts but has now removed all 8 injectors plus the injector pumps, fresh water pumps, heat exchangers, and water‑injection elbows from both engines. The starboard saltwater pump came off easily (he wants to check the bearings and seals on all the pumps as they've never been replaced in 16 years) but the port side saltwater pump is trying to be difficult, mainly because an engine support is in the way. But we have faith in Hem...

Friday, February 17:
We knew Golf wouldn't be coming in this morning so Jon took the opportunity to walk to the local Home Pro shop (sort of a small Thai Home Depot) to buy wire for the electrics in the galley that are going to be hidden behind the new oven. Then we walked to the yard, stopping to buy freshly grilled chicken pieces on the way -- a fairly common staple of ours for lunch. At the yard we found our carpenter Houa busy making the bits and pieces for the new drawer that will go under the new oven. He worked on that most of the day, and was able to demonstrate the new drawer base and its slides by midafternoon.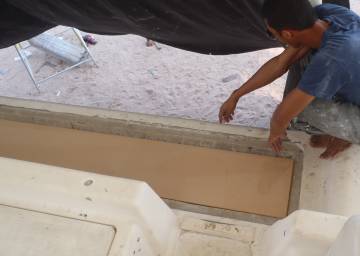 Max checks the fit of the last bit of foam on our aft-deck
After Jon got the switches rewired in the galley, he shimmied out the anchor support, high over the sand and began stripping the hardware off the strut. It's amazing the things you live with but never really notice, like how worn some of the anchor rollers are (the one that the chain rumbles over almost daily), as opposed to a similar roller farther aft that appears almost new. Nice to know we won't have to buy a new one -- just swap the unused for the used! Jon applied more anti-corrosion oil to some recalcitrant screws on the pushpit bases, still hoping to get them off without major cutting.
We only had 2 fiberglass workers today: Boy and Handsome Max. They did a bit more sanding of the deck in the morning and got a couple layers of glass on the aft areas that have the troublesome cleat holes. Then they spent a lot of time meticulously measuring and re-measuring the deck to be sure they got the dimensions right for the full -length fiberglass that will be laid soon. We were happy to see them do a "dry run" of the glass, then roll it back up again. Unfortunately, when we called Golf to see when he was coming in, he didn't sound so good. In fact Jon gave the phone to Max to have him ask in Thai if/when he was coming, but the answer was negative. We suspect his sciatic nerve is acting up again, but certainly hope he's feeling better soon.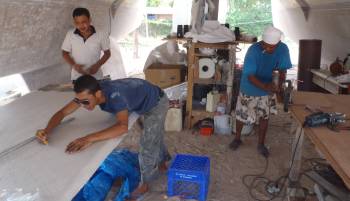 Boy, Max & Houa in the "workshop" under Ocelot
E‑U came buy to talk with Boy and Max, but Jon felt we needed 5 people to really lay out the long deck fiberglass strips, with 4 people laying and wetting/rolling, while the fifth person mixes up the epoxy. Sue offered to help, but then the guys realized that we didn't have enough resin on board for the job. What a mess that would have been to get the job started and then not be able to finish it. We would have wasted 2 huge 30' (10m) strips of glass! That job has now been put off until we again have 5 workers, and more epoxy!
To wind up the day Max and Boy cut and trimmed the last piece of deck foam, the one that goes across the aft deck, aft of the cockpit. It will be very nice to see that area put back together again! We've been avoiding stepping there for months! Sue sat and worked with the chisel to removed old (flattened, dried up) gasket from the inside of the anchor locker covers in preparation for them to be foam‑reinforced and glassed before being gelcoated.

Max, Boy, and Jon test the fit of the final big glass sheets
Hem, our mechanic, was finally able to get the last 2 injectors out (the bolts were frozen) and was also finally able to get the saltwater pump off the port engine (the engine mount makes it difficult to get to). He'd found some oil in the saltwater system that he didn't understand, so he took the whole head off the starboard engine(!) to check it out. We think (hope) the only thing he still wants to remove for service is the oil coolers. But we're giving him a fairly free hand, as he obviously knows more about what can go wrong with these engines than we do.
So much still to do. But if we have patience, and think like the tortoise, we DO believe we will accomplish our goal. And no, it's not a race and there is no hare that we're chasing!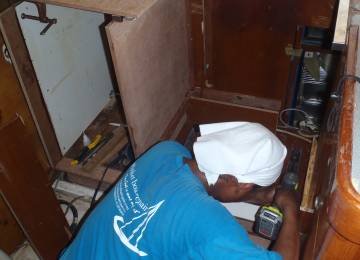 Houa installing drawer slides in Ocelot's galley
Saturday, February 18:
We finally found out where Golf has been these last 2 days: in the hospital! Not sure why he didn't tell us - maybe it's a cultural thing - but we've asked him to please let us know in the future. He spent 2 nights in the (cheap for us, expensive for him) Phuket International Hospital getting morphine treatments and physio‑therapy for sciatic nerve pain. This sounds suspiciously like what Sue had in Bonaire and Curacao in 2002. She was in so much pain that she couldn't even walk. She got a CAT scan in Curacao and then went to a chiropractor, who sorted her out in only a few visits. But chiropractors are rare here in Thailand. Golf has had some massages, but we doubt those women have studied any anatomy other than informally, on the job. Golf's doctor has told him not to get any more massages, as they can do more damage. But as far as we can tell, the doctors haven't given Golf any long‑term roadmap to recovery. Very frustrating for all concerned.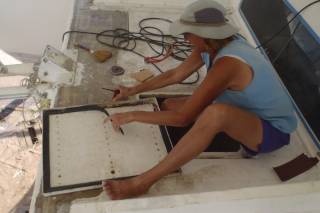 Sue removes the old flat gasket from a hatch cover
This morning we found only Houa and Boy at work. E‑U and Jang were working on a boat nearby, and Max was out buying a new car(!) Houa was industriously rebuilding our galley, building a new drawer under our new stove/oven. Boy was grinding down a long lip of fiberglass on our aft‑deck. This lip formed the edge of the teak, but the new fiberglass we plan to put down back there needs something to grab onto. So they'll grind back the lip, lay the fiberglass, and then rebuild the lip as needed for the teak. The aft‑deck is likely to change a bit, mostly to improve drainage as puddles used to form back there. We've even discussed making it just gelcoat and not even bothering with the teak. We Shall See...
When Golf did arrive, just after lunch, Jon talked to him about the final tasks for the deck. We've now built the decks up with a layer of biaxial glass, then foam, and 3 more layers of biaxial glass on top of the foam. Then strips of glass were laid down, some against the toe‑rail on the outside and others against the cabin on the inside, a total of 10 long strips altogether. But these strips along the edges have given the decks a slight dish in the middle. Normally, Golf would lay a final 2 long sheets of biaxial glass the length of the deck on each side‑deck, and then fill the dish in with epoxy‑mud and fair it until it was smooth. But laid in that order, the epoxy‑mud contributes no strength at all. Jon suggested to Golf that filling in the dish now and smoothing it down before laying the final 2 sheets of biaxial glass would increase the strength of the deck considerably. The epoxy‑mud would then be the filler in another (thin) sandwich, and its high compressive strength would add considerable rigidity to the decks. Somewhat to our surprise, Golf agreed immediately, even though Jon phrased it as a proposal for discussion, not an order. Apparently, Golf doesn't have a problem with the "Not Invented Here" syndrome so common in the west.
So the side‑decks will get epoxy‑mud smeared onto them on Monday morning, and that mud will then be sanded smooth to receive the final 2 sheets of biaxial glass. The glass will need a very thin coat of fairing material on top, mainly because the biaxial is not flat (the threads that sew the strands of glass together stick up a bit) but it should be insignificant compared to filling in the dish.
Thai Refit: Next | Up | Previous | 60 Christmas | 59 Fair Sugar-Scoops | 58 Finish Galley Wood | 57 Deck Filler | 56 Fire Golf! | 55 Hull Joint | 54 Sink Cabinet | 53 New Eyebrows | 52 Foredeck Work | 51 New Hatches | 50 Test Bimini | 49 Fwd Cabin Hatches | 48 Hatch Frames | 47 Glass Scoops | 46 Inject Bimini | 45 Cockpit & Bimini | 44 Scoop Steps | 43 Bimini Mold | 42 Level Ocelot | 41 Mast Conduits | 40 Replace Helm | 32 Fly to USA | 31 Raise Transoms | 30 Foam Foredeck | 29 Rebuild Engines | 28 Grind Spars | 27 Foredeck Repairs | 26 Transom Walls | 25 Foam Helm | 24 Shape Transoms | 23 Start Transoms | 22 New Bows | 21 Cockpit Surgery | 20 Dismantle Cockpit | 19 Fair Topsides | 18 Remove Forebeam | 17 Dismantle Engines | 16 More Deck Work | 15 Start Deck Repairs | 14 Rip Apart Galley | 13 Remove Decks | Xmas Break | 4 Strip Ocelot | 3 First Extension | 2 Remove Teak Deck | 1 Haul Out
Ocelot Pages: Rebuild Decks | Extend Transoms | Cockpit Area | Below Waterline | Bimini | Spars | Deck Hardware | Exterior Lockers | Salon | Galley | Cabins | Heads | Interior Floors | Electrical | Maintenance | Weekly Logs 2012 | Weekly Logs 2013
Top Level: Home | Destinations | Cruising Info | Underwater | Boat Guests | Ocelot | Sue | Jon | Amanda | Chris | Site Map | Make a Comment
---
Lifetime
Commodores
of the
Seven Seas
Cruising
Association

If our information is useful,
you can help by making a donation
Copyright © 2000‑ Contact: Jon and Sue Hacking -- HackingFamily.com, svOcelot.com. All rights reserved.