30 Foam Foredeck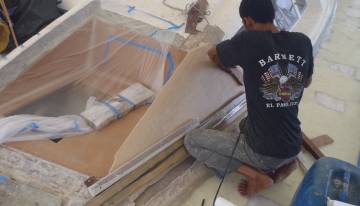 Max fitting his complicated bit of foam to the port foredeck
Summary: Max got the entire foredeck foamed in, laying several complicated sheets of foam. Sue cleaned almost 100 de‑cored holes, then Lek and Kao filled them with epoxy mud and glassed them over. The back of the targa bar was ground back and reglassed, but some of the glass didn't setup and had to be removed. Jon epoxied plates into each bathroom to hold our new mixing‑valves. Houa made good progress on his long foam sheet to replace the shelf in the port fo'c's'l. Mee trimmed down 8 sheets of foam to raise our swim platforms, and glassed one side of each of them. Our boom, forebeam, and anchor platform came back from the welder and were stripped of paint, but now we're not sure if we want to repaint them. Finally, Hem got our port engine put back together and tested. And we celebrated our 33rd anniversary at a lovely restaurant on the water, well away from the boatyard!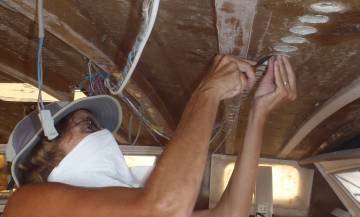 Sue removing plugs from Jon's de-coring holes in the salon
Monday, May 14:
Couple of good squalls blew through today, but we still got lots done on our Ocelot Thai refit.
Max made good progress on his complicated bit of foam on the foredeck. He glassed one side of a sheet of foam, shaped it to size, then cut several slots in the foam so it would bend. Then he wrapped it over where it needed to go, epoxied it in place, holding it down with boards screwed into good fiberglass nearby. Only a few (less complicated) bits of foam are needed in this area now.
Kao was glassing the back side of the targa bar. This appears to be another joint line or perhaps a mold anomaly that was simply filled with gelcoat. Pla had opened up a fair sized groove and filled it with epoxy mud last week, and today Kao got 2 skins of glass over most of it. Unfortunately, one of the squalls hit just as he was applying the glass, so tomorrow we'll have to see if the epoxy set up correctly, as epoxy does not like moisture.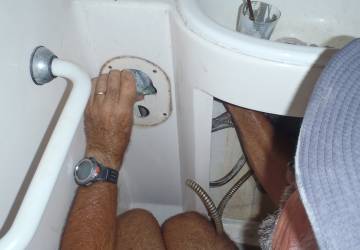 Jon removing water-control valves from the bathrooms
Sue was busy with the holes that Jon drilled in the ceiling of the salon back in March. These are almost 100 places where bolts go through the top of the cabin, that weren't de‑cored by the builder. Jon had drilled out big circles with a hole‑saw but left the plugs in place. So Sue removed the plugs and cleaned up the holes. Golf has promised that one of the guys will sand the outsides of the holes, fill them with epoxy mud, and put several skins of glass over them, possibly as soon as tomorrow. We Shall See...
Jon was doing battle with the water‑mixing valves for the heads. He finally got all 4 of the badly corroded old valves out, but the new valves are much smaller than the old ones. So Jon made up some fiberglass to act as mounting plates for the new valves. Then he drilled out the big central hole and ground it out to exactly the right size. Now we need to use some epoxy mud to mount them to the back sides of the 4 walls where the mixing‑valves go.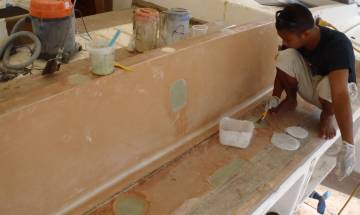 Lek patiently filling de-cored holes with fiberglass patches
Jon also remembered the small gates at the back of the cockpit that go out to the aft‑deck. They have hinges that bolt through the back of the cockpit seat, so he had to measure where the bolts will go and then cut out more patches of foam for poor Lek to patiently fill with little swatches of fiberglass. That area now has 11 places that have been de‑cored and filled with fiberglass strips.
We also remembered that there's a step up to our helm area that bolts through the wall next to our entryway steps, one of the walls into our battery compartment. The fiberglass is already on both sides of this new foam (Max did that weeks ago) so we had to de‑core the 3 bolt holes without disturbing the fiberglass. We drilled out the holes to the size of the bolts and then Jon put an allen‑key in his hand‑drill, stuck it into one of the holes, and used that to shred the foam core (but not the glass skins) for an inch or so (25mm) around the bolt‑hole. Sue held the shop‑vac hose on the other side of the bolt‑hole to suck out the shredded foam. Now that all 3 holes are de‑cored, we'll inject epoxy mud into the holes with a plastic syringe, and eventually re‑drill the bolt holes through the epoxy.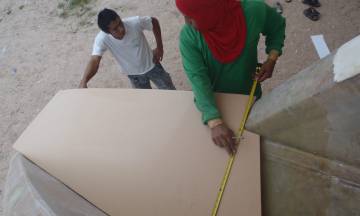 Golf & Mee with foam to raise our swim-platforms
Houa was working on the foam that's to replace the plywood floor in our port fo'c's'l. The entire panel is now the right shape, with a layer of biaxial glass on each side (but not the edges). The 2 hatches are also trimmed and glassed on each side, and the hatch‑supports are also shaped and glassed. The edges of the foam all need glassing, and the hatch supports need to get epoxied to the underside of the main sheet. Then the whole sheet will get an additional 2 layers of biaxial glass. Inside the port fo'c's'l, the existing plywood frames seem OK, so they've received some additional epoxy mud and glass. Since the hatch that everything has to pass through isn't that big, all of the foam will need to be moved inside the fo'c's'l soon, while it still bends enough to make it through the hatch.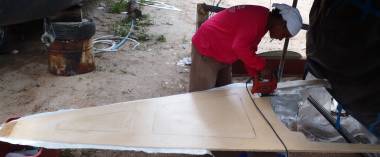 Houa trimming the glass from the big sheet of foam for the fo'c's'l
Our new man, Mee, started out in the battery area. He first checked to see if it was flat, and found that there was a bit of a dish in the center that would tend to puddle if any moisture got in there. So he spread some epoxy mud down so any liquids would flow to the drain‑hole. Then he covered the whole bottom in another 2 sheets of biaxial glass. All that remains is to sand it all and paint it with gelcoat.
Once the glass was laid down in the battery compartment, Mee turned his attention to Baw's old project of raising the floor of our transom extensions, trimming down some big sheets of foam. We're still not clear if Baw will be coming back. While he appeared (to us) to be a diligent worker, he apparently tended to ask for advances on his earnings, which was not popular with Golf. Baw's little brother(!) Ben, is now working for us, but he doesn't know nearly as much as Baw did.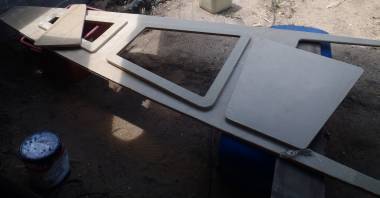 Newly glassed foam bits to go into the port fo'c's'l
We finally got a response from Lewmar, who now owns Whitlock, the maker of our steering system and our autopilot drive (but not the electronics). Back on April 27 we discovered that one of the plastic reduction gears in our "Mamba" autopilot drive system was cracked, so we'd asked Lewmar how we could get a new one. They finally replied that to replace our single cracked plastic gear we needed to buy an entire new "Mamba" autopilot drive system, for $3,100 thank you very much! I don't think so. So we'll strip the autopilot drive down again and take it to our machinist to see if he can make us a new gear out of something stronger than plastic. Yeesh!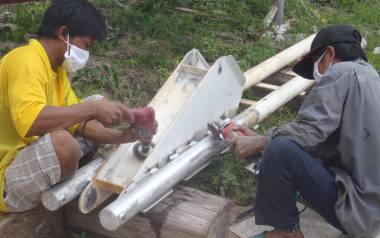 Kao & Kak grinding the paint off our newly welded anchor support
Tuesday, May 15:
Another good day on most fronts. Unfortunately, Golf is having some labor issues. He's a bit of a soft touch, and will often give a worker an advance on their wages if they ask for it. But the workers sometimes abuse that trust and leave without repaying the debt. Both Baw and Ben (Baw's brother) now fall into that category.
The good news today came from Luck Engineering, our metal shop (probably the best one in Phuket). They asked us to come in to see what they'd done. Lovely strong welds on our anchor support to replace the poor job done by the local guy. The boom had the 2 minor cracks welded up, a wonderful new roller fair‑lead for the main‑sheet, and the walking bar on the side straightened out (which we don't even remember asking them to do). Our forebeam had the unused tang moved around to the front, where we can use it to mount a prod and another sail if we want. We originally thought it would need additional supports, but the welds look so strong we told them not to bother.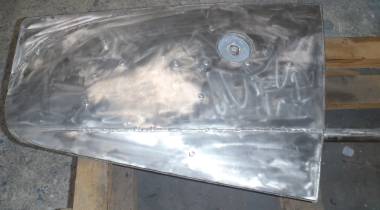 Rudder extensions (upper left). New bearing not added yet.
The rudders now have cute little extensions to make them a bit longer at the bottom, which should give us better steering. We told them to make the rudder bearings out of Delrin as we can't get any Vesconite here. We also told them we were planning to cover the stainless steel rudders in epoxy and fiberglass, and asked if we could grind the welds down to flatten them. They responded that they would grind the welds down, as they knew how much to grind (they built the rudders for us when we returned from India).
The swim ladders and the stainless steel caps for the backs of our swim‑platforms (transom extensions) took a bit longer. We were surprised (but impressed) that their machinist had drawn out a full scale diagram on the shop floor. He'd devised an elaborate doubly articulated ladder support that was more complicated (and therefore weaker and more prone to problems) than what we'd asked for.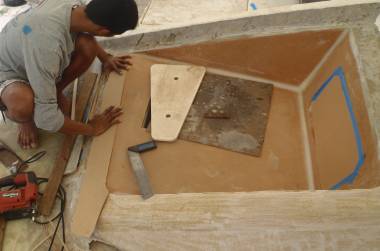 Max fitting another bit of foam to the foredeck
But he was obviously proud of his creation, and we certainly didn't want to pop his bubble. Craftsmen create better products when they have some personal input and pride in their work. Luckily he doesn't speak English, so we were able to explain our problem to both Golf and Kwan, who runs Luck's front office and is the only one there who speaks much English. The upshot is that the machinist will try it both ways and bring some samples around to Ocelot sometime soon.
They had not started on the sinks yet, which was a shame as Sue was anxious to see some progress there. We talked to Kwan and showed her our broken autopilot gear. She assured us that Luck could build something strong to replace that gear. We will probably have some choice words elsewhere on the website about Lewmar (who now owns Whitlock, who built our autopilot drive) and their support policies ($3,100 to replace a broken plastic gear). In the afternoon, Luck delivered our anchor support, forebeam, and boom back to us, all piled on top (and hanging over front and back) of their small pickup truck.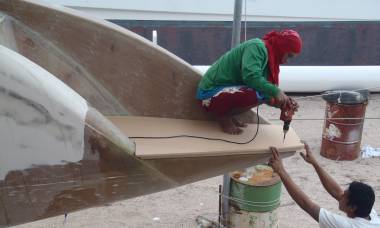 Mee & Golf joining the foam to raise our swim-platforms
Elsewhere on Ocelot, Jon finished making his little fiberglass plates on which to mount the water control valves in the bathrooms. Everything has been sanded, cleaned, and is ready to epoxy on. Golf assured us that Lek will be putting epoxy mud into the de‑cored holes in the salon cabin‑top tomorrow, so there will be lots of epoxy mud around to use.
Today, Lek and Kao finished glassing the joint‑lines on the targa bar. Once the glass gets sanded, they can spray on the gelcoat, and then Jon can re‑mount the solar panels, which have been tilted up and a bit precarious for the last few days while they worked on the targa bar.
Lek was also working in the battery compartment, painting gelcoat on the battery area and Houa's battery hold‑down rail. He probably got 3‑4 coats on over the course of the day. Of course, the new gelcoat makes the rest of the battery compartment look a bit shabby...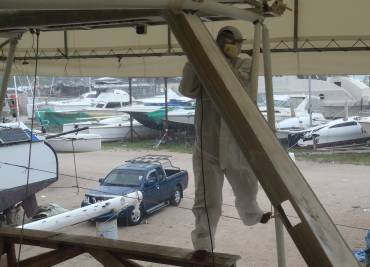 Kao grinding off yesterday's glass behind the targa bar
Up front, Max cleaned up the foam he epoxied down the other day and was preparing more foam for the area in front of the salon. We will be very glad to see that area finally glassed in. Max was also working on his hatch for our new compartments. He hasn't divulged his thoughts to us, so we're having fun watching everything take shape.
Houa was trimming and glassing the foam that's to go into the port fo'c's'l. It's now much too strong to get through the hatch by bending it, so it will have to be cut, passed through the hatch, and glassed back together again. OK...
Last but not least, Mee was trimming up 4 foam sheets that will be used to raise each of the swim‑platforms up a bit. By late afternoon he was fitting them together and checking how they'll look.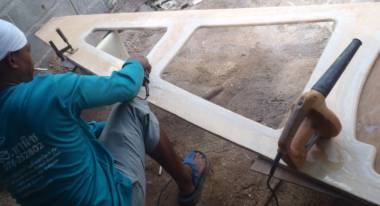 Houa working on the foam for the port fo'c's'l
Wednesday, May 16:
Well, the good weather has been a bit too good to last. We're back to frequent heavy rain and overcast skies typical of the Southwest Monsoon. The heavy morning rain seems to be a good enough reason for several of our guys to take a "holiday", and although there was talk of Mee and Lek coming in this afternoon, neither of them ever showed.
Despite having only 4 workers, some good things did get done today, but not without a bit of stepping backwards. Unfortunately the new glass strips laid on the aft edge of the targa bar yesterday never cured, probably because of the moisture in the air. So Kao had to don white suit and mask and spend the morning grinding them off. He was all set to re‑glass after lunch, but we stopped him because the weather was once again heavy with humidity and that part of the targa bar is exposed to blowing rain. Instead we set him up with a good inside job -- sanding down the salon ceiling around the 100 bolt holes that Jon had cut out and Sue had cleared of foam. With the old glass roughed up, the guys will be able to fill the bolt holes with epoxy mud, then lay on some strips (or many small patches) of glass so we can bolt down into mud and glass when the sail track and winches are replaced.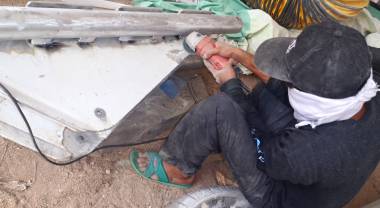 Kak grinding the paint off our (nicely rewelded) anchor support
Houa divided his time between consulting on our neighbor Katani's tent disaster (too much water puddled on the roof and half of the structure collapsed this morning - No one was hurt!) and working on our port fo'c's'l foam and glass floor. With his usual attention to detail he has made very nice hatches and hatch frames for the floor, and has spent a few days doing his meticulous glassing and shaping. He is actually our carpenter, but he's had to work with foam so much recently we tease him by asking just exactly which kind of tree the foam grows on!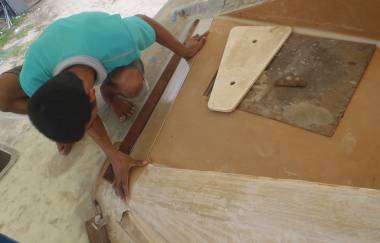 Max epoxying down another strip of foam to the foredeck
Kak, our quiet, steady worker (and the youngest and least skilled) spent the whole day under the shade of Ocelot patiently grinding the old paint and primer off the anchor support that we got back from the welders yesterday. It sure is nice to see the aluminum struts popping into shiny relief! We are still not sure whether we're going to leave the aluminum bare (maybe coated in Tektyl151, a product used in Australia to coat their "tinnies", aluminum tenders, that are so common) or prime and repaint them. Our internet research is still going on.
Hem, our external contractor for the diesel engines, spent much of the morning down in our port engine room. He was replacing the head after checking the valves to see why the engine ran so roughly last week. After lunch he had Sue hold a hose of running water in place while he cranked the engine. And Purrrrr. Lovely sound of a happy diesel! We will see him one last time tomorrow morning to settle his bill, but he has invited us to call if we have any other mechanical questions or problems. We warned him that we may not be in the water for another 4 months or so, and he just smiled and nodded. We hope the engines stay "happy" until they are needed to propel Ocelot away from the boat yard!
Both engines had the following parts rebuilt or refurbished: all 8 injectors, fresh water pumps, saltwater pumps, heat exchangers, oil coolers, and valves (which requires that the heads be removed and replaced). Starboard engine also had its injector pump rebuilt. All hoses were replaced, using new stainless steel hose‑clamps, and the refurbished parts were painted.
Total cost: $1,100 parts, and $1,160 labor (at $10/hr) or $2,260 for both engines. Not bad...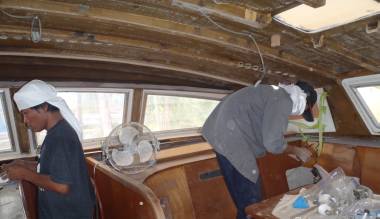 Kao & Kak working on the salon ceiling
The biggest step forward was achieved by reliable Max, who got two more sections of foam epoxied down on the port foredeck, in front of the salon porthole. This was a very tricky area, as the deck has several complex curves here, and he had to be quite the artisan to shape the foam and bend it to fit, then create a system of braces and brackets to press it into place once it was epoxied down. There's one more long side strip to be foamed and glassed, then we need to attach the deck to the sloping sides of these two areas (port and starboard).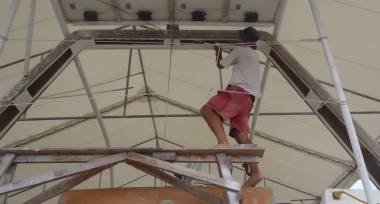 Jon inspecting the epoxy & glass on the back of the targa bar
Getting this area foamed and glassed is a big step in our goal to have Ocelot all glassed over before we leave for the USA in 2 weeks. Yikes! Wish the rain would go away. It sure slows things down. One cannot push the workers to move faster than they do, but we can encourage, cajole, and praise. We work through Golf to try and get priorities all on the same page. Ocelot continues with her Refit, one step at a time. Not unlike the way we've climbed mountain passes in the Himalaya!
Thursday, May 17:
Bit of a wet morning, which unfortunately collapsed the rest of Katani 2's tent, but nobody was hurt and today the tent frame was welded up to be somewhat stronger than it was before. Much of the afternoon was spent re‑erecting the tent, which tended to suck off some of our workers (and the ever‑helpful Jon as well

).
Work on Ocelot progressed on a number of fronts today. Houa was building the new shelf for the port fo'c's'l. Today he epoxied on the supports for the 2 hatches that allow access to the compartments under the main shelf. Then he put another layer of biaxial glass over the whole underside. The shelf is now much too big and strong to fit down the hatch into the fo'c's'l, but Houa is planning to cut the shelf in 2 places (where it's supported by the frames), pass the pieces down, and then epoxy them back together again when he mounts the shelf on top of the frames.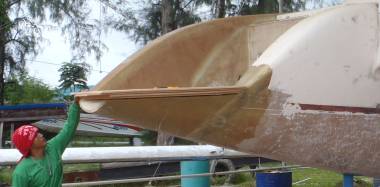 Mee working his foam, but note slope vs. water-line
Max is still working on 2 areas of the foredeck, just in front of the salon. Starboard side is almost ready for glassing, as it only needs a single thin strip of foam epoxied in before glassing can commence. Port side needs a bit more work, and that's where Max has been putting in his efforts. Unfortunately, he's down to the small, fiddly bits, which often take as long to fit as the bigger pieces. But he got a couple of pieces whittled down to the correct size and shape, and hopes to epoxy them in tomorrow.


Houa glassing the fo'c's'l foam (upside down, 2 hatches at top)
Mee was back, working on raising the swim‑platforms a couple of inches. He's now got 2 thick slabs of foam, one for each side, each composed of 4 foam sheets bound together (temporarily) with long screws. Today Mee was shaping his slabs with course sandpaper while the slabs were resting on the existing swim‑platforms. But when the foam was sitting on the swim‑platforms, Jon noticed that the foam was not at all parallel with our waterline. We want some slope, so the water will drain off the swim‑platforms, but the angle looked excessive. This may be because Ocelot's not sitting completely level, but it's something we'd like to check. We talked to Golf again about getting Manoon (the yard owner) to level Ocelot correctly, and Golf said that he'll talk to Manoon again, and maybe we can get leveled on Saturday.
Kao and Kak were sanding the ceiling inside, around where we'd drilled out the de‑coring holes for the winch and sail‑track bolts. They finally got all the sanding done, so the area's now ready to get the holes filled with epoxy mud (which Golf and his workers call "silica") and then glassed with a couple layers of biaxial.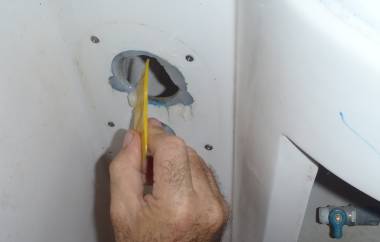 The plates in the bathrooms were screwed on until the epoxy set
After they finished in the salon, Kao got suited up and continued grinding off the un‑setup fiberglass from the back of the targa bar. The epoxy across the top of the targa bar seems OK, but the glass that was laid along the 2 legs all had to come off, making us avoid standing downwind. Kak went back to sanding and polishing our forebeam and other spars. We still haven't decided if we want to paint the mast and spars, but we're leaning towards just leaving them bare. Unfortunately, our aluminum expert, Kim on Vamp, is currently sailing from South Africa to Mauritius, so we can't ask his opinion until they arrive (should be any day now).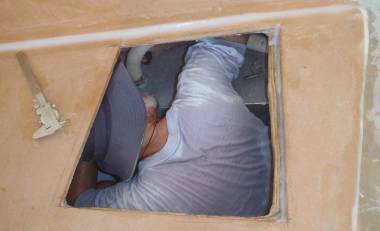 OK, I'm in. Now, how the heck do I get out?!?
Friday, May 18:
A beautiful sunny day! Well, until about 4pm, anyway. And we had a full crew of workers, so lots got accomplished.
The big news is that Max finished epoxying in all the foam in both areas in front of the salon! These 2 areas have been open and exposed since March so it's really nice to see them foamed in now. Not sure what the official schedule is, but the guys should be able to glass the foam in pretty soon. Max still has some work to do in that area, mostly doing the 2 hatches going into our new compartments, but those projects should be relatively small, and he's mostly finished one hatch already.
Jon had to crawl into those compartments today. They need drain holes cut in the bottom, so any water that gets into them can escape, but where to cut those drains is the question. We did a lot of measuring under Ocelot's bridge‑deck but it's hard to find good reference points, and the hull is curving in a couple of directions right there. We can drill straight down from inside the compartment, but we can't get very close to the corners, and drilling straight down takes us through a curving part of the bridge‑deck so the hole gets longer than it really needs to be. What we'll probably do tomorrow is to drill a small pilot hole straight down from inside the 2 compartments, and use that as a guide for drilling a larger drain hole.
Kao finished grinding the back of the targa bar and filled some holes he found there with epoxy mud. Presumably he'll try re‑glassing it tomorrow.
| | |
| --- | --- |
| Lek filling the holes caused by decoring in the salon ceiling | Kao filling decoring holes for the sail-track in the salon ceiling |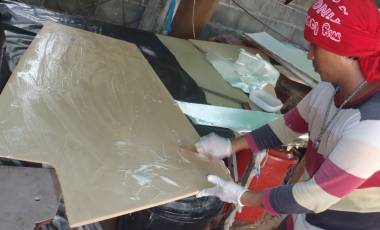 Mee smearing epoxy on one of his 8 sheets of foam
Lek was down in the battery compartment in the morning putting on yet another layer of white gelcoat. We are definitely going to have THE snazziest battery compartment in all of SE Asia!
In the afternoon, Lek and Kao worked on filling in the de‑coring holes in the ceiling of the salon with epoxy mud. They had to fill them in stages, so the mass of epoxy wouldn't get too hot (thermal runaway). They managed to finish most of the holes, so they should be able to finish the remaining holes and start laying the fiberglass over the holes tomorrow.
Since Lek and Kao had so much epoxy mud, Jon decided to steal some to epoxy some thin fiberglass plates into our bathrooms. These will fill in the holes from the removed (large) mixing valves and provide support for our new (smaller) mixing valves. By the end of the day, Jon had epoxied in all for plates, one in each bathroom.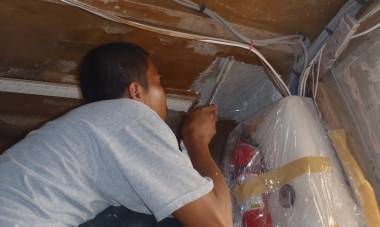 Lek on the nav-desk glassing under our starboard jib-sheet winch
Houa was still glassing the foam that's to go into the port fo'c's'l. It should be ready to go into the fo'c's'l soon. It seems like days and days that he's been on this project, but in fact he hasn't put that many hours into it as he's working on Katani 2 as well, and he always has to wait between layers of glass for the epoxy to cure.
Mee cut several sheets of glass to go between each layer of the foam block he's putting together for the swim‑platforms. The glass in between each sheet of foam isn't really necessary, but that's the way Golf likes to do things. Mee got 4 pieces glassed and spread out in the work shelter to cure. Then the rain came, so no more glassing after that. Indeed, we hope the epoxy cures correctly. We have our fingers crossed for more dry days ahead.
Saturday, May 19:
Another beautiful day in paradise - well, as paradisiacal as boatyards get.

No rain, blue skies, and a nice breeze. Our mast workers weren't around, and Max was off taking his wife on another prenatal visit, but otherwise most folks were working.
The biggest gains today were in the salon. Lek and Kao finished filling all the de‑coring holes with epoxy mud and then started covering them with 2 layers of fiberglass. The fiddly bits where the holes pass behind some of the roof supports took longer, but by the end of the day the whole job was finished. Now Jon just has to re‑drill all the holes so the hardware is ready to mount. We filled the holes from the bottom, but we still have the tops to tell us where to drill. We have to drill the holes now, because when the top of the salon gets gelcoated, they'll cover the tops of the holes, and we'll have to drill them out (again) from the bottom.
| | |
| --- | --- |
| Stbd side rope jammer (left) & jib sheet winch (right) | Port side jib sail-track bolt-holes - note roof beam crossing bolt line |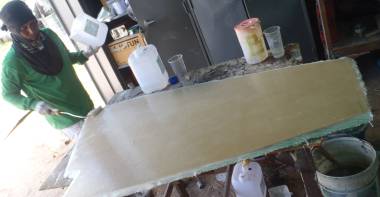 Mee, glassing one of his 8 foam sheets for the swim platforms
Jon was busy with his own fiberglass project, filing and sanding the epoxy that he laid yesterday for the water control‑valves in each of the 4 bathrooms. He got each of them sanded smooth and the holes opened up to take the new mixing‑valves, and even marked out where the mounting holes have to be drilled. Then he realized that he didn't have enough bolts of the right size, so he went with Golf into town to buy bolts.
Mee glassed the other 4 of his foam sheets to raise the swim‑platforms and trimmed off the excess glass after they'd cured. He's only glassing one side, and even that's a bit of overkill. But that's what Golf wants.
Houa was working on some foam supports for his new foam floor. The old glass that supported the floor up in the very front of the fo'c's'l was ground off, so he'll epoxy the foam supports in place at the right height, glass them over, and then lay his new floor on top and stick it down with epoxy mud.
Tomorrow (Sunday May 20) is our 33rd wedding anniversary, which we will not be spending in the boatyard! No real celebratory plans yet, but probably a nice brunch in the morning and dinner with friends in the evening, and a lot of relaxing in between.
Thai Refit: Next | Up | Previous | 60 Christmas | 59 Fair Sugar-Scoops | 58 Finish Galley Wood | 57 Deck Filler | 56 Fire Golf! | 55 Hull Joint | 54 Sink Cabinet | 53 New Eyebrows | 52 Foredeck Work | 51 New Hatches | 50 Test Bimini | 49 Fwd Cabin Hatches | 48 Hatch Frames | 47 Glass Scoops | 46 Inject Bimini | 45 Cockpit & Bimini | 44 Scoop Steps | 43 Bimini Mold | 42 Level Ocelot | 41 Mast Conduits | 40 Replace Helm | 32 Fly to USA | 31 Raise Transoms | 30 Foam Foredeck | 29 Rebuild Engines | 28 Grind Spars | 27 Foredeck Repairs | 26 Transom Walls | 25 Foam Helm | 24 Shape Transoms | 23 Start Transoms | 22 New Bows | 21 Cockpit Surgery | 20 Dismantle Cockpit | 19 Fair Topsides | 18 Remove Forebeam | 17 Dismantle Engines | 16 More Deck Work | 15 Start Deck Repairs | 14 Rip Apart Galley | 13 Remove Decks | Xmas Break | 4 Strip Ocelot | 3 First Extension | 2 Remove Teak Deck | 1 Haul Out
Ocelot Pages: Rebuild Decks | Extend Transoms | Cockpit Area | Below Waterline | Bimini | Spars | Deck Hardware | Exterior Lockers | Salon | Galley | Cabins | Heads | Interior Floors | Electrical | Maintenance | Weekly Logs 2012 | Weekly Logs 2013
Top Level: Home | Destinations | Cruising Info | Underwater | Boat Guests | Ocelot | Sue | Jon | Amanda | Chris | Site Map | Make a Comment
---
Lifetime
Commodores
of the
Seven Seas
Cruising
Association

If our information is useful,
you can help by making a donation
Copyright © 2000‑ Contact: Jon and Sue Hacking -- HackingFamily.com, svOcelot.com. All rights reserved.