28 Grind Spars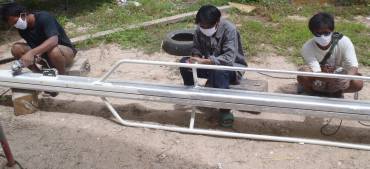 New guys grinding the paint off the boom
Summary: Our boom, forebeam, and other spars got cleaned of paint and were taken to the metalworker for some welding work. Our port wall down to the transom got its final bits of foam and was trimmed down to shape, with holes for where the railing will bolt down. The starboard wall not only got shaped but was covered in 4 layers of biaxial glass. Our mechanic worked much of the week putting our starboard engine back together again. A cut that was made down the length of both decks in November was finally patched with strips of reinforcing glass under the deck. Houa glassed over the foam in the battery area and started crafting a rail to hold our battery straps, to hold our batteries in place. Max continued foaming in the areas in front of the salon where the wet balsa was removed. But Friday and Saturday were a bit of a washout (literally) as it rained hard for much of the time.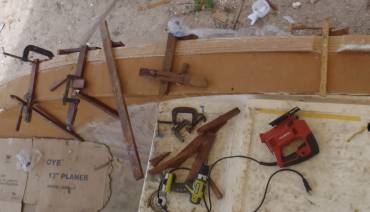 Baw's clamps holding his foam bundle until the epoxy sets
Monday, April 30:
A full crew at work today. We even had 3 new guys grinding the paint off our boom and bits of the mast, getting them ready to paint [these guys turned out to do much more harm than good - we spent weeks polishing their grinder marks out of our spars].
Baw took the bundle of foam that he'd glassed on Sunday and epoxied it into the port‑side wall going down to the transom extensions. It makes some complex curves and now that it's glassed it's pretty stiff, so he had to put together some interesting clamps to hold it in position until the epoxy setup. These guys have to be pretty ingenious.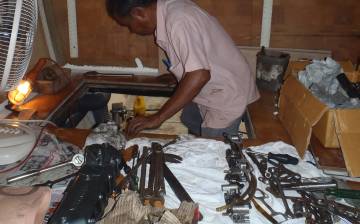 Hem working on our starboard engine
Once Baw got the epoxy curing on port side, he started shaping the top of the starboard‑side wall. The outside of the wall gets a fairly large radius curve up by the deck, but it has to taper to a relatively small radius curve by the time it gets to the swim‑platform. Baw seems to have a pretty good eye for this sort of thing, as his first cut looks pretty good. Of course, it will get a lot more attention after it's been glassed, but it's always nice to start with something close.
Houa epoxied down a couple sheets of biaxial glass to cover the foam that he'd epoxied down on Sunday. We told Golf that this area doesn't really need much strength, so cheaper chopped‑strand mat would have been fine, but apparently the glass had already been cut.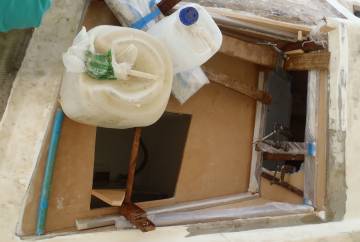 Max's bracing to hold the foam while the epoxy sets
We talked at length with Golf and Houa about how we want to hold the batteries down. Originally, Ocelot had 4 stainless steel pad‑eyes holding 2 lengths of thick webbing strap to hold the batteries in place. But pad‑eye's have to be screwed into something, and one of them was cracked and probably couldn't be used (or replaced, here in Thailand). But 10mm fiberglass rod is available here - we're using it for our new trampoline holders.
So we suggested using 4 rods and mounting them on little foam standoffs and glassing them down. This should be stronger than the pad‑eyes, it involves no metal at all, and we can put them all around the battery area so it would be very flexible. Golf and Houa talked animatedly for several minutes and eventually agreed. By the end of the day, Houa had designed several cute little standoffs. These will go on top of the wall he's building to go around the battery area.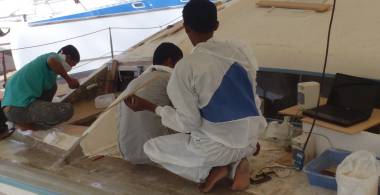 Max, Lek, & Baw, with Max's computer supplying the music!
Our Mechanic, Hem, was also working on Ocelot today. He was down in the starboard engine‑room, putting that engine back together. He actually took the head off the starboard engine (but not port) because he saw some oil where it didn't belong and was wondering if the head‑gasket was leaking. But everything looked fine. Hem's also replacing all of the hoses and hose‑clamps with new parts. For some reason, Yanmar used hose‑clamps with stainless steel straps but mild steel screws that rust!
But having the head off gave Jon and Hem a chance to check the wear on the cylinder walls. It was very impressive. Even with over 6,000 hours on the engine, there was essentially no detectible wear on the cylinder walls! There was just the tiniest lip at the top of the piston travel where you could just catch a fingernail if you tried, marking the limit of where the rings go. Having rebuilt a handful of engines, Jon (and Hem) agreed that the engines are not ready for a rebuild yet.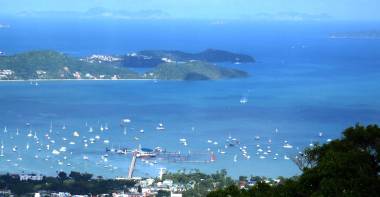 Ao Chalong with Phi Phi Don visible 25 miles away (upper right)
Up forward, Max and his brother Lek were working on the starboard‑side area in front of the salon, cutting, shaping, and trimming some foam to go around the floor that they'd epoxied down last week. They trimmed up one piece to go around that forward port‑hole, and 2 triangular pieces to go on either side of it. They finished in time to epoxy everything in place, although it required some creative bracing to push the foam into the epoxy.
We talked to Golf and the guys about this area as well. Most of this area isn't too structural, but the part above the forward cabins is. The glass has been cut here, and now the strength of the glass on the side‑deck needs to be transferred to the structure over the salon. We talked about how to lay the glass and where to put the foam to maximize the strength in these areas.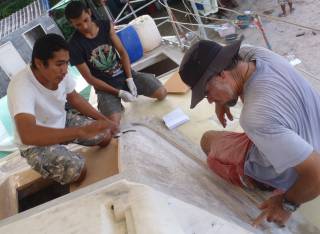 Golf, Max, & Jon discuss re-glassing the foredeck
Tuesday, May 1:
Today is Labor Day, so nobody worked on Ocelot. Instead, we rented a car so we could meet our friend Katrina and her friend Annalyn at the airport. We picked them up and immediately took them down the pretty west side of Phuket Island, stopping here and there for views and/or nibblies. Lunch was at a cute little beach‑side restaurant, overlooking the Indian Ocean, which had an excellent Tom‑Kah‑Gai (a delicious coconut milk soup with chicken, lemon grass, ginger, mushrooms, cilantro, curry leaves, red chilies, onions, etc). The view from Prom Thep Cape (the Elephant Shrine) at the extreme south end of Phuket was so clear that we immediately headed up to the Big Buddha statue on the top of the mountain, which gave us a truly stunning view.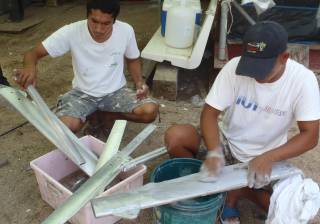 Golf inspects Ocelot's stripped mast spreaders
Wednesday, May 2:
Really slow start to the day. When we arrived (at 10am) only Houa was at work. I guess the Thais like to party hearty when they get a day off. But we shouldn't complain - most of the guys haven't taken a day off in several weeks.
Today was mostly a planning day. Max took off all his braces for the foam he put down on Monday up on the starboard foredeck, in front of the porthole, and ground off all the stray epoxy in the area. Then we talked about how best to transfer the strength of the side deck onto where he was working. Max came up with some good ideas.
Baw epoxied some glass onto the very back of our transom extensions. We'll be bolting some stainless steel back there, and we need some meat for the bolts to grab onto. Then we talked about how best to glass in the wall going down to the starboard extension, given the width limitations of the glass (43" or 110 cm). We also planned out where we want to put our stainless steel railing on the top of the wall, and took out some foam where the railing will attach to the wall.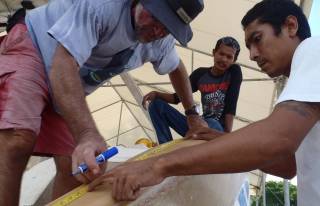 Jon & Golf decide where to place new handrail bases
Golf generously offered to drive us into town to visit our favorite welder, Luck Engineering, and help with the translation. Luck made our rudders last summer, but now we want a bigger lower bearing and to change their bottom shape from sort of pointed to more squared off. We're also getting them to make a new galley sink/counter for us out of stainless steel. Jon had made drawings of what we wanted, which minimized how much conversation was needed (they don't speak much English).
Luck also promised to send a truck to pick up 3 long pieces of aluminum that we need welded. Our boom has a broken weld on one of the walking bars, and we want better fairleads welded onto where the main‑sheet comes out. The forebeam has a tang we'd like cut off and moved, so we can use it to support a prod if we want. And we want the cruddy welding job on our anchor support to be done right. All 3 of these pieces are too big for us to move easily.


Ocelot, with her starboard wall getting a layer of biaxial glass
Jon got a couple of small jobs done. Houa had covered up a drain hole in the battery box so Jon drilled through the glass and foam to open it up again. Then he dug more of the foam out from around the hole, so we can seal the foam off with a layer of epoxy mud around the hole.
Down below, in the shade of an old green spinnaker, 3 guys continued to grind off the paint from our boom and mast bits. Today they were wet‑sanding the smaller bits to make them very smooth.
On deck, Jon drilled out both of the holes for the diesel fill pipes, and then marked out how much of the foam will have to be filled with epoxy mud so the fills can bolt into epoxy instead of foam. The epoxy mud that we use for these areas will need to have chopped strands of fiberglass mixed in, so it won't crack when we screw into it. He also worked with Baw and Golf to mark out where our hand‑rails will go up on top of the wall to the transom extensions.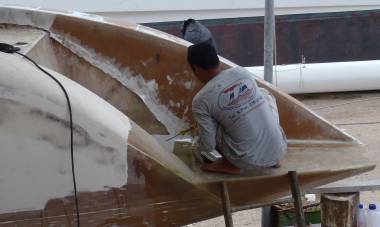 Lek epoxying the first layer of fiberglass onto our starboard wall
Thursday, May 3:
A good day! We had a full crew of workers, so lots was happening.
The big news happened on the wall down to our starboard transom extensions. Last night, Baw stayed late to drill out 4 areas of foam from the top of the wall, where the railing will bolt down. We'd told Golf that we would have to thread into these areas (we can't get into the insides to hold or tighten a nut) and to please chop some fiberglass strands into the epoxy mud when they filled those holes, to prevent it from cracking. But instead of that, Baw cut dozens of small circles of fiberglass and epoxied them in, building them up layer by layer until they filled the holes. These should now be very strong to tap into.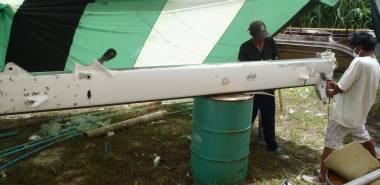 Grinding paint off our mast under the shade of a spinnaker
So this morning, Baw used a grinder to smooth out the work he did last night, and then he cut several long lengths of fiberglass. We had several short rain showers in the morning and we had clouds all day, so the guys were hesitant to lay any glass, but by the end of the day Baw and Lek had covered the entire starboard wall in 4 layers of biaxial glass. WOOT!
They also put some glass over the extreme end of the transom. This is obviously an area that has to be strong, as every nitwit with a dinghy will run it into those ends. But we won't be relying on just fiberglass - we want to put a stainless steel cap on the ends of the transoms to both protect them and to provide the pivot for the swim ladder.
Down below, the guys who removed the old paint from our boom moved over to start on our mast. This will be a big job that will last for several days. To protect them from the sun, they scavenged the shredded remains of a green spinnaker that we've been carrying around and rigged it as an awning.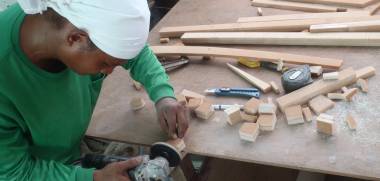 Houa making little stand-offs for our battery hold-down rails
Interesting things were happening inside as well. Way back when we were in the US for Xmas, one of Golf's guys cut a groove down each side of our deck, most of the way through the fiberglass. To rebuild the strength lost by that, we need to lay some more glass under the deck, overlapping the cut. Before that can happen, the area needs to be sanded. So today several guys were down below, sanding up over their heads. It's fiddly work, as they had to work around the line of rivets that hold the toe‑rail down as well as the supports for the headliner. It was also unpleasant enough with all the grindings in the air that we didn't go down there often, but apparently they've finished the necessary prep‑work. Tomorrow they should be able to lay strips of fiberglass up there to strengthen that area.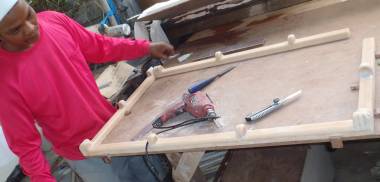 Houa with his wall for our battery area & hold-down rails
Our mechanic, Hem, was also working down below (on the side where the grinders were not working). He replaced all the hoses and hose‑clamps on the starboard engine with new parts. For some reason, Yanmar seems to use hose‑clamps with stainless steel bands but mild steel screws, which means the adjustment screws can (and do) rust. Hem replaced them with hose‑clamps that are all stainless steel.
On deck, Max was working on the area in front of the salon, on starboard side. He wanted to lay some foam over a curve and was worried that it wouldn't be rounded enough. So he glassed one side of a sheet of foam and then sliced the foam several times with a skill‑saw so it would bend. Then he shaped it around where he wanted to put it. Since the foam doesn't really want to bend (especially as he's trying to bend it in 2 directions) he'll have to screw it down to keep it in place while the epoxy sets. That will presumably happen tomorrow.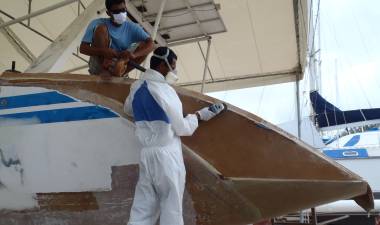 Lek & Baw shaping the foam on the port-side wall
Houa is making rather a production of our battery area. We thought that using a bought fiberglass rod around the edges as a tie‑down would be quick and easy, but Houa's making lots of cute little stand‑offs, sinking them into the wall he's building and mitering the corners. It should be beautiful, if anyone wants to look at our batteries, but we have lots of other work for Houa...

Friday, May 4:
A very wet day, so not much got done. In fact, one squall was so violent that we had to take down many of our awnings, lest they rip apart. And Max was absent as took his wife in to the hospital for another pre‑natal visit and never made it to work.


Playful sign hung up in our work-shed today: Golf Boat Works
The newly glassed in wall on starboard side looks very good. It's so tight that when you thump on it, it actually sings a little bit. Having finished their work on starboard for the time being, Baw and Lek moved over to the port‑side wall and started trimming down the foam to match the hull‑to‑deck transition on the rest of Ocelot. We suspect that bits of foam will need to be added here and there, but it should be relatively easy to get port to match starboard. Already, several pairs of critical artist's eyes are scrutinizing both extensions.
Inside, down below, the guys decided not to glass the area where they'd sanded the day before, but they did put down some plastic sheeting to protect the woodwork from errant drops of epoxy. We need a drier day for all the fiberglass work!
In our little work‑shed area, Houa finished gluing his foam wall together with the little stand‑offs to hold the fiberglass rods for the tie‑downs for the batteries. We think he's planning to glass it in the shed and then transport the finished product to the battery compartment and epoxy it down.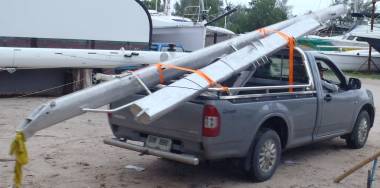 Luck's truck leaving with our boom, forebeam, & anchor support
Saturday, May 5:
Another wet day. Unfortunately, this may just be the season for it. The forecasts don't show much clearing until late next week...
But some things got done despite the rain. The truck from our machine shop finally showed up to take our boom, our forebeam, and our anchor support off to be worked on. Unfortunately, they couldn't bring their big truck, so everything was piled on a normal sized pickup ("ute" to you Aussies, "bakkie" to the S Africans). It looked like a bit of a circus going down the street, but everything was roped on pretty tightly.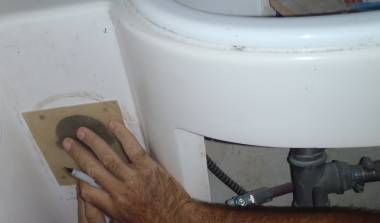 Jon measuring a small sheet of glass to mount mixing valves
The boom needs a couple of cracked welds repaired. We also want to add a fairlead where the mainsheet exits the back of the boom, to reduce chafe on the mainsheet. One of the walking bars on the side of the boom got bent before we owned Ocelot, and we're hoping they can straighten that out. The forebeam has a tang sticking down in the middle that we can't imagine a use for. But if that tang is moved so it sticks forward, we could use it to mount a prod, which would enable us to fly a screecher (light‑air sail). Other cruisers have raved about their screechers, so it would be nice to have the option. The anchor support was welded up a few weeks ago, but the guy did a really bad job and wouldn't fix it (we shouldn't have paid him). He just moaned that the metal was too thick for his equipment (in truth, he probably has inadequate power at his shop). But Luck shouldn't have a problem.
Baw was shaping the foam on the port‑side wall. He also drilled out the areas where the railing on top of the wall will attach to the wall, but he still needs to fill the holes. It looks like he's pretty much finished the shaping, but he needs a dry day to put on the fiberglass.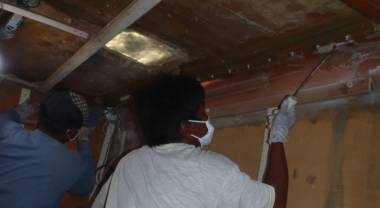 Pla and Kaw epoxying fiberglass strips to reinforce the deck
Inside, Golf got down and dirty (sticky?) with his team, showing them how to reinforce the deck with fiberglass strips where it had accidentally been cut back in November. Jon had suggested that they wet out the glass on a sheet of plastic, and then stick the wetted out glass on the ceiling, but they insisted on holding dry glass up on the ceiling and then wetting it out. This is much harder and gets a lot more epoxy drips everywhere, but some folks aren't interested in changing the way they work. Still, they got more than half the job done, glassing most (but not quite all) of starboard side, and the forward half of port side.
Jon did a bit of work in the bathroom. Our water mixing‑valves are getting old and we've bought replacements, but they're not exact replacements. So we need to put a sheet of (cured) fiberglass behind the wall, to mount the mixing valve on, and another sheet in front of the wall to hide the existing holes. So Jon was cutting out rectangles of fiberglass and measuring out where the holes need to go.
Houa was still working on his rail for the battery compartment. Today he covered his foam with a layer of fiberglass. We hope he finishes soon, as we have lots more projects for him to do, but his next job is the new hatches on the foredeck, and Max has more glassing and foam work to do up there first.
Thai Refit: Next | Up | Previous | 60 Christmas | 59 Fair Sugar-Scoops | 58 Finish Galley Wood | 57 Deck Filler | 56 Fire Golf! | 55 Hull Joint | 54 Sink Cabinet | 53 New Eyebrows | 52 Foredeck Work | 51 New Hatches | 50 Test Bimini | 49 Fwd Cabin Hatches | 48 Hatch Frames | 47 Glass Scoops | 46 Inject Bimini | 45 Cockpit & Bimini | 44 Scoop Steps | 43 Bimini Mold | 42 Level Ocelot | 41 Mast Conduits | 40 Replace Helm | 32 Fly to USA | 31 Raise Transoms | 30 Foam Foredeck | 29 Rebuild Engines | 28 Grind Spars | 27 Foredeck Repairs | 26 Transom Walls | 25 Foam Helm | 24 Shape Transoms | 23 Start Transoms | 22 New Bows | 21 Cockpit Surgery | 20 Dismantle Cockpit | 19 Fair Topsides | 18 Remove Forebeam | 17 Dismantle Engines | 16 More Deck Work | 15 Start Deck Repairs | 14 Rip Apart Galley | 13 Remove Decks | Xmas Break | 4 Strip Ocelot | 3 First Extension | 2 Remove Teak Deck | 1 Haul Out
Ocelot Pages: Rebuild Decks | Extend Transoms | Cockpit Area | Below Waterline | Bimini | Spars | Deck Hardware | Exterior Lockers | Salon | Galley | Cabins | Heads | Interior Floors | Electrical | Maintenance | Weekly Logs 2012 | Weekly Logs 2013
Top Level: Home | Destinations | Cruising Info | Underwater | Boat Guests | Ocelot | Sue | Jon | Amanda | Chris | Site Map | Make a Comment
---
Lifetime
Commodores
of the
Seven Seas
Cruising
Association

If our information is useful,
you can help by making a donation
Copyright © 2000‑ Contact: Jon and Sue Hacking -- HackingFamily.com, svOcelot.com. All rights reserved.