16 More Deck Work
Summary: We got another 5 of our 15 deck‑patches foamed and covered in 3 layers of biaxial glass, including our 2 most challenging areas over the forward cabins, so we only have 3 more to go, all at the back of Ocelot. Our 2 push‑pits were removed (a major undertaking) and 2 problem areas that were under them were opened up and the balsa removed. We started reinforcing the glass under the deck but this still has a long way to go. The targa bar was stripped of all fittings (except the solar panels) so it's ready to be refurbished. The design for our new rigid bimini was reworked to be simpler and stronger. The oven area was opened up, the oven fitted, and we now have a plan for putting it all back together. The drawer area by the entryway has been prepped for varnishing, and the varnishing of all our doors and floor panels has finally begun in Golf's workshop.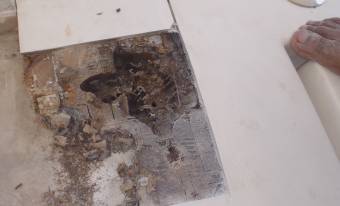 Rotted balsa around stanchion base bolt holes
Monday, February 6:
A lot got done today and it feels great to be making good progress! Unfortunately, the tummy bug struck again and Jon stayed at the apartment all day. Golf picked Sue up at 9:15 in his blue "music truck", in which he was transporting one big sheet of 5/8" (16mm), 80 pound density, closed cell foam. Apparently it was the last sheet in stock. The next load won't arrive for 2 weeks so we're feeling pretty lucky. This gives us enough foam to complete the side decks which are the top priority right now. There's a narrow strip behind the cockpit that will need more foam, but that can wait for now. We're also going to reinforce the storage hatches with foam and glass underneath, but we'll probably use a thinner foam for them.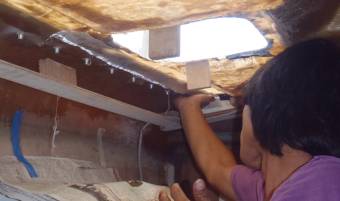 Reinforcing fiberglass being laid under the decks
Golf and Jayap spent the morning battling with the very recalcitrant starboard pushpit (the railing at the very back on starboard side). The stanchions (vertical part of the railing) are made of stainless steel, but are held up by aluminum bases and they sort of melded/corroded into each other after 16 years. After an hour of wrenching, pounding, pulling, and hammering, they gave up and ground their way down through the old bases and tore them apart to get the pushpit off the deck.
Under the aft‑most fitting they found another area of wet and rotted wood. We sort of had an inkling about that when Jon and Sue removed the first of the bolts holding the pushpit down, and water dribbled out of the holes. Some attempt had been made to bed the bolts in some sort of resin, but it was still incorrectly done. With both areas under the pushpit exposed, Golf had Jayap grind back the fiberglass and then chisel out the old balsa. Now those 2 aft‑most parts of the side decks are ready for the whole epoxy, fiberglass, foam treatment, which should be happening tomorrow.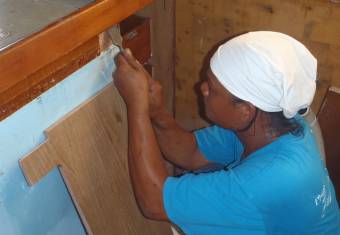 Houa fitting a piece of teak plywood into the galley
Inside, Houa spent more time in the galley, mostly working to reset the drawer stoppers. Not an easy chore apparently, given the narrow confines in which he has to work, and the fact that he had to change some of the panels that define the drawer compartment. Down in the guest cabin (starboard aft) the guys mudded up the grinding line that was the biggest "oops" on Ocelot so far, then reinforced it with a strip of fiberglass. By afternoon that had hardened enough to lay in the epoxy mud and foam above that area on on deck. Down below, Boy (yes, that's his nickname!) continued grinding back the old antifouling on the port hull. It's almost done now!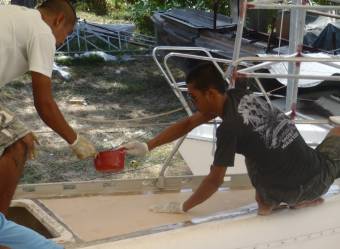 Golf & Max epoxying foam into the port bow triangle
The biggest deck job today was laying epoxy and foam in the two big bow triangles. The team of 4 is down to a real routine now, and things went smoothly without the doing and undoing that plagued some of the earlier deck work. At the end of the day the two bows were both foamed in, and settling well under release‑plastic, soft foam‑rubber, board, and 6 water jugs each. A third area, above the stbd‑aft guest cabin, was also foamed.
The drinks lady came at 4pm on her heavily laden motorbike and sidecar, and Sue treated the team to iced drinks of their choice: be it lemon soda, iced coffee or scary red drinks with jelly balls in he bottom. We guess it's some version of "bubbles" like in bubble tea. Sue also got her daily practice of French, this time chatting with a couple on the French monohull "Silence" who are friends of our French neighbors on Rackham. Sue can't always find all the vocabulary she wants, but it's a nice brain exercise to pull out the French first learned in high school more than 40 years ago, and still be told what a great accent she has and how very rare for an American to speak French! I guess many French sailors don't meet Americans from the east coast where French used to be the predominant foreign language learned in high school.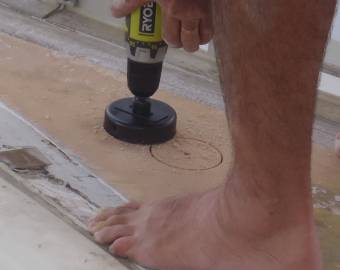 Jon drilling out the foam where the bow cleats will go
Tuesday, February 7:
Today got off to a bit of a slow start, as most of the crew didn't arrive until after lunch - a bit of grinding and prep‑work, but not much. Even Houa, our very self‑directed carpenter, got bogged down on little fiddly details. When Golf showed up he soon decided that he needed to go buy some more supplies, so he took us back to our apartment and we had lunch in the cool air‑conditioning.
The afternoon went a bit better. The triangles up at the bows each have a cleat that has to get bolted through the decks. We don't want those bolts to go through the foam - the old ones went through the balsa, and water leaked into the balsa, ruining the core under the cleats. So Jon used a hole‑saw to cut out a big circle in the foam around each bolt hole. Then he chiseled out the foam, leaving an oval under each cleat bare. Later, when the guys put the the 3 layers of biaxial fiberglass on top of the foam, they filled the holes with a mixture of epoxy‑mud and fiberglass. Now, when we mount the cleats, their bolts will be going through something much stronger than just foam (or balsa). The guys also glassed in a third area above the starboard aft guest cabin, where they put the foam down yesterday afternoon. That means they've finished 5 of the 7 patches on each side.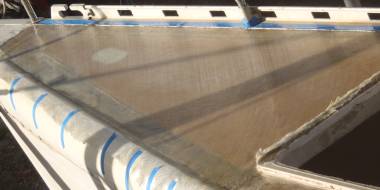 Glassed bow patch - note lighter filled area under the glass
The remaining 2 areas on each side also have their own complications. The 2 aft‑most areas were expanded only yesterday. They dug out all the wet balsa and faired back the edges, but we'd like to leave them open for a few days to make sure they're completely dry. Although they're each pretty small patches, they each have a cleat bolting through them as well as a stanchion base. These all leaked and let water into the balsa coring, so they'll be treated much like the cleats up forward - the foam dug out around where the bolts go and the area filled with epoxy‑mud and fiberglass. This should be much stronger and more water‑resistant.
The big patches over the forward cabins are so big that the fiberglass forming the bottom of the coring troughs is no longer flat. Flattening that glass out without bowing it down is going to be a challenge. What we've done is to brace the troughs up from the bottom as best we can. This should allow us to put sufficient weight on top of the foam to flatten out the fiberglass without letting the glass bow down. We Shall See...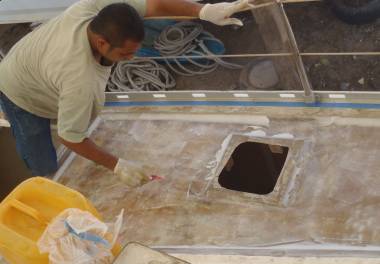 E-U slathering white epoxy mud into the big depression
Wednesday, February 8:
A short day, but we got some good stuff done. The first thing we did was to inspect the fiberglass that we'd put down last night. The quality of the guys' work has been getting steadily better and it's always fun to see the decks coming together, bit by bit.
Today we tackled the big area above the starboard forward bunk. First a bit of epoxy mud went in the bottom of the trough to seal up the many holes through the existing thin layer of fiberglass. Then a sheet of biaxial glass went in and was epoxied down, with a bunch of rather soupy epoxy mud around the edges. The bottom of the pre‑cut foam sheet was slathered in epoxy and then the foam was placed in its depression, on top of the fiberglass and epoxy mud. The foam was gently massaged down, and the epoxy mud squooshed up around the edges. Some was redirected to where there wasn't as much, but most was simply scooped off and discarded. A polyethylene sheet was placed on top of the foam and a thin piece of pre‑cut plywood was placed on top of the plastic before no fewer than 12 big water jugs (weighing perhaps 550 lbs or 250kg) were put put on top to weigh the foam down. This should flatten out any wrinkles in the fiberglass, as well as insuring a good bond between the foam and the fiberglass below it. Jon checked the supports that we'd put down below and they seemed to be holding up well, but he and Golf added another supporting brace, just to be sure.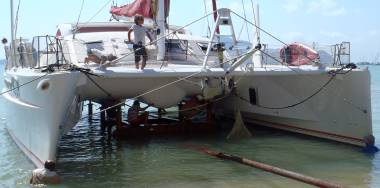 A French 29 ton Catana 58' trying to sit on Manoon's trailer
The other interesting activity was that a huge 58' Catana catamaran wanted to be hauled out. Although Catana's are supposed to be light and fast, this one tips the scales at 29 tons! Manoon wasn't at all sure that his little trailer could take that much weight. It took a couple of attempts for the Catana to line up properly with the trailer. Being somewhat racy, they've got their steering stations at the extreme aft corners of the boat. This lets you see the sails nicely, but it leaves the helmsperson very exposed (and too close to the water for our comfort). More importantly, the helmsperson can't see directly ahead very well, and can't see the far corner of the boat at all! After much grunting and shoving and adjusting the arms of his trailer Manoon started to pull the Catana out, but then he noticed his trailer bending in places he didn't like. So they put the Catana back in the water so they could think about it some more. We were impressed and happy that Manoon would refuse a job that strains his equipment. We need that trailer to work well when the time comes to launch Ocelot.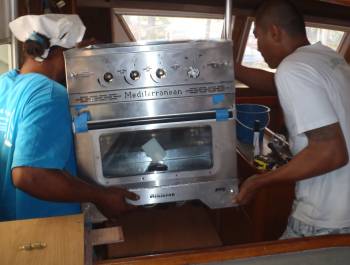 Houa and Golf testing the placement of our new stove/oven
All this took several hours, so it was now lunchtime. The guys all go sit in the shade under a neighboring catamaran but we prefer to go down to the water and sit in the breeze under a lovely shade tree. There are always several chairs nearby and the breeze is delightful. The afternoon consisted mostly of grinding fiberglass, cutting and shaping the foam for the big port area, and other prep work so we decided to go back to our apartment. On the way, Golf stopped at the bank so we could pay him for an additional order of foam that will be used to reinforce the cockpit hatch covers and to build us a new helm seat which should end up weighing a LOT less than the monster that we've had. [ed: Golf apparently didn't bother to pay the foam supplier, who now claims that Golf owes him several hundred dollars.]
Thursday, February 9:
In the morning, Jon climbed up on top of the targa bar to remove the last of the rollers and stainless steel bits and pieces so Golf and his crew can renovate the targa bar. In talking to Golf about how he'd like to build our new hard bimini (cockpit shade) we decided that we don't really need the big aluminum tubes that run from halfway down the salon all the way back to the davits. After 16 years, these tubes are now bent in complex ways, and forming a bimini to follow those bends would not only be difficult, but the result probably wouldn't look very good either. Not only does removing the tubes open up lots more options, but it also removes a potential leak spot, as where those tubes bolt to the roof of the salon tends to leak once the tubes flex a bit and break their seal. The strange part is that it will also alter Ocelot's appearance somewhat, which we both find a bit disturbing. Changing the galley is one thing, but changing Ocelot's profile? Hmmm...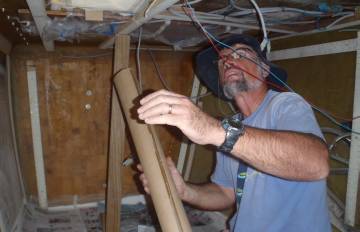 Jon adds more bracing in the port fwd cabin
We took the polyethylene off the foam that we'd put down last night and it looked good, so the guys started preparing the other side, cutting the foam, grinding away the gelcoat, grinding back a small strip where the wood looked a bit suspect, etc. That port forward cabin was being used to store doors and such that have been removed but haven't yet made it to Golf's workshop, so they all had to be moved. Golf decided to move them to the port aft cabin instead of putting them in the back of his truck. He said this was because he'd brought the wrong truck, and he'll bring a more appropriate one tomorrow.

Once the stuff had been moved out and the forward cabin vacuumed of the fiberglass grindings that have completely permeated the boat, Jon set up a bracing system in there similar to what we used on the starboard side, bracing up the thin fiberglass from below so it wouldn't bend when we loaded the water jugs on top of the foam, to insure good adhesion.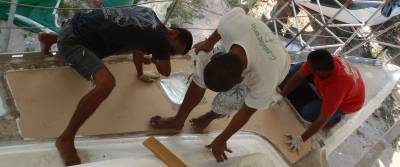 Max, Golf & E-U sticking down the foam over the port forward cabin
For lunch we usually go down to the waterfront, where they take the boats out. There's a lovely shade tree there and there's always a delightful cooling breeze. But today we found that we're not the only ones who enjoy this spot. We were talking to some French tourists who had gotten a bit lost when suddenly a green snake slithered out of the grass and right between Jon's legs! At first we thought it was some type of poisonous pit-viper, but Sue managed to get a photo of it which clearly shows that it's a Golden Tree Snake, poisonous but relatively harmless. Whew!
In the afternoon the guys epoxied down the foam over the port forward cabin. They've done this so often now that it's almost becoming routine. We checked the bracing afterwards and added a bit more, just in case. Golf decided not to put the fiberglass on top of the foam they'd put down yesterday, as too many people had walked on it and it needed cleaning up.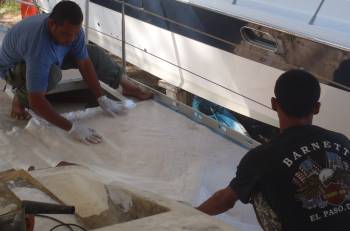 E-U & Max laying fiberglass on top of wet epoxy-foam
Down below, Houa was patiently fitting the oven into our small galley. He built a very nice shelf for it to sit on, with room underneath for a big drawer (probably a cutlery drawer, although it's a bit low). He cut a slot in the back wall (which is actually a double wall) so we can recess the gas feed line, which gives us another much needed inch or so. Houa and Golf are obviously good buddies, as they're always razzing each other. It's fun to see the guys having fun and enjoying their work.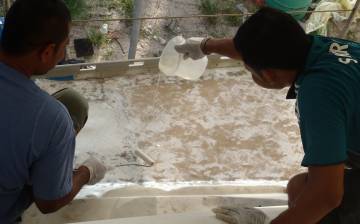 E-U and Boy working epoxy into the fiberglass, port side
Friday, February 10:
This morning the guys were doing more grinding on Ocelot in preparation for laying down more fiberglass. Grinding fiberglass creates tiny strands of glass that float in the air and can itch for days if it gets on you, so we didn't bother coming in. (It's funny, but Golf can't pronounce the letter R, so he pronounces "grinding" as "gliding".) Golf was supposed to be in his shop varnishing, but instead said he had to go to the hospital for a pinched sciatic nerve. Golf said this is a result of having broken his back in a fall when he was working in Boat Lagoon years ago. [Ed: This story may be pure BS. Golf certainly limps and walks like an old man, but we have no corroborating evidence and we now know that Golf is a consummate liar.] The doctor then said he needed surgery, but Golf didn't trust him and decided not to have the surgery. When Golf arrived in the afternoon, he was still hunched over but he seemed to be walking a bit better.
The big work today was to put 3 layers of fiberglass on top of each of the 2 big pieces of foam over the forward cabins. These sheets of glass are larger than any we've done before, but Golf's team is working so well together now that it all went pretty smoothly. A thick layer of epoxy on top of the foam, then roll out a sheet of pre‑cut fiberglass, position it correctly (the most difficult step, as the diagonal weave of the glass allows it to change shape too easily) and then work more epoxy into the glass with small rollers. They did the 3 layers of glass on starboard side first, then moved over to port side. Each side only took an hour or so, but there was lots of preparation beforehand and lots of cleanup afterwards.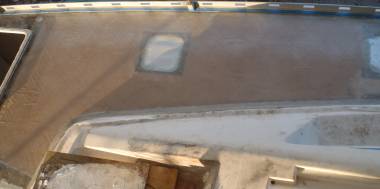 Starboard forward deck after glassing over the foam
Interestingly, Golf's team has always cleaned up epoxy with some noxious chemical (they just call it "thinners"). We always clean epoxy off ourselves with vinegar (which is called something else in Thai) so we brought the team some to try. Certainly much nicer on the skin than harsh chemicals...
Inside, Houa continued to work on the galley. One of the things he's adding is a new drawer under the oven. The new oven doesn't go down as far as the old one, so he's got the room. The drawer is lower down than is completely convenient but our galley certainly needs all the storage it can find. He also decided to rip out much of the deep storage next to the oven, so that's being rebuilt now. He wants to coat much of the stove/oven enclosure in Formica, and the parts that aren't visible in a layer of insulating foam and foil, to protect the wood from the heat of the oven.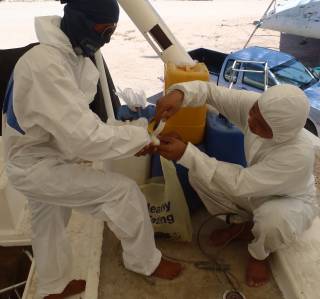 Max and Boy get suited up for grinding fiberglass
Saturday, February 11:
Today was basically a day of grinding fiberglass, so we stayed away until the afternoon but it actually went on all day. As soon as we arrived, Jon immediately went to the 2 forward sections that we'd glassed yesterday to see how strong they were. By standing on the glass with one foot and thumping down gently with the other heel, it's pretty easy to tell how much the deck moves, especially relative to how the other areas feel. The new areas were actually surprisingly strong, given how flimsy the original bottom fiberglass layer was. We'd put down an additional layer of glass under the foam but we hadn't been able to tie it in well with the surrounding structure. We'll probably put on an additional layer of glass from underneath that we will be able to tie in well with the surrounding structure, but the forward areas are actually stronger (have less bounce) than the aft‑most areas above the aft cabins. That's probably because those aft cabins are pretty big, with no internal supports.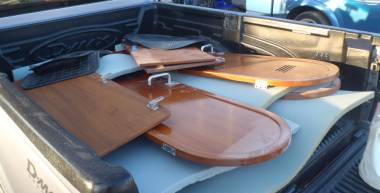 Last of our doors off to Golf's workshop to be varnished
Grinding is hot, dusty work, and it's tiring to hold the strongly vibrating grinders and maneuver them exactly correctly. The fiberglass dust is obnoxious enough that the guys often dress up in full "bunny‑suits" to keep the dust off their skin, despite the heat of the tropics. Nevertheless, it's often necessary to oversee their work. These guys don't always appreciate the lengths we're going to to insure that the new deck is well connected to the hull on the outside and to the cabin on the inside. Sometimes they'll happily grind away all the strong fiberglass in the name of making a smooth finish. Jon had to stop them a few times, go get Golf (who's the only one who can speak to them) and explain what glass was structural and what could safely be ground away. This is part of the price of having others do this nasty work.
Down below, Houa was taking apart more of the galley in the name of fitting in the stove and oven. He's ripping apart stuff that we wouldn't touch, because we couldn't be at all sure that we could put it back nicely, but Houa's not worried. It will be interesting to see how it turns out.
Another couple of big catamarans have come out in the last few days. One of them was parked near us today and we're now thinking that the French are trying to take over, as all our neighbors (3 boats) are French or French Canadian! They're all good fun and seem OK to use their English on Jon (who speaks enough French to keep himself fed, but not really to converse). They're usually quite impressed with Sue's fluency in French. American's don't have a reputation for being able to speak foreign languages.
Thai Refit: Next | Up | Previous | 60 Christmas | 59 Fair Sugar-Scoops | 58 Finish Galley Wood | 57 Deck Filler | 56 Fire Golf! | 55 Hull Joint | 54 Sink Cabinet | 53 New Eyebrows | 52 Foredeck Work | 51 New Hatches | 50 Test Bimini | 49 Fwd Cabin Hatches | 48 Hatch Frames | 47 Glass Scoops | 46 Inject Bimini | 45 Cockpit & Bimini | 44 Scoop Steps | 43 Bimini Mold | 42 Level Ocelot | 41 Mast Conduits | 40 Replace Helm | 32 Fly to USA | 31 Raise Transoms | 30 Foam Foredeck | 29 Rebuild Engines | 28 Grind Spars | 27 Foredeck Repairs | 26 Transom Walls | 25 Foam Helm | 24 Shape Transoms | 23 Start Transoms | 22 New Bows | 21 Cockpit Surgery | 20 Dismantle Cockpit | 19 Fair Topsides | 18 Remove Forebeam | 17 Dismantle Engines | 16 More Deck Work | 15 Start Deck Repairs | 14 Rip Apart Galley | 13 Remove Decks | Xmas Break | 4 Strip Ocelot | 3 First Extension | 2 Remove Teak Deck | 1 Haul Out
Ocelot Pages: Rebuild Decks | Extend Transoms | Cockpit Area | Below Waterline | Bimini | Spars | Deck Hardware | Exterior Lockers | Salon | Galley | Cabins | Heads | Interior Floors | Electrical | Maintenance | Weekly Logs 2012 | Weekly Logs 2013
Top Level: Home | Destinations | Cruising Info | Underwater | Boat Guests | Ocelot | Sue | Jon | Amanda | Chris | Site Map | Make a Comment
---
Lifetime
Commodores
of the
Seven Seas
Cruising
Association

If our information is useful,
you can help by making a donation
Copyright © 2000‑ Contact: Jon and Sue Hacking -- HackingFamily.com, svOcelot.com. All rights reserved.