31 Raise Transoms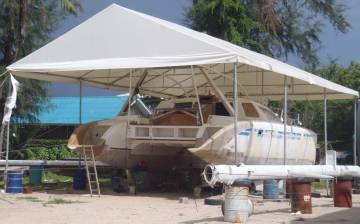 Ocelot under her tent, with her mast on the far side of her
Summary: Our main goal now is to glass in all exposed foam before we leave for the US next week. We had a lot of rain this week, but still made good progress. Max managed to glass in most of his exposed foam up in front of the salon. Kao and Max also (finally) glassed in the back of the cockpit seat and the aft‑deck. This foam has been exposed for so long that we were getting a bit worried about it, but it seems OK. The old grab‑rail troughs were ground back and prepped to be filled, and the shelf for the port fo'c's'l got more glass. Both swim platforms were raised by a good 3" (7.5cm) using 4 sheets of glass‑wrapped foam. Our machine shop finished our sinks, rudders, and autopilot reduction gear. They also delivered our swim ladders - they're just tacked together for now, but the shape and hinges look excellent, so grooves were cut in the swim platform floors to hold the ladders when they're up. Finally, the battery box got a final coat of gelcoat so Jon moved the batteries back into it, and we found a prod we can use to fly some light‑air sails from. A good week!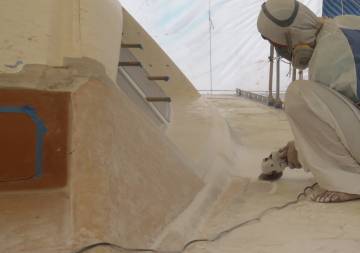 Max grinding back the glass around his foredeck foam
Monday, May 21:
Not much happened today. Between a couple of good rain showers, lots of grinding on deck (which everyone tries to avoid) and some of our best workers being absent, it was a pretty slack day.
Our big news, such as it is, was Kao preparing the trough of our old grab‑rail along the outer edge of the main cabin for filling in. He ground off all the gelcoat around the trough so the covering fiberglass can grab onto strong fiberglass (instead of brittle gelcoat). He also ground the inside of the trough as much as he could, which wasn't strictly necessary. The trough will be filled in with strips of foam bound together with epoxy mud, and it doesn't need to be strong or well bonded as it will be covered with fiberglass, but Golf likes to do a thorough job.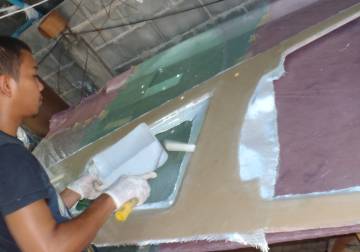 Lek adding a final layer of glass to the fo'c's'l foam shelf
Max was around in the morning and ground back some of the existing glass around his foredeck project, so the new glass we lay has something strong to grab onto. That area should now be ready for glassing, which we hope happens soon.
Manoon came around this morning to check Ocelot's trim and pronounced her level enough. So Jon borrowed the tubing they use as a water‑level and we made our own checks. What we found was a bit disheartening - the original manufacturer's boot‑stripe (which is somewhat imbedded into the fiberglass so we can still see it) isn't at all uniform around the boat. For instance, there's a good 1" (25mm) difference in its height from one side of our starboard transom to the other! This means that we'll need to take a LOT more readings and then decide what reference points we can use.
We need to make more measurements and think more about what information we have, but it appears that Ocelot's a bit bow down (as we thought) but might be pretty flat from left to right. The bottom end of our port transom extensions might be as much as ½" (1cm) lower than starboard, but the tops appear to be more closely matched.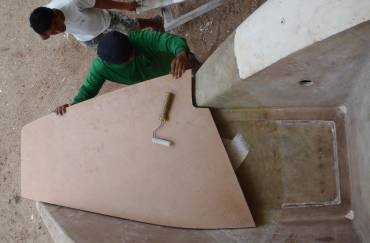 Golf & Mee fitting the new floor for the swim starboard platform
One thing we have noticed is that the port swim‑platform slopes more than starboard. Since both swim‑platforms are being built up with foam, fiberglass, and epoxy mud (all of varying thicknesses) we'll just have to measure it when the foam's down and make any necessary corrections then.
Mee was apparently at his daughter's school dealing with some beginning‑of‑the‑year issues. Houa was sanding the fiberglass tops of Mee's 8 sheets of foam that will be used to raise the swim‑platforms, preparing to epoxy them together.
Lek put the final(?) layer of fiberglass on the long foam sheet that will be the shelf in the port fo'c's'l. Once the bottom of the sheet gets a coat of gelcoat, the sheet will be cut so we can get it into the fo'c's'l and then it will be reassembled on the inside.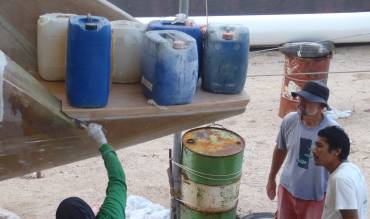 Mee mudding the edges of the new swim-platform floor
Tuesday, May 22:
Bit of a slow start to the morning, and we had lots of rain in the afternoon, but somehow a fair amount got accomplished. Golf was late because his mother‑in‑law "is old and may not live long", so he took Mai and the girls to the airport so they could fly up to her in Chang Rai. When Golf finally got in, the guys were complaining about not having much fiberglass, so Jon and Golf drove into town to buy yet another 110 lb (50kg) roll of biaxial glass.
The big happenings were with the swim platform. Mee started the day by epoxying 4 of his sheets of foam into a block perhaps 3" (8cm) thick and roughly 2x4' (60x120cm, but not rectangular). By afternoon the epoxy had set, so the starboard swim‑platform was lightly sanded, cleaned, and mudded with epoxy before the carefully shaped block of foam was epoxied down!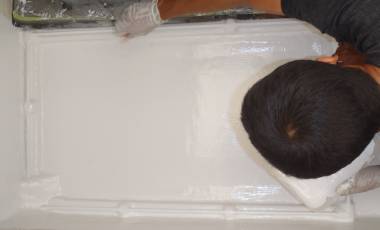 Max putting on the final layer of gelcoat in the battery area
Strictly speaking, this wasn't on our short list of things we'd like to see accomplished before we leave next Wednesday, but it's good to see. Mee is a new employee and still learning, so it's good to see him making an accomplishment like this.
Earlier we'd talked to Golf to prioritize tasks a bit. Our main concern is that not much is likely to happen while we're away, so we want what has been done to be protected. This mostly means that that any exposed foam needs to be covered with fiberglass. We also want the main entryway door replaced, so we can close Ocelot up while we're away.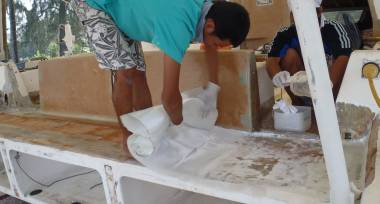 Max and Kao glassing in Ocelot's aft-deck
We currently have 2 areas of exposed foam - the foredeck and the aft‑deck, behind the cockpit seat. Max is working on the foredeck but nobody's been working on the aft‑deck for a while. In fact, the foam's been down for ages, and folks have been walking on it enough that it's starting to look a bit beat‑up.
So today Kao once again prepped the area, sanding the foam to clean it, grinding off some of the surrounding gelcoat so the fiberglass can get a good attachment, and grinding back some fiberglass around some areas where someone with a cutting grinder got a bit carried away. Then Golf himself got down on hands and knees to lay some reinforcing glass around some of the cuts. Kao smoothed some other areas out with a bit of epoxy mud. We still need to put down some more strips of reinforcing glass, but if we get some clear weather tomorrow we should be able to also lay some bigger sheets of glass to cover much of the exposed foam.
Elsewhere, Houa is still working on the shelf for the fo'c's'l, and Max finally put the last coat of gelcoat inside the battery box. So tomorrow Jon will have to lift down the batteries and reattach them all.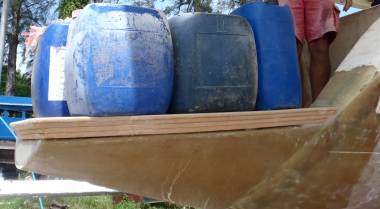 New foam raising the floor of the starboard swim platform
A few days ago we spent some time drawing lines under Ocelot's bridge‑deck, trying to decide where to drill the drain holes for the new compartments. After some deliberation, we decided to drill the drain holes from inside instead of the outside, even though we couldn't get to the corners of the compartments very well. But having drilled a pilot hole in each compartment, we found that we didn't have a drill for a 1" (25mm) drain hole. So this evening we bought a 25mm drill at a local hardware store. We'll cut through the fiberglass with a hole‑saw, then use the new drill to do the deeper drilling (the hull is 3" or 8cm thick there). We also bought a long length of clear tubing to use as an old fashioned water-level so we can make better measurements of how Ocelot's sitting and where the water‑line is supposed to be...
Wednesday, May 23:
A good day! Several steps forward and only one step sideways, despite the rain coming in and shutting down all work just after 4pm.
The big news actually came from Luck Engineering, probably the best machine shop in Phuket. We drove to them in the morning to see what they'd done. The rudders look really nice, with a new 50mm bearing surface at the bottom of each shaft, just above the blade. Nobody can find Vesconite bearing material so we'll go with Delrin, which should be more than ample.
They'd made the top surface for our sinks. Instead of cutting off the lips around the sinks and trying to butt‑weld the sinks to the top surface, they'll just weld the sinks on underneath the top surface, and then polish the weld to make it all look smooth. This is much easier (therefore cheaper) and should make a better counter for us. The object here is to let any water on the counter drain naturally into the sinks instead of pooling on the counter.
| | |
| --- | --- |
| Welding the sinks to the underside of the countertop is simple | New bearing sleeves on our rudder shafts, just above the blades |
| Old, broken, autopilot reduction gear | New replacement gear made by Luck |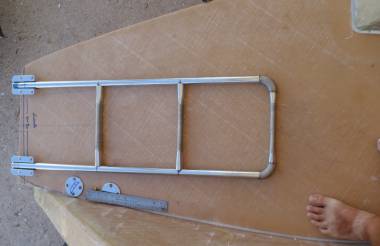 Starboard swim ladder, about where it will lie when stowed
The plastic gear for our autopilot was superbly done. They pulled the old cracked part out and made a new one out of some hard plastic. It should be stronger than the original part. In fact, it worked so well that it made us realize that the 3 gears on top are actually a bit lose from having worn their central holes (the autopilot has done virtually ALL the steering for us ever since Panama, probably 40,000 miles, and who knows how much during the 5 years Ocelot was in charter). So we asked Luck if they could make tiny sleeves for those 3 gears, so they'd run more tightly on their pins.
The swim ladders looked really nice. The steps had been knurled (given a cross‑hatch pattern to make them more grippy) and then flattened to an oval cross section, which should make them very nice on the feet. The upper pivots were beautifully made, and the machinist had decided to take our design instead of his (more complicated) original design.

Jon drilling drain holes in the corners of our new compartments
Before we drove to Luck, Mee got his port‑side block of foam epoxied down to the port swim‑platform. It went down well and snuggled in where it needed to go, so we weighted it down with water jugs and filled the cracks around the edges with epoxy mud. This is the first major change to Ocelot's profile in a while - fun to see!
Houa was working on our entryway door, reassembling the aluminum sliding rails and mounting everything. Our sideways step was that the block of foam that Max built so long ago for the bottom of the door‑frame to rest on isn't quite square. The inside slopes up by about 5mm (less than ¼") which is enough to prevent the door from sliding. So Houa cut off some of the glass on top of that block of foam. Once we get everything lined up correctly, we'll have to glass it up again.
After lunch Max and Kao got to work glassing in the aft‑deck foam. They got 2 skins of biaxial glass on the top and back of the cockpit seat, then carefully mudded in all the many dings in the foam on the floor of the aft‑deck before laying a single skin of biaxial there. We've been waiting for that foam to be covered for a LONG time (it was put down in February!) There wasn't time to put down a second skin, but that should happen tomorrow.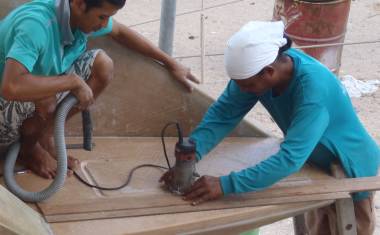 Max & Houa routing out a groove for the swim ladder to fall into
Jon managed to use his new drill to cut the drain hole for the starboard‑side new compartment. Jon also lifted down all our batteries and put them in our new battery compartment, but they still have to be connected together. Between bossing everyone around and taking his after‑lunch siesta, there's not much time for him to do real work.

Later in the afternoon the ladder guys from Luck came out to Ocelot to make sure everything fit. This meant that we had to finalize where our swim‑platforms will end, and they're both less than 24 hours old! But the epoxy had long since cured on the foam put down that morning, so everything was solid. The team worked out where the end of the swim‑platform foam should be cut, and then where the ladders should go. Then Max and Houa used the router to cut out the grooves that the swim‑ladder will fall into when it's stowed. We'd like the swim‑platform deck to be essentially flat when the swim‑ladders are up (which will be most of the time). The ladders are 97cm (38") long, which is somewhat longer than the 90cm (35.4") we specified, but that's fine with us as it will make it easier to climb up out of the water.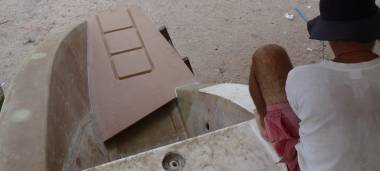 Routed out grooves for the swim ladder to fall into
A really exciting development is that we found an old prod that we can use. A prod is a pole that sticks out the front of a catamaran for flying a screecher or other light‑air sail from, sort of like a bow‑sprit. Several friends of ours have been raving about the light‑air performance of their screechers, as well as their ease of use. They're lose‑luffed (they don't run up a wire like a jib) but they're on a roller and roll around their own luff‑rope, so they're very easy to set and to stow. They're usually slightly heavier material than a spinnaker, and they can be flown upwind to about 60° if conditions are light. Sounds like a good sail to have, especially here in SE Asia where winds are usually pretty light.
Thursday, May 24:
An interesting day. It rained heavily before we got in, and stayed very cloudy all day, but didn't actually rain at all. In fact, Golf shot 3 coats of paint onto our neighbor, Katani 2.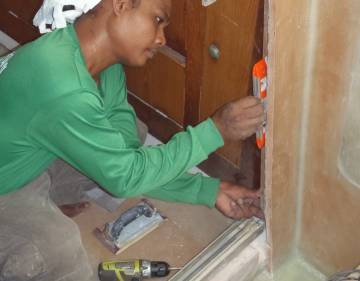 Houa working on the entryway door
Most of the work today centered around the swim‑platforms. Noua (pronounced "No") from Luck Engineering, was back on Ocelot, making templates of where the railings have to go. However, where the railings are going is changing. By raising the swim‑platforms a few inches, the walls coming down to the swim‑platforms will also have to be raised. We won't raise the whole wall, just the ends, but that still affects where the railings will go.
Max was also working on the swim‑platforms, using a router to cut grooves for the swim‑ladders to fall into. He finished starboard side and was close to finishing port as well. The tops of the grooves still have to be rounded off, and where the hinges go has to be routed out, filled back up with something we can screw into (Golf likes to use solid fiberglass), and then the grooves have to be routed out again. Then the grooves have to be lined with fiberglass, and finally the whole top and sides of the swim‑platforms get another 2‑3 layers of fiberglass.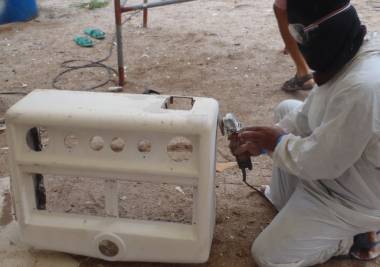 Kao grinding our instrument console, preparing to replace it
Noua also made templates for the grab‑rails to go on the sides of the main cabin. These look like they should be simple, but there's a gotcha here as well. The cabin‑top curves slightly, and the grab‑rails will have threaded rod coming out of the bottoms of their 4 pads. If the bits of threaded rod are all parallel, everything should bolt together relatively easily, but if they're just perpendicular to the pads (which is easiest for Luck to do) then it will be very difficult to get the rods to go into the holes. We Shall See...
Houa was working on our entryway door. Yesterday he found that the door support had to be shaved down, which he's now done. He's very meticulous and has checked everything and it now looks fine, so he can start glassing things back together again.
Under Ocelot, our helm binnacle that holds all our instruments was pulled out and cleaned up. It was originally put on very poorly (obviously as an afterthought) with way more mud than it needed. That mud was constantly cracking, and cracking the gelcoat. So Kao ground off all the old mud and also ground off the gelcoat around the edges, so we can glass it on properly. Once it's structurally sound, Golf will gelcoat it to make it look nice.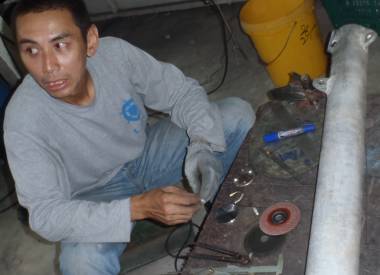 Noua, our stainless steel worker, with our new (to us) prod
A Spaniard with a Polish girlfriend wants to bring his recently bought Privilege catamaran out here at Coconuts, but has been told that the yard is full for the time being. We hadn't noticed but the yard does look pretty full, even though only about 6 of the perhaps 40 boats here are actually being worked on. I guess the rates are cheap enough ($320/month for us) that folks are leaving their boats on the hard while they fly back home.
Friday, May 25:
We spent much of the morning in town running errands so didn't see all of what was going on with Ocelot, but we stopped in at the machine shop to see how our jobs are progressing. The sinks look very nice, and should be delivered tomorrow. On the rudders, they sealed off the hole for the anodes (we'll be covering the rudders with fiberglass, so don't need anodes anymore) and ground down some of their welds a bit to make it easier to fiberglass. But they still need to get the bearing material. We finally heard back from the Vesconite folks in South Africa and they say the closest Vesconite is in Singapore. We've sent the contact info to Luck, but we suspect they'll just go with Delrin instead. Path of least resistance and all that...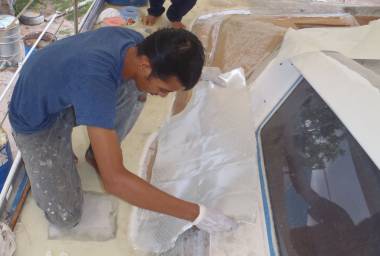 Max started glassing the foredeck at 4:30!
The main action today was on the swim‑platforms. Max finished cutting the grooves for the swim‑ladders to fall into. Then he cut shallower patches for the hinges to slip into, making everything flush with the deck.
The main issue we've noticed is that the ladder grooves seem to have been laid out slightly off center. That is, they don't lie parallel with Ocelot's length, so they're not perpendicular to her sterns. Not sure who made this decision, as we specifically asked that they be square to the sterns, and Houa spent a lot of time marking and cutting the transoms off square. But there you are - they can't be changed now. It will be OK, but now the sterns will have to be built out a bit on the insides to accommodate the ladders, which is a bit like the tail wagging the dog.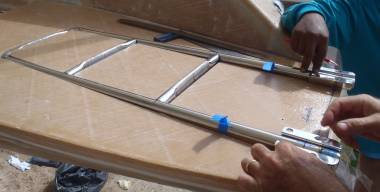 Jon & Houa discussing what to do with the swim ladders
Houa built a small male mold of the grooves that we can lay fiberglass over. Once the fiberglass cures, we should be able to slip the cured fiberglass into the grooves. This will be much easier than trying to epoxy the wet fiberglass into the grooves.
Houa was also working on the entryway door. The base should be ready to fiberglass tomorrow.
At the very end of the day, Max appeared with several sheets of fiberglass that he'd cut and proceeded to to start glassing in the exposed foam on the port foredeck, in front of the salon. This is good news, but we're surprised he started mixing epoxy at 4:30. We look forward to seeing how far he got tomorrow morning. Perhaps he's feeling under some pressure at home. The doctors are saying that if the baby doesn't come by Monday, they'll perform a C‑section. That would stress any prospective father.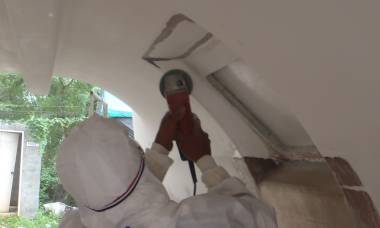 Kao grinding off the gelcoat around the emergency hatches
Saturday, May 26:
A disappointing day so close to our departure. Jon was gone all day having some major dental work done, and Sue and Golf were not aware of the impending problems with the new transom handrail placement (discovered as Jon looked at the photos of the day's work). The day was not improved by the weather. It was muggy and overcast all day, with a 5 minute sun break at about 4pm. Then the Big Buddha statue on the hill to the west of the yard disappeared into a black cloud. Never a good sign. A few minutes later a ferocious wind hit, then driving rain. Luckily all the bare foam (what's left of it, which isn't much) was covered. And the good news is that Max's glass on the port foredeck that he did so late yesterday had set up really well. Step by step. Thank goodness for the small things.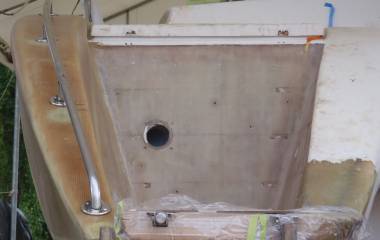 The rails look good, but they miss the (lighter) reinforced pads
The most interesting work was by Noua and his young assistant from Luck Engineering, who arrived all ready to fit and spot weld the handrails down the transom walls. But despite the fact that Sue and Golf were there watching for much of the time, it didn't occur to either of them that the shape of the bottoms of the walls will be changing to accommodate the newly raised floor of the swim platforms. Then they compounded the problem by changing where the supports come down to the wall, to make the lengths even. This means that they missed the reinforced patches in the wall that we'd worked so carefully to put exactly where the handrail is supposed to bolt down. <sigh>
Not good. Sue didn't catch the problem, Jon was home nursing his sore jaw, and Golf seems to think it's not big deal to change the pads. We see some engineering discussions in the near future, like tomorrow. This just goes to show that we (especially Jon) are very needed at the boatyard!
But the bigger implication is that we probably don't want any work to happen to Ocelot while we're away. When we left for Thanksgiving and Christmas, Golf had lots of other contracts so very little happened to Ocelot (despite promises to the contrary). But thinking back, much of what did happen was actually negative. For instance, some cuts were made with a grinder that severely compromised the strength of the deck, and it took a lot of time and effort (and fiberglass) to repair. If all we had left to do was painting, we'd leave it to Golf, as that's his forte and not ours. But there's still a significant amount of work to do before we get to the painting stage.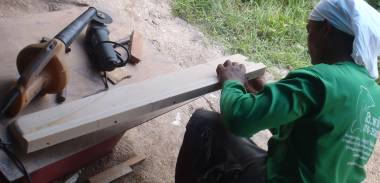 Houa in the "workshop" working on the entryway threshold
We only had 2 workers today. Max was off seeing the doctor with his very pregnant wife. He showed up in time for Saturday payday, and to snag a beer, which we gave him a hard time about.

Steady Houa spent most of his time back in the workshop attending the mold he made for the swim ladder grooves, popping his first piece of glass off and then trimming it down. He'll have to repeat this many more times. He also worked a long time on the fiddly shape of the companionway threshold. This is a pretty crucial part of rebuilding Ocelot's doorway, because this is where we step when going in and out, and it has to be fitted perfectly to allow the water to drain away, not into the boat. Getting the sliding door closed is one of our main priorities to be met before we fly on Wednesday night.
Our other worker was Kao, although he was hard to recognize most of the day as he was suited up in his grinding outfit. Golf thinks the gelcoat around the old emergency hatches has to be taken back and the edges of the hatch reinforced before we attached the 10mm polycarbonate sheets. This is something where we yield to Golf's decision, because none of us wants a leaking hatch (or window, as this will be).
Thai Refit: Next | Up | Previous | 60 Christmas | 59 Fair Sugar-Scoops | 58 Finish Galley Wood | 57 Deck Filler | 56 Fire Golf! | 55 Hull Joint | 54 Sink Cabinet | 53 New Eyebrows | 52 Foredeck Work | 51 New Hatches | 50 Test Bimini | 49 Fwd Cabin Hatches | 48 Hatch Frames | 47 Glass Scoops | 46 Inject Bimini | 45 Cockpit & Bimini | 44 Scoop Steps | 43 Bimini Mold | 42 Level Ocelot | 41 Mast Conduits | 40 Replace Helm | 32 Fly to USA | 31 Raise Transoms | 30 Foam Foredeck | 29 Rebuild Engines | 28 Grind Spars | 27 Foredeck Repairs | 26 Transom Walls | 25 Foam Helm | 24 Shape Transoms | 23 Start Transoms | 22 New Bows | 21 Cockpit Surgery | 20 Dismantle Cockpit | 19 Fair Topsides | 18 Remove Forebeam | 17 Dismantle Engines | 16 More Deck Work | 15 Start Deck Repairs | 14 Rip Apart Galley | 13 Remove Decks | Xmas Break | 4 Strip Ocelot | 3 First Extension | 2 Remove Teak Deck | 1 Haul Out
Ocelot Pages: Rebuild Decks | Extend Transoms | Cockpit Area | Below Waterline | Bimini | Spars | Deck Hardware | Exterior Lockers | Salon | Galley | Cabins | Heads | Interior Floors | Electrical | Maintenance | Weekly Logs 2012 | Weekly Logs 2013
Top Level: Home | Destinations | Cruising Info | Underwater | Boat Guests | Ocelot | Sue | Jon | Amanda | Chris | Site Map | Make a Comment
---
Lifetime
Commodores
of the
Seven Seas
Cruising
Association

If our information is useful,
you can help by making a donation
Copyright © 2000‑ Contact: Jon and Sue Hacking -- HackingFamily.com, svOcelot.com. All rights reserved.