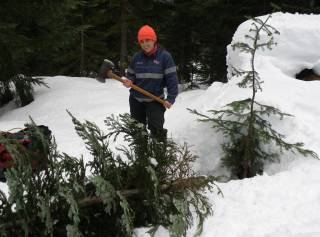 LJ slays a wild Christmas tree in the Cascades
We flew home on 19 November and returned to Ocelot on 15 January 2012, a break of 8 weeks. It was lovely to see the family again after so long away. We had a few days with Jon's father in California before he drove us (at 82!) up to northern California for Thanksgiving with Jon's other siblings. Chris and Amanda drove down to meet us so we had the whole Hacking clan together for the first time in ages. Then we drove up to Seattle with the kids, seeing friends along the way.
Part of our Xmas ritual is to hunt a wild and elusive Xmas Tree on National Forest land. We drive up into the mountains on tiny Forest Service dirt roads until we're blocked by snow, then we start out on foot, cross‑country skis, or sometimes snowshoes. This time we hunted 2 trees, one for Amanda's house and one for LJ's house. It's always a fun day, in a cold and frosty sort of way.

This year we had Xmas at LJ's house, dog‑sitting while they were back east. It was so nice to have the kids with us. For the last few years we've had Xmas on Ocelot, in the tropics. Not only is this hotter than we think Xmas should be, but we miss having our family around. This year we had frost on the windowpane, a fire in the fireplace, lots of eggnog and other delicacies, and lots of family time. The main problem is that we ate ourselves into little blimps, so we've got some pounds to shed when we get back to Thailand!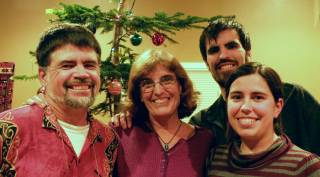 Our family in front of our wild Christmas tree
Bits and Pieces for Ocelot:
We had a long list of things to buy for Ocelot, things we could not easily get in Thailand. The trick was going to be getting it all back to Thailand. We hoped that we could get it all down to what we're allowed to take with us on the plane, but the list was long. Not only would it be cheaper to take our parts as checked luggage, but we could probably get them into Thailand without having to pay their 25% import duty. We shouldn't have to pay duty, as the parts are going onto an foreign‑flagged vessel and leaving the country, so they're never really being imported into the country at all. In most countries, we can mark boxes as "In Transit for Foreign Yacht Ocelot" and we don't have to pay duty, but some countries don't respect that. Thailand (and India) are 2 such countries.
We also bought 400' (120m) of tinned wire so we can replace the mast wires, new masthead lights to replace the crazed and burned out ones, and rebuild kits for our 8 Andersen winches. Ouch, are they pricey! New power plugs for the computers, circuit breakers, hatch springs, floor pulls, running and steaming lights for the mast, a new faucet for the galley sink, polycarbonate sheets, the list is endless. For fun, we got some new snorkel gear and a Canon G‑12 digital camera with underwater housing and light. Now we just have to sail somewhere with clear water again!
Stove and Oven:
Ocelot's stove and oven were made by Alps in Italy. Most of it is good quality stainless steel, but some is not. In South Africa we had to pay $400 for custom made hinges for the oven after the old ones rusted away, and $250 for new flame‑spreaders for the stove. More importantly, the gas shutoff valve for the oven is leaking a bit, and we've had some exciting pyrotechnics that were a bit scary.
Ocelot's Alps oven is separate from the stove-top, with our cutlery drawer in between. This was probably done to save space, but it's much more expensive to have them separate. We decided to buy a combination stove/oven and move the cutlery drawer. The main choices for us were a Force 10 and a Dickenson. Both companies are well known and produce excellent quality equipment. We had a Force 10 on Oriental Lady in the 80s and loved it. But the new Force 10s are polished stainless steel, which looks good initially but quickly shows scratches and other blemishes. The door folds beneath the oven - a cute design but overly elaborate and prone to problems. Finally, the Dickenson, though slightly more expensive, is slightly lighter (once the cutting board is removed) and more of it can be disassembled, a significant issue if we're to get it down to what we can fly with.
Asiana, the Korean airline, allowed us 4 pieces of checked luggage, with maximum weights of 50 pounds (22 Kg) each and maximum dimensions as well. The Dickenson (and the Force 10) exceeded both size and weight, so we were going to have to pay some, but it would still be much cheaper than shipping the whole unit to Asia ($700). Force 10 stoves were available in Phuket, but for twice the price ($2,500). So we stripped the Dickenson down as much as we could, removing heavy flame‑spreaders, cooking racks, and even the oven door. This got us down to 64 pounds (29 Kg). With the next price break at 70 pounds (32 Kg), we used our extra 6 pounds (3 Kg) to add cushioning inside the box, as well as putting the whole unit inside a second, more durable box. In the end, each of our other 3 pieces of checked luggage was right at our weight limit, and our 4 pieces of carry‑on luggage were also heavy. Asiana saw Jon's backpack and declared that it was too big for carry‑on, but they didn't charge us to check it, and they only charged us $55 for the oversize oven, ignoring the fact that it was overweight as well. Very nice of them!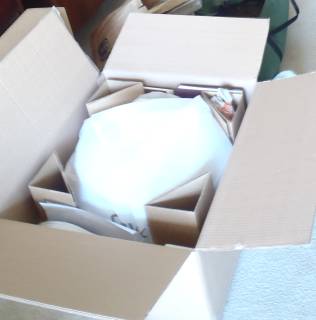 The radar was light enough that we could pack
small but heavy things around it.
Radar:
You might remember that our 10 year old JRC radar got zorched by lightning in Langkawi. This radar was actually pretty pathetic. It had a nominal range of 16nm, but we could never see anything at more than 8nm, and then only after futzing with the controls for several minutes. We never saw anything with the radar before we saw it by eye, and there was always too much "noise" for us to use the alarm feature. We used the radar for coming into anchorages at night (which we've only had to do perhaps 4 times in 10 years) and for determining the accuracy of our charts, by finding the lat/lon of a prominent land feature and comparing that to our charts (the radar was connected in with our instruments, so it knew our position as well as our heading, and could then give us fairly accurate lat/lon of what it saw). Very rarely we used the radar for tracking ships near us, but now we've got AIS to do that for us. Twice we tried to use it to track storm cells, but we never had much luck with that.
We also found that radars have evolved. Our JRC had its dome up the mast (of course) and a dedicated display unit at the nav‑station, with a thick bundle of cables going in between. This package cost us about $1,500 in 2001. New radars have everything up in the dome, including all signal processing. You feed power to the dome, and it sends out display information via a thin cat 5 network cable. The problem with this design (for us) is that the display units are full‑on expensive chart‑plotters, with features we have to buy but don't want, like another GPS (#6 on Ocelot). For instance, we do all our navigation on our computers, using a free copy of the wonderful OpenCPN program and the CM93 charts of the world. Chart‑plotters make you buy a new chart‑pack (for $250, thank you very much) every few hundred miles. This is fine for fishermen or sailors who don't venture far from their home port, but it's murder on us world cruising boats. Unfortunately, there doesn't seem to be any way to avoid it, except to buy the chart‑plotter (about $1,500 for the cheapest ones) and use it only as a dedicated radar display.
We mention the above usage patterns because that would determine what kind of radar we wanted to buy. We could get a nice replacement from Garmin with twice the power of our JRC and a nominal range of 32nm. This unit is a traditional pulse‑type radar, putting out 4KW pulses. Ranges are determined by timing how long it takes for the signal to return (at 0.00001 seconds/mile). Garmin is better known for their GPSs, but their radars are well respected and they're now duking it out with (much more expensive) RayMarine and Furuno for the top spot.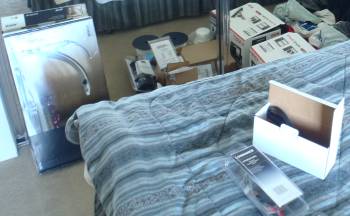 Some of the gear we're trying to get back to Ocelot
But now there's another type of radar on the scene. Navico (who owns Simrad and Lowrance) has come out with what they call a "broadband" radar. This is actually a misnomer, as the bandwidth used is only 75MHz (at 9.5GHz). This radar is more accurately called an FM radar. Instead of sending out a short, high‑powered pulse, these radars are transmitting continuously, sweeping through their 75MHz bandwidth 200 times a second. Instead of timing the returned signal, it simply compares the frequency of the returned signal to the frequency that it's sending out at that moment, much like a police speed radar. The amount that the frequency has changed is directly proportional to distance (for slow moving targets). FM radars have the advantage that there's no "dead spot" right close to the boat (where the radar is switching over from transmit to receive). They're safer, as they only radiate 165mW, or about 20% of what your cell‑phone puts out. They're all solid state, so no expensive magnetron to burn out. They consume little power, so they can be left on; they turn on instantly (no waiting 90 seconds for the magnetron to warm up); and they produce very clear results for close‑in targets. The downside is that their range is somewhat limited. They might see a freighter at 15nm or an island at 10nm, but where FM radars really shine is within 3nm. Tracking weather cells is probably not really possible.
One nice feature of the Simrad display unit is that it does MARPA tracking. That is, if your radar has position and heading information (which ours will) then you can tell it that a contact is another vessel, and it will then give you that vessel's position, course, speed, closest point of approach, and time to that CPA. It's capable of tracking up to 10 other vessels in this way. This is very similar to what our AIS gives us, but it works without the other vessel having any equipment at all. So we can get CPA and TCPA for fishing boats, something we've wanted ever since we installed our AIS. Only the larger and more expensive Garmin displays will do this.
All a bit of a gamble, but in the end we decided to go with the FM (so called "3G") radar from Simrad, with a small NSS display. These displays have a full touch‑screen interface. They also have all the equipment inside for a good sonar - all you have to do is add a relatively inexpensive transducer ($150). This would give us not only depth (actually, redundant depth, as we already have a depth sounder) but it draws a picture of the bottom so you can see fish and other features. With a bit of practice you can also tell what sort of bottom you're over - soft mud, grass, hard sand, coral, etc. Luckily, although radars can be quite big, they're pretty light, so we had no problems getting it onto the plane with us.
Our new noise‑cancelling headphones were awesome to help us relax and enjoy the movie‑marathon on the long haul across the Pacific. Our route took us across Alaska and the Bearing Straits, so we got awesome views of Denali (Mt. McKinley) and her sisters. A mere 24 hours of sitting inside a screaming metal can and wham! We were back in the tropics again! Our concerns about Thai Customs turned out to be completely groundless - at 2am there we no Customs agents in sight as we walked out of the airport to find a taxi. Now we're back in Phuket, in our little studio apartment, and a 20‑minute walk to see Ocelot. We just have to get over the jet lag, the head colds, and tummy bugs that are plaguing us, and all will be right once again.
Thai Refit: Next | Up | Previous | 60 Christmas | 59 Fair Sugar-Scoops | 58 Finish Galley Wood | 57 Deck Filler | 56 Fire Golf! | 55 Hull Joint | 54 Sink Cabinet | 53 New Eyebrows | 52 Foredeck Work | 51 New Hatches | 50 Test Bimini | 49 Fwd Cabin Hatches | 48 Hatch Frames | 47 Glass Scoops | 46 Inject Bimini | 45 Cockpit & Bimini | 44 Scoop Steps | 43 Bimini Mold | 42 Level Ocelot | 41 Mast Conduits | 40 Replace Helm | 32 Fly to USA | 31 Raise Transoms | 30 Foam Foredeck | 29 Rebuild Engines | 28 Grind Spars | 27 Foredeck Repairs | 26 Transom Walls | 25 Foam Helm | 24 Shape Transoms | 23 Start Transoms | 22 New Bows | 21 Cockpit Surgery | 20 Dismantle Cockpit | 19 Fair Topsides | 18 Remove Forebeam | 17 Dismantle Engines | 16 More Deck Work | 15 Start Deck Repairs | 14 Rip Apart Galley | 13 Remove Decks | Xmas Break | 4 Strip Ocelot | 3 First Extension | 2 Remove Teak Deck | 1 Haul Out
Ocelot Pages: Rebuild Decks | Extend Transoms | Cockpit Area | Below Waterline | Bimini | Spars | Deck Hardware | Exterior Lockers | Salon | Galley | Cabins | Heads | Interior Floors | Electrical | Maintenance | Weekly Logs 2012 | Weekly Logs 2013
Top Level: Home | Destinations | Cruising Info | Underwater | Boat Guests | Ocelot | Sue | Jon | Amanda | Chris | Site Map | Make a Comment
---
Lifetime
Commodores
of the
Seven Seas
Cruising
Association

If our information is useful,
you can help by making a donation
Copyright © 2000‑ Contact: Jon and Sue Hacking -- HackingFamily.com, svOcelot.com. All rights reserved.