13 Remove Decks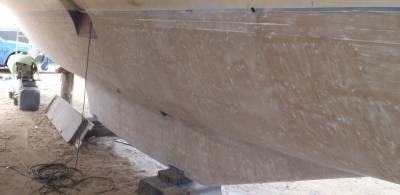 Inside of the port hull, with antifouling paint scraped off
Summary: Workers continued to remove Ocelot's antifouling paint (and underlying gelcoat!) with grinders. The top layer of the deck was removed and the decision made to remove the balsa as well, and replace it with (inorganic) foam, so workers started chiseling out the balsa. Some finish work was done in the cockpit, fairing it after the teak was removed. Other workers were inside, sanding off the varnish (most doors had been removed while we were away). Golf even started applying some varnish to some small bits of flooring.
Monday, January 16:
We are still very jet-lagged, having flown for 24 hours to arrive at 2am on Sunday. Not very much has happened to Ocelot, but we were expecting that and we're OK with it. Golf said he had as many as 12 boats he was working on [but this turned out to be another lie]. He'd promised us daily updates and photos of progress, but he's promised that to others as well without following through. I guess it's a cultural thing, plus he said he was having internet troubles [another lie]. Welcome to Thailand.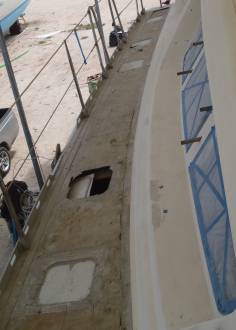 Stbd side deck, with glass removed
Much of the work on Ocelot apparently happened in the last 3 days, like scraping off the antifouling paint from the hulls. The inside of port hull is pretty clean, and now they're working on the outside of the starboard hull.
The big job is that the fiberglass has been completely removed from both side-decks, where the teak was. When we left, Golf had 2 guys looking for places where the fiberglass had delaminated from the balsa coring. They did this by pounding on the deck with hammers and chisels, trying to cut through 2 thick layers of fiberglass. What they actually accomplished was to spread the delaminations until the whole deck was no longer attached to the balsa underneath. <sigh> Unfortunately, both Golf and us were distracted at the time. Some of the balsa has been replaced by foam, but we're thinking of replacing all of the balsa with foam.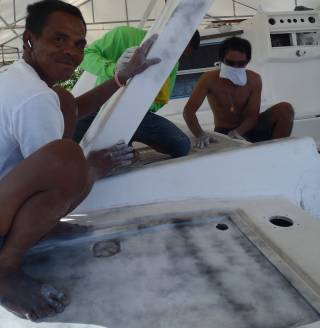 Preparing the cockpit and engine hatch
Some varnish work proceeded inside. Many of the cupboard doors are off. We thought they'd be taken to Golf's workshop, but apparently they're just piled up in the port forward cabin, awaiting transport to the shop.
Tuesday, January 17:
Much of the work today focused around finish work in the cockpit. Four workers were spreading on thin layers of gelcoat and then sanding it flat. They spray a thin layer of black paint to see where they've sanded. Our woodworker, Meng, is out on another job for a couple of weeks, so the cockpit is the main priority for the time being.
We're planning to replace the teak in the cockpit. Being under the bimini, it doesn't get much sun so it doesn't deteriorate as quickly. Teak also looks and feels very nice, as long as it's not out in the hot sun.
Wednesday, January 18:
Both of us are feeling pretty grim today - something we ate not agreeing with us. Or maybe our digestive tracts got used to the soft life back home. Whatever the cause, we spent the majority of the day in the apartment, taking it easy and recuperating.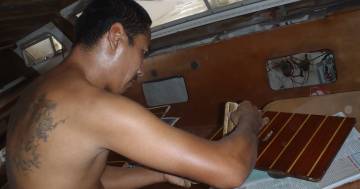 Golf, varnishing a floor-board in the salon
On Ocelot, most of the work continued to center on the cockpit, with a team of men sanding and fairing. Another man was removing the antifouling paint from the outside of the starboard hull. He pretty much finished today, so he moved the junk away from the inside of the starboard hull so he can start there in the morning. He's taking the paint off with a grinder, but very carefully. I was concerned that a grinder would go through the fiberglass too quickly, but apparently he's not using a very aggressive grinding pad, so it's coming off pretty smoothly. Now that the paint is off, we can see where some underwater fittings have been moved - not sure why.
Inside, Golf was playing varnisher. He puts a coat of 2‑part polyurethane varnish on first, to soak into the wood. Then he builds it up with regular varnish.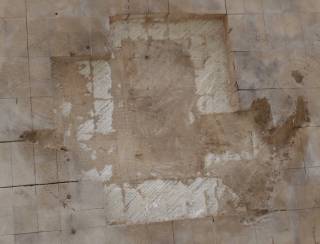 A place where water got in & turned the balsa to mush
Thursday, January 19:
Both of us are now on the mend but still feeling a bit under the weather. Jon went in to see Ocelot but returned about 1pm. While there he activated the fridge and the battery charging system, so we (and the workers) can have cold drinks nearby.
Most of the work continued to focus on the cockpit and grinding the old paint off the hulls. Golf has his men taking off all of the gelcoat below the waterline. There were a few blisters in a strip right at the waterline, but they were only in the gelcoat, not the underlying fiberglass, so grinding off the old gelcoat will solve that problem. Golf says he'll first smooth the hulls down, then paint on 2 coats of epoxy resin, then smear on some epoxy with fillers (what we call "epoxy mud") and fair that down to a nice smooth finish.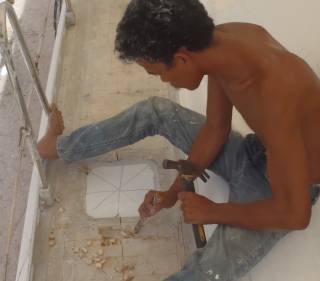 Chipping out the old balsa coring from the decks
Jon talked to Golf about the side decks. None of us are very fond of balsa coring, as the balsa turns to mush when it gets wet. We'd rather have something inorganic, like foam coring. Today Golf brought a sample of the foam he would use. It seems very tough, much more so than the foams that Jon used back when he was building structures out of fiberglass. Back then, you could easily crush the foam under your thumb, but there's no crushing Golf's foam. Although it will cost us an extra $2,000, we gave Golf the go‑ahead to strip out the old balsa & build the decks up with foam coring.
Friday, January 20:
We still have no appetite (probably a good thing given how much weight we put on back home) but Jon spent the day at the boatyard. Golf's guys started stripping out the balsa from the decks in preparation for replacing it with foam. Most of the balsa seems reasonably well adhered. We're looking into the possibility of a vacuum pump so we can use vacuum bagging techniques to get the best bond we can. Golf said he's ordering 110 lbs (50Kg) of epoxy for this job, which sounds like severe overkill, but it will get used somewhere [if, in fact, he ordered it at all].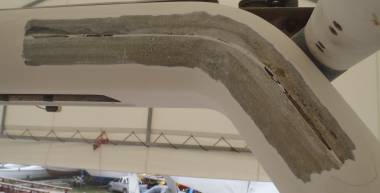 Targa Bar joint line - never properly glassed on the outside
We found a window specialist and asked him to quote on refurbishing our hatches and replacing the acrylic in them. We have 2 big fo'c's'l hatches, 3 medium sized salon hatches, and 12 small deck hatches. All have crazed acrylic, most need their latches repaired and/or their gaskets replaced, and all of them need to be cleaned up a bit. Golf also knows of another guy, so we'll get a couple of quotes.
Jon talked to Golf about how he wants to handle our bows. There's a join‑line down the center that has been glassed on the inside but not on the outside, which sometimes causes the exterior gelcoat to show a crack. This isn't a structural problem, but it doesn't look very good. We'd like the outside glassed as well, and then extend that into more pointy bows, which Golf says is no problem. Jon also discussed the positioning of our depth transducers. Our existing one needs to be replaced (our replacement Raymarine Tri-data isn't compatible with the old tranducer) and now we have an extra one for the sonar that comes built into the radar display. While we'd like to put one in each hull, that might not be very easy, as the wiring runs from the port bow to the nav‑station might be longer than what's allowed. We Shall See.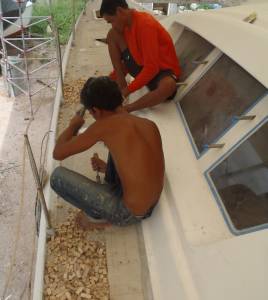 Chipping away the last of the balsa core
Golf is wonderfully meticulous in looking for what needs fixing on Ocelot - somewhat surprising since he's quoted us a fixed price contract. His guys have now ground off about half of the underwater gelcoat and this has revealed one place where a through‑hull fitting was moved that seems to have been poorly repaired and is now weeping a tiny bit of water. He'll dig that out and repair it correctly. He also found that the 2 halves of our Targa Bar have been glassed together on the inside, but not on the outside. He wants to grind back the entire leading edge so he can glass the outside as well. Originally he wanted to remove the targa bar so he could get to the bottom few inches and glass them up as well, but after Jon worked much of the morning to remove some of the 25+ bolts holding the Targa Bar to the deck, we decided we didn't really need to get at those last few inches. So tomorrow Jon gets to put all those bolts back...
Saturday January 21:
Work continues on the de-construction of Ocelot. This is, at moments, discouraging, but it's also fascinating and valuable to see how one's boat is constructed, given that we didn't build her ourselves! To this end, we are glad that not much happened in our absence. Our worst fear was that things would be patched up, covered up, or hidden and we would never know what the real story was under the fiberglass or paint. As we get to know Golf better, we realize that he would never let that happen. He seems very meticulous at finding problems, but this may just be looking for more work.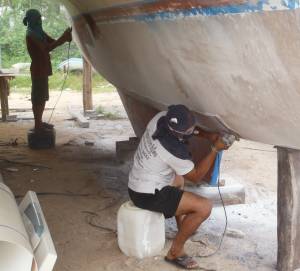 More bottom paint grinding. Nasty work.
We seem to have a different set of workers than before we left. Golf said that they had gotten jobs on other boats, so the team does change. Too bad. We were getting to know the workers. But these new guys seem to be dedicated and we're noticing less of the evil weed smoking while on break. The guy in the orange shirt has a ready smile, showing off his big teeth gaps! Meng, our woodworker, is on another job building a fishing boat, but Golf said he'll be back to pick up work on Ocelot in a couple weeks [ed: this never happened].
We were going to leave a thin strip of fiberglass on the inside of the side‑decks, so we'd have something to bond the top layer of fiberglass to. But it has balsa under it so now we've decided to removed it as well. There's a small .5" (13mm) high step there, a wall that the teak decks went up against, so we'll grind that down to a smooth slope that will give us something to attach our fiberglass to. This will insure a more continuous deck, without joining the balsa to the foam patches, or worrying about any un-found rot in the wood core. We were ready to buy the foam boards today when the skies opened up and we had 2 hours of unseasonable rain! No point in driving around in an open pick up truck with new foam! We arrived at the yard to find the core removal in full swing: sometimes too much swing, as the guys whack away with hammers and chisels. Where the balsa is still firm it doesn't just peel away like the wet balsa did.
The nasty, dusty, noisy, smelly job of grinding off 10 years of accumulated anti-fouling paint continues down below. We are always happy to see the workers with eye and face protection. We don't envy them the job of holding those heavy, vibrating grinders up as they work down under the curve of Ocelot's underbelly. The great news here is that we have seen NO signs of osmosis blisters ("boat pox") in the fiberglass hulls. One surprise was finding places where through-hull fittings had been abandoned or changed. Two of them are weeping a bit of water so we'll dig them out and re‑glass them properly, but that's minor. Since Ocelot is a slightly different design to her sisters (the cap‑shrouds were moved back 19" or .5m, the drives were changed over from V‑drives to Sail‑drives, etc) we suspect that some bulkheads moved so some of the through‑hulls from the original molds had to move as well.
| | |
| --- | --- |
| Hand sanding the varnish in the master cabin | Jon & Golf share a laugh on Saturday afternoon |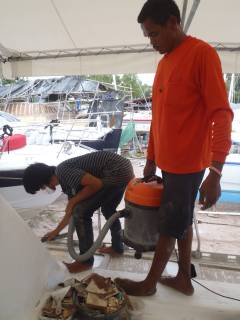 Day end cleaning with new vacuum
Down inside the dust was rising as two young workers were sanding the varnish in the cabins. The dots in the photos are "backscatter" caused by the flash being reflected back from the the floating dust particles. We see this dust mess and are amazed that our friends Steve and Gayla on Ariel (which recently sold!) were able to sand and varnish and still live aboard Ariel for 9 months while doing all that interior work! Slowly, our varnish is being removed from bulkheads. Obviously there will be no varnish put on until all the grinding and mess-making has finished outside. But it's good that they are prepping everything so well.
The guys are making good use of the small shop vac we purchased for Golf last November, and it's great to see how they clean up after each day's work so that the morning's start out fresh and clear for new jobs.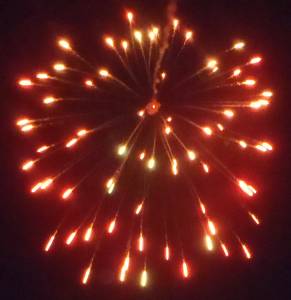 One of our fireworks, set off from our beach BBQ
We re-instituted our tradition of Saturday afternoon mini-party for the workers. Golf brought his beautiful wife, Mai (who is beautiful but rather camera shy). Knowing that Sue had been under the weather all week, she presented us with about 2 kg of home-grown bananas which "are good for the stomach". We brought out Chang beer, Coke, Sprite and a couple bags of chips. It felt a bit weird to have our team sitting around drinking and laughing while on Odyssey 9, the cat next to us, the workers were still polishing away. But soon Jim (Odyssey 9's owner) drove up on his motorbike with bags of ice, big bottles of Chang, and even a bottle of Scotch, so soon all was a party!
This weekend will be a bit unusual in that some of our team will work on Sunday so that they can take off time on Monday for Chinese New Year. Golf's family, being of Chinese/Thai heritage will be celebrating at home with all the generations, lots of food, etc. But no personal firecrackers. I guess they go to the temples for that. We hope to go into Phuket town ourselves on Monday to see what's happening. We topped off our first week back in Phuket with a lovely yachtie dinner at Anchor Inn with Steve & Toya from Cheers, and Ian & Michelle from Raku who we haven't seen since 2009. All good fun!
Sunday, January 22:
Not much happened today, but several of the cruisers here at the yard got together for a BBQ on the beach at night. In typical cruiser fashion, folks brought meat for their family and another dish to share. Folks also brought fireworks (some of them HUGE) to set off on the beach. Katherine, on the Canadian boat with her 3 brothers, had the funniest T‑shirt: "I'll trade my brother for a Cupcake!"
Thai Refit: Next | Up | Previous | 60 Christmas | 59 Fair Sugar-Scoops | 58 Finish Galley Wood | 57 Deck Filler | 56 Fire Golf! | 55 Hull Joint | 54 Sink Cabinet | 53 New Eyebrows | 52 Foredeck Work | 51 New Hatches | 50 Test Bimini | 49 Fwd Cabin Hatches | 48 Hatch Frames | 47 Glass Scoops | 46 Inject Bimini | 45 Cockpit & Bimini | 44 Scoop Steps | 43 Bimini Mold | 42 Level Ocelot | 41 Mast Conduits | 40 Replace Helm | 32 Fly to USA | 31 Raise Transoms | 30 Foam Foredeck | 29 Rebuild Engines | 28 Grind Spars | 27 Foredeck Repairs | 26 Transom Walls | 25 Foam Helm | 24 Shape Transoms | 23 Start Transoms | 22 New Bows | 21 Cockpit Surgery | 20 Dismantle Cockpit | 19 Fair Topsides | 18 Remove Forebeam | 17 Dismantle Engines | 16 More Deck Work | 15 Start Deck Repairs | 14 Rip Apart Galley | 13 Remove Decks | Xmas Break | 4 Strip Ocelot | 3 First Extension | 2 Remove Teak Deck | 1 Haul Out
Ocelot Pages: Rebuild Decks | Extend Transoms | Cockpit Area | Below Waterline | Bimini | Spars | Deck Hardware | Exterior Lockers | Salon | Galley | Cabins | Heads | Interior Floors | Electrical | Maintenance | Weekly Logs 2012 | Weekly Logs 2013
Top Level: Home | Destinations | Cruising Info | Underwater | Boat Guests | Ocelot | Sue | Jon | Amanda | Chris | Site Map | Make a Comment
---
Lifetime
Commodores
of the
Seven Seas
Cruising
Association

If our information is useful,
you can help by making a donation
Copyright © 2000‑ Contact: Jon and Sue Hacking -- HackingFamily.com, svOcelot.com. All rights reserved.