40 Replace Helm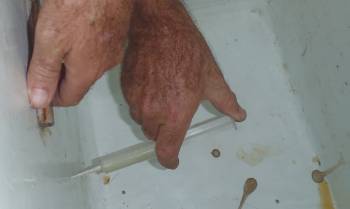 Injecting epoxy under the skin of our fridge to fill a bubble
Summary: A bit slow this week as we're still gearing up. Jon repaired a couple bubbles in the fridge fiberglass and then started the fridge so we can have cold drinks. He also shredded the skin on his hands raising the back of our huge tent so we can start work on our new rigid bimini. The instrument console at the helm was cleaned up and reattached. We removed our headstay and disassembled our jib roller gear so it could be cleaned and checked. Houa worked on the backs of the transoms, grinding out the channels where the swim ladders will hang when they're down and filling in the rest of the transoms with foam and epoxy mud. He also rounded the corners of the grooves for the swim ladders and glassed in the port-side grooves. We used our new laser to determine how much to jack up Ocelot's bows to get her level again, so we can paint on the new waterlines correctly. Amanda recorded many of Ocelot's dimensions and created a solid model so we can play with different options for our bimini and the steps going down to the swim platforms. Jon removed the old, broken wiring conduits from the mast in preparation for putting in new conduits. Golf and Kao filled the old grab‑rail troughs with foam and glassed them over. They also put another 2 layers of glass on the aft‑deck to strengthen it.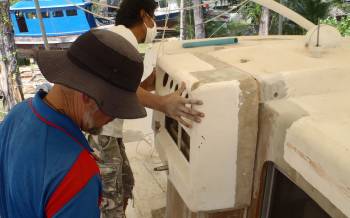 Jon & Golf fitting Ocelot's helm console back on
Monday, August 6:
We're finally back from our 7 week trip to the US. Our first job on returning was, of course, getting the fridge running again. But we'd noticed 2 small bubbles between the glass and the foam in the fridge, and since everything was so dry (we'd turned the fridge off while we were away) this was an ideal time to fix them. We drilled small holes at the top and the bottom of the bubbles, and then injected epoxy into the bottom hole until it came out the top hole. Then we sealed both holes until the epoxy cured. Problem solved, and we could start the fridge again.

Jon's crude tackle for raising hundreds of pounds of tent
Today we actually accomplished quite a lot, especially given that we only had Golf and 1 other worker (more are promised tomorrow). First was the instrument console at the helm station. This was cut off long ago to repair soft balsa underneath. Today Golf ground the supports until the console fitted correctly, then stuck the console back on with epoxy mud and 2 layers of biaxial glass. This should make it much stronger than before, as previously it was only held on with gelcoat, which tended to crack at the joints.
We are having fun designing our new bimini (cockpit shade). We've wanted to convert Ocelot's fabric bimini to a rigid bimini ever since we bought Ocelot, but we've never had such an opportunity (we've had to replace our fabric bimini twice now, at a cost of about $1,000 each time). Amanda has now taken all the measurements for our cockpit and fed them into Google Sketchup, so we can play with shapes and options. Amanda got too much sun over the weekend playing in Ao Chalong Bay on a friend's Hobie cat, so she spent today inside, playing with Sketchup, which she claimed was "too much fun!"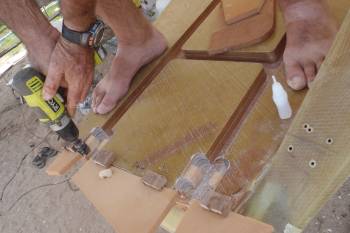 Drilling out the starboard swim ladder mounting holes
Our tent has actually been sitting on the bars that held up our old bimini, so today we lifted the 4 rear supports for our tent by 6" (15cm) so we can remove the old bimini bars and work on the new bimini. Since the tent weighs several hundred pounds and all our blocks are in storage, Jon rigged up a 4‑part tackle using just our old main halyard and an overhead beam. This had much higher friction than a proper block‑and‑tackle would have, but it did the job. But the last support was so difficult to lift that Jon shredded the skin off 3 fingers of his right hand. Luckily, Sue had some special blister bandages at the apartment, so now Jon is feeling a bit better (but it still hurts!)
The port-side wall going down to the new swim platform has a pronounced hollow, which we have to fill for it to look nice and follow Ocelot's lines. Golf and Jon discussed what to do about this and eventually decided to fill it with a mixture of light epoxy mud. This can be easily faired to shape and covered with a couple of skins of fiberglass. We were originally talking about sticking on some more foam and fairing that down (we have about ½" or 13mm to fill) but that would have been weaker (for impacts) and required more fiberglass.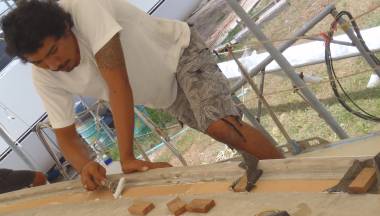 Golf filling the old port grab-rail trough with foam
Golf also started working on the very backs of our transoms. He's going to build them out to completely enclose the swim ladder hinges, and then cut out grooves so the swim ladders can hang straight down. We'll put some stainless steel angle over the transoms to protect them from errant dinghies. They should look very nice. While we were working back there, Jon cut out the foam where the mounting bolts for the swim ladders will go, so they can be filled up with fiberglass and then tapped to take bolts to hold the swim ladders on.
Finally, we prepared the port bow to get its final layer of fiberglass tomorrow morning. This is probably a bit of overkill, but Golf insists.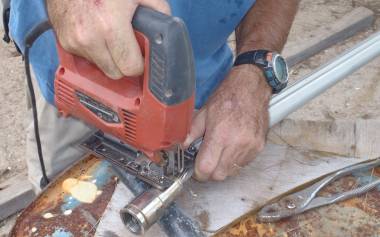 Cutting the Norseman fitting off the headstay & ruining a blade
Tuesday, August 7:
Another reasonably productive day, despite only having Golf, Houa, & Kao working for us. When we got to the yard, Houa was working in the port fo'c's'l, getting ready to install the shelf he made to replace the old rotted out shelf. Problem was, Jon has work to do up in the very bows (we need to install a pair of pad‑eyes to hold down our new prod) and that work will be much easier if the shelf isn't there. So we asked them to hold off on that job until we can find the pad‑eyes and install them. Unfortunately, those pad‑eyes are currently lost in all our mountainous piles of junk...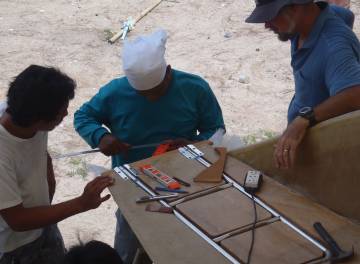 Shaping the port transom so the swim ladder hangs nicely
So the guys started filling the old port‑side grab‑rail trough with foam. These grab‑rail troughs run down each side of the main cabin. They consist of a trough about 3" (7cm) deep which used to have a strip of teak at the top. The teak was flush with the deck, so it all looked pretty smart. But it actually wasn't very functional. You had to lean over quite a way to grab the teak, and the trough collected a lot of water when it rained. The rainwater went through a copper pipe before spilling out onto the foredeck, but the copper had corroded away, letting water get into the balsa and causing us much headache. Our solution is to fill the trough with foam, glass it over so it matches the rest of the deck, and then install custom stainless steel grab‑rails on the sides of the main cabin, where they should be much easier to reach, especially in a bouncy seaway.
While the guys were doing that, we decided to take our headstay roller‑gear apart. The headstay is now 8 years old so it's due to be replaced. We cut off the Norseman terminal at the top and then slid each section of the roller‑gear off the end, while removing the bearings that are part of the joints between the sections. The headstay is very good quality Nitronic 50 stainless steel, so we pretty much ruined our saw blade cutting through it. The roller‑gear sections will need to be cleaned and inspected before we assemble them around a new headstay.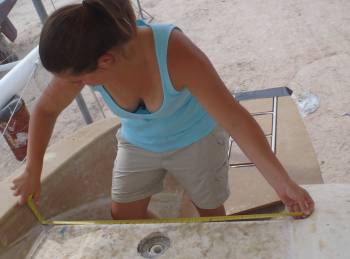 Amanda measuring for the swim platform steps
In the afternoon, Golf and his men worked on the new transoms. We've already cut the slots in the floor of the swim platform where the swim‑ladders rest when they're not being used. But when the swim‑ladders are being used, they're supposed to hang straight down from the transoms. First the guys shaped out where the transoms will come to, and then they cut the grooves out so the swim‑ladders can hang properly.
Meanwhile, Amanda was taking measurements of our whole sugar‑scoop area. She wants to put it into Sketchup, her 3D modeling program, so we can design the steps to go down to the swim platforms. We have lots of space there now, so we'd like to make some nice, interesting steps.

Houa trimming the port transom & the channels for swim ladder
We had to have a talk with Golf this afternoon about money. We have already paid Golf more than the original price that he quoted for this job. By rights, we should find ourselves another contractor, one who knows how to handle money better. But Golf's main strength is finish work, and most of what Ocelot needs now is finish work. So we've told Golf that we're not going to pay him any more until he comes up with a new, mutually agreeable plan for how we're to continue going forward. Ahh, the joys of boat ownership...
Wednesday, August 8:
Still only Golf, Houa, and Kao working (besides us, of course) but we're still making good progress. Amanda is still having fun recording Ocelot's dimensions and building a 3 dimensional model in her computer. Today she played around with a couple of different ways to do the steps down to the swim platforms.
Houa spent the day working on the transoms. He epoxied in some channels where the swim ladders will go when they're hanging down into the water. They were the only real tricky bit, so now he just has to build the transoms out to their final dimensions with foam and epoxy mud and fiberglass. It's looking very nice, but there's still lots to do back there, raising both walls and filling the hollow in the outside of the port wall.
Jon and Sue worked on the mast. We need to reposition it so we can stuff the wires and wiring conduit up inside the mast (it's currently too close to our neighbor) but we didn't have enough people to lift it. Still, we positioned several drums to support the mast, and scrounged some tires to sit on top of the drums. As soon as we can get 6‑7 folks to help, we'll move it. We also took measurements of where the wires need to come out of the wiring harness. Several wires have to go to the very top of the mast (radios, wind instruments, etc) but there are 4 other locations along the mast where wires need to come out for the radar and various lights.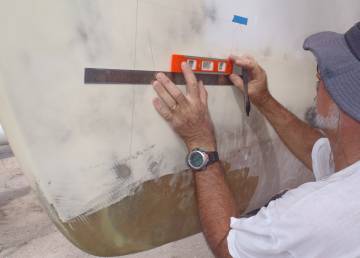 Jon trying to position the pad-eyes for our new prod
Jon also worked on positioning the 2 pad‑eyes that are to hold our new prod down. The best position is as far forward as possible and just above the waterline. We have special foam‑filled "crush spaces" in our bows, so they define how far forward we can go. But we don't know where the waterline is from inside, and we don't know where the crush space is from outside. Jon tried to measure where the crush space should be on the outside of the hull and came up with a difference of 2.5" (7cm) between the 2 hulls. Obviously something is wrong, as the hulls aren't that different. Back to the drawing board... At least he got a new hole drilled for the depth transducer that we're moving to the port hull.
Golf was working mainly on filling the old port‑side grab‑rail trough. He finished filling it up with foam, sanded it off, and got 2 skins of biaxial glass on top. Once it gets a layer of gelcoat, you won't know there was ever a trough there.

Golf & Kao glassing in the foam filling the port grab-rail trough
Sue had another long talk with Golf about money. It seems he used much of our initial payment to pay various creditors from previous jobs. This appears to be a fairly common way to do business in Thailand, but it falls down if you don't have a constant flow of work. Now Golf says he's trying to get a bank loan. This is actually fairly decent of him, as he has us a bit over a barrel. If we want to see Ocelot floating again, we need to pay to have her put back together, and Golf knows that. Golf getting a loan to finish the work is admitting his moral responsibility to keep to his original quote to some extent. At this point it appears that, while Golf may know how to work on boats, he needs to know more about how to run a business. We're trying to teach him, but we're not experts here. Our neighbors (who have similar issues with Golf) are much better at business and are also trying to teach Golf, but it's a slow process.
On a more positive note, one of the chandleries here has a second hand Colligo Marine CN5 roller system for a screecher (sail) to go on our new prod, and they're willing to sell it for about half the new cost. A screecher should help Ocelot sail in the light conditions typical of SE Asia. The unit is the older blue and gold model and it's in pretty good shape but it's missing the upper swivel. The chandlery is tracking down the previous owner so we can get the upper swivel as well. Unlike the roller gear for our headsail, where the sail rolls around an aluminum extrusion that goes over our headstay, this screecher furler has no extrusion. The sail wraps around its own luff rope, which has to be a special line that doesn't twist very much. This makes the whole system much lighter and cheaper, and means that the whole sail can be rolled up and brought down (as a long snake) very quickly and easily. Score!
Thursday, August 9:
Another good day, considering that we've only got 3 workers. Houa spent the day working on the transoms. Having done the tricky work with the swim‑ladder channels yesterday, today was mostly filling in the area around the channels and shaping the transoms. While he was at it, Houa put a fillet of epoxy mud between the swim platform and the new wall on port side, as we found that rainwater had been getting in there. Now that whole area should be completely sealed. Houa also epoxied in small triangular blocks that define where the ends of the walls will come to. The walls were built before we raised the floor of the swim platforms, and now the ends of the walls also have to be raised.
| | |
| --- | --- |
| Kao and Golf glassing in the aft deck behind the cockpit | Golf & Kao glassing in the stbd grab-rail trough |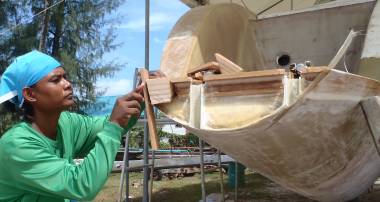 Houa working on Ocelot's transoms
Sue, Jon and Amanda spent much of the day playing with their new laser, trying to recover Ocelot's old waterline. We bought the laser in the US for $100 and we bought the tripod this morning from a neighboring photo shop for about $35. The laser projects a beam, not a line, which makes it much more visible in our bright sunlight. It's also a self‑leveling type, which proved to be extremely useful.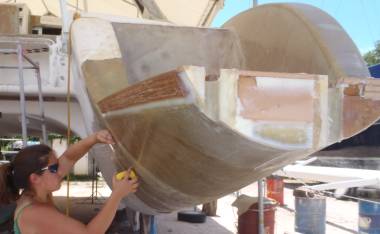 Amanda using a laser to find Ocelot's lost waterline
With all the bottom paint ground off, we don't really know where the waterline is anymore. We're also fairly sure that the yard did not put Ocelot down level. At the very least, Ocelot's bow is down a few inches, and we think the port side is down a bit more than starboard. The only thing we have to go on is an old boot‑stripe that was embedded into the gelcoat so deeply that we can still see most of it. Unfortunately, we also know that Ocelot is not completely symmetrical from left to right - the hulls are slightly different. And we don't know how much we can trust that old boot‑stripe. This led to many discussions and lots of trigonometry, but now we think we know what we have to do. Tomorrow we'll borrow some thin wedges and a hydraulic jack from the yard, and see if we can't get Ocelot sitting a bit more level.
Golf and Kao started the day by filling in the starboard grab‑rail trough with foam. Having learned a bit from doing the port side, they filled the entire trough in one go. While they waited for the epoxy to cure, they laid down 2 sheets of biaxial glass on our aft‑deck, behind the cockpit. This area was accidentally ground back a bit too aggressively, so we decided to put a total of 3 layers of glass on top of the foam. We've been debating whether we put teak or gelcoat back there, and I think we're going to put the teak back. We store our storm anchor and chain back there, so it takes some abuse, and teak can take that better than gelcoat.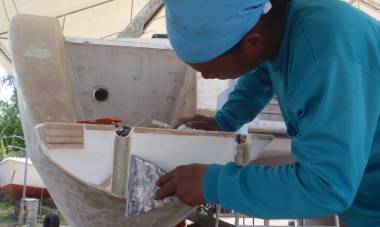 Houa putting the finishing touches on Ocelot's transoms
Once the epoxy holding down the foam filling the trough had cured, Golf and Kao sanded the foam flush with the deck and covered it with 2 skins of biaxial glass. A good day.
Friday, August 10:
An interesting day. Golf was absent, and we had 2 different sets of visitors come by the boatyard. We love to have visitors, of course, but it does mean that not as much gets accomplished. One cruising family we hadn't seen since the Seychelles in 2007, so there was much to catch up on.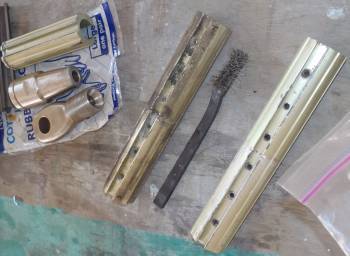 Some of our headstay components being cleaned
The 1/2" Norseman eye is for sale.
Houa and Kao worked together and were able to pretty much finish the transoms. They filled the remaining gaps in the foam with epoxy mud, and when that cured they wrapped the transoms in one skin of biaxial glass. By working on one side, and then switching to the other as the epoxy cured, they were able to finish both transoms. Next steps are to build up the walls coming down to the swim platforms, since the original walls were built before we raised the floor of the swim platforms.
Sue worked mostly on cleaning the bits of our headsail roller gear that we took apart on Tuesday. The whole roller gear was still full of greasy coal-dust from Chennai, which was difficult but gratifying to get rid of. One component she cleaned was the ½" Norseman eye that's been at the top of our headstay (on the left side of the photo). Since we're having to go to a 12mm Dyform headstay, the ½" Norseman eye terminal is for sale for half price.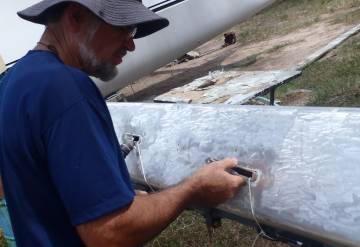 Jon opening access to the inside of the mast
Jon's major accomplishment was on the mast. We'd like to put new wiring up inside the mast, but first we need to remove the 5 lengths of plastic conduit that we found inside the mast. After removing the base of the mast he found that the lengths of conduit were all too far inside the mast to reach. So he removed some rope guides on the outside of the mast and reached inside with a strip of fiberglass, trying to hook the lengths of conduit and push them towards the opening at the bottom. It took a couple hours, but now all the large bits of junk are out of the mast. The next steps are to build the wiring harness, and then put it inside a new plastic conduit, with the correct wires coming out at the correct places.
Saturday, August 11:
Bit of a slow end to the week as Golf was not around much, and Jon left the yard early feeling a bit under the weather. Golf's router had burned up because of the poor electricity at the boatyard, so Golf and Houa had to go out to buy a new one.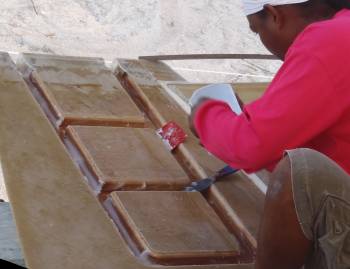 Houa filleting the groove bottoms after rounding the tops
The primary work of the day took place back on port transom. In the morning we had a chance to see various options for how rounded to make the extension wall. Houa used a flexible piece of wood to create the curves, and we tentatively settled on one that kept a nice graceful curve coming down from the midway point. This new wall is needed because it has to match up with the newly squared off transom and the higher floor that we added in May.
After lunch Houa and Kao worked together on the ladder grooves. First Houa used the new router to round the upper edges of the grooves, doing his usual meticulous work. Then he used epoxy mud to create smooth fillets in the bottoms of the grooves. Finally, Houa and Kao epoxied and glassed in the grooves giving Ocelot a beautifully sculpted swim platform floor. Monday should see the starboard side ladder grooves done the same way.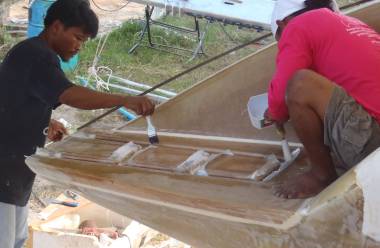 Kao & Houa glassing in the swim ladder grooves
We are in the throws of figuring out exactly what materials we still need to buy for Ocelot, and particularly how much structural foam we need. We have an option to buy 12mm (just less than ½") Divinycell foam for 6% less than what we've been buying from a local boat yard, but there is a delay of about 6‑10 days for the shipment to come and we're not sure about quality. We need about 15 sheets of foam to finish Ocelot -- 7 to make the hard bimini, 1 for the transom walls, 1 for the cockpit table, 3 for the cockpit seat, 2 for the transom steps, and 1 for the engine hatch covers. Each sheet of 12mm foam is about $130. We may buy a sheet locally so that we can get the transom walls worked on next week and then put in an order for the 14 other pieces of foam.
This is Thailand's southwest monsoon season, and we were expecting lots of squalls and rain, but so far (touch wood) the past 2 weeks have been breezy and dry. We hope it continues, as this allows us to get fiberglass work done.
Tomorrow is Thai Mother's Day, and it was, 26 years ago, the day Sue became a mother! We'll be spending the morning on Skype talking to Chris in Seattle for his birthday and then we'll head out into the mid-morning sun to find a nice Mother's Day brunch.
Thai Refit: Next | Up | Previous | 60 Christmas | 59 Fair Sugar-Scoops | 58 Finish Galley Wood | 57 Deck Filler | 56 Fire Golf! | 55 Hull Joint | 54 Sink Cabinet | 53 New Eyebrows | 52 Foredeck Work | 51 New Hatches | 50 Test Bimini | 49 Fwd Cabin Hatches | 48 Hatch Frames | 47 Glass Scoops | 46 Inject Bimini | 45 Cockpit & Bimini | 44 Scoop Steps | 43 Bimini Mold | 42 Level Ocelot | 41 Mast Conduits | 40 Replace Helm | 32 Fly to USA | 31 Raise Transoms | 30 Foam Foredeck | 29 Rebuild Engines | 28 Grind Spars | 27 Foredeck Repairs | 26 Transom Walls | 25 Foam Helm | 24 Shape Transoms | 23 Start Transoms | 22 New Bows | 21 Cockpit Surgery | 20 Dismantle Cockpit | 19 Fair Topsides | 18 Remove Forebeam | 17 Dismantle Engines | 16 More Deck Work | 15 Start Deck Repairs | 14 Rip Apart Galley | 13 Remove Decks | Xmas Break | 4 Strip Ocelot | 3 First Extension | 2 Remove Teak Deck | 1 Haul Out
Ocelot Pages: Rebuild Decks | Extend Transoms | Cockpit Area | Below Waterline | Bimini | Spars | Deck Hardware | Exterior Lockers | Salon | Galley | Cabins | Heads | Interior Floors | Electrical | Maintenance | Weekly Logs 2012 | Weekly Logs 2013
Top Level: Home | Destinations | Cruising Info | Underwater | Boat Guests | Ocelot | Sue | Jon | Amanda | Chris | Site Map | Make a Comment
---
Lifetime
Commodores
of the
Seven Seas
Cruising
Association

If our information is useful,
you can help by making a donation
Copyright © 2000‑ Contact: Jon and Sue Hacking -- HackingFamily.com, svOcelot.com. All rights reserved.