61 Spray Targa-Bar


Sue wet-sanding the mast with 400 and then 600 grit paper
Summary: A long week for us, as we worked all 7 days, including New Years. Our big accomplishment was that the targa‑bar was stripped, prepped, masked, and sprayed with 2 coats of our "Ocelot White" gelcoat by Mike and his AME team! The bimini was also prepped and 2 coats of gelcoat were shot onto the underside. The top of the bimini got some gelcoat but a compressor malfunction prevented finishing it. We only had a full set of workers on Thursday and Friday, and no workers at all on Monday, Tuesday, or Sunday, which let us get 2 full coats of Nyalic on the starboard side of the mast. Jon hauled out a huge tarp from the workshop, taped over its holes, attached it to a long PVC pipe, and attached it along the starboard side of our tent so it could be raised and lowered when necessary. Sue finger‑sanded the starboard deck to fair the Thai gelcoat into the surrounding fiberglass. Houa made excellent progress in the heads, ripping out the old rotten wood and building replacements in plastic‑board, which should get installed next week. Two men from Luck Engineering arrived and finished tacking together the railing for the starboard grab‑rail. Many of our removable hatches, louvers, etc were prepped for final gelcoat while the AME team was spraying. Many of the vertical walls in the cockpit were also sanded to prepare them for gelcoating, and the starboard sugar‑scoop got more filler to improve its shape. Amanda spent several hours in her bunny‑suit, smoothing several patches of fiberglass on Ocelot's hulls.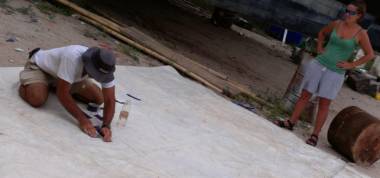 Jon repairing the side awning with alcohol and purple duct-tape
Monday, December 31:
Last day of the year, and an on‑again, off‑again drizzly day.
Today is a holiday in Thailand, so we had no workers, and the yard was nicely quiet. The best part was, we had no dust drifting over our boat and mast, so we could breathe safely without a mask!
Yes, we did go to work today. Sue headed the on‑site team, making good progress wet‑sanding the top third of the mast with both 400 and 600 grit sandpaper. Now it's all ready for the final soapy 1000 grit sanding, wash‑down, alcohol, and then Nyalic. Couldn't do it today as the clouds spat at us off and on all day.

Assembling a long PVC pipe with solvent cement
Amanda and Jon joined Sue for our BBQ chicken lunch on the beach. It was a blustery day, and the Ao Chalong anchorage looked pretty bouncy. One of those rare times we were actually glad to be ashore!
Amanda and Sue worked on the foot of the mast together, wet sanding with 400 all around the winches and cleats and spin‑locks. Amanda left at 2 to join friends on Vamp and Coracle in Patong for New Year's Eve, and then Sue finished up the rest of the foot with 400 grit. If the New Year starts with clear weather, we may get that whole first side of the mast coated in Nyalic tomorrow! But it's up to the weather...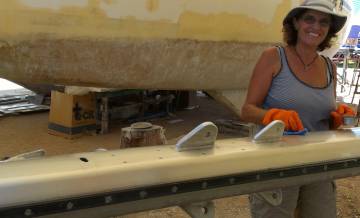 Sue covered the top half of the mast in Nyalic
Jon and Amanda hauled a big white tarp out from under the workshop/carpentry area. Jon spread it on the sand and patched all the slits and little holes he could find with duct tape. He then created a 5‑section PVC pipe, tied the tarp to the pipe and rolled the whole thing up. When the workers are back in the yard he and they will hoist this contraption on the starboard side of the boat. With some pulleys and ropes it should give us a nice roll‑up side awning!
Sue finished the day with an hour of grotty, dusty work raking trash out from behind the workshop. This is the area we jokingly call the "Cobra Nest" as the guys saw a big black snake in there a few months back, and later found a dead chicken. Sue worked with a long‑handled rake, from on top of a table. It was sort of like fishing, but the fish were old bottles, bits of plastic and fiberglass debris.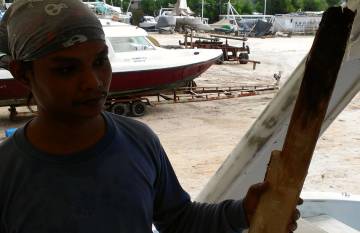 Houa with rotten maple(?) from the bathroom
One good find was a nice teak grating, one of 2 pieces that goes in our galley floor. We're going to want that! Finally, unable to flip trash out of the pit with just the rake, and pretty sure any snakes were long gone, Sue jumped down and finished the job with her bare hands. The accumulated junk fills a huge black plastic trash bag. Job satisfaction is high. The place now looks a lot better, and on that note we left the yard on the last day of 2012.
Wishing everyone a wonderful, peaceful, prosperous, and fulfilling 2013. To our sailing friends in SE Asia, drop by for a visit sometime, and we hope to be joining you on the water in the New Year!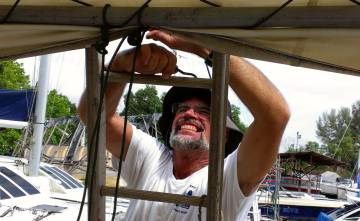 Putting up pulleys to raise the heavy awning to our tent
Tuesday, January 1:
Yes, we did see in the New Year, out on the Chalong Pier, with fireworks just about surrounding us! It was beautiful as the entire coastline for 270° around us exploded in fireworks for almost an hour!
While all of Thailand slept off the parties, Sue and Jon headed for the yard. Blue sky and no workers today meant that we could finally get some Nyalic on the mast. Sue went in mid‑morning to begin the multi‑step process of prepping the bare aluminum mast. Since she and Amanda had sanded with 400 and 600 grit last year (well, yesterday!) she only had to finish with a quick sweep of 1000 grit, water and detergent. It was a windy day which meant that the mast dried quickly, but there was a risk of leaves or small sticks falling from the trees. Our new awning helps a lot.
Jon arrived in time to help with the final wipe‑down with denatured (rubbing) alcohol. Then Sue got the gloves on, poured out her little bit of Nyalic (less than 1/6 cup), and got a coat on the remaining half of the mast!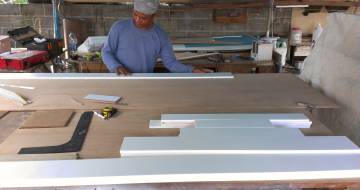 Houa's workshop, with stacks of plastic wood for the heads
Jon worked on the new roll‑up awning that will go on port side, then we had lunch at the beach, with uncharacteristic waves crashing on shore!
We tried wiping the Nyalic with alcohol to put on a second coat, but one swipe said STOP! It turned milky, so it obviously wasn't cured, even though it felt dry. Good excuse to go home!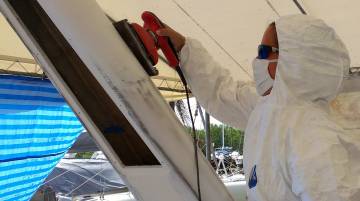 Amanda in a bunny suit, sanding a ridge off the targa-bar
Wednesday, January 2:
We expected a full contingent of workers, but were surprised that only Baw and Houa showed up. We must have missed that today was still a work holiday in Thailand.
It was a sunny, less windy day, and it was peaceful at the yard with all the other workers on holiday still. Baw set to work on the sugar‑scoop gelcoat. Then he moved up to work on many small areas on the cabin top. We are surprised at how "unfair" parts of the original boat are. We had thought to tell the guys to not worry about the "old boat", but it turns out some of the vertical sides of the cabin top are surprisingly not flat. We didn't notice it before, and now we have to decide how much this will bother us when the boat is all "new" and shiny!
We inspected the targa‑bar, both visually and by feel. Baw said he wanted to spray Thai gelcoat on there because he was "not sure" of the shape. We said there was no time. Baw showed us that the rounded front had a long hump before it flattened out to meet the old gelcoat, an artifact of the 2 biaxial strips we laid on the front (we love how Baw pays attention to these details).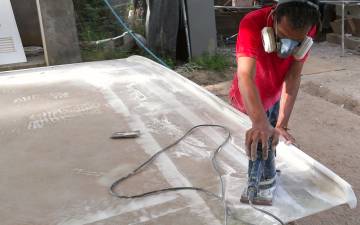 Baw finishing the bimini so it can be gelcoated tomorrow
No worries. Amanda donned a Tyvek (paper protective) suit, loaded the dancing‑sander with 60 grit and set to work. The Tyvek suit protects her from the fiberglass dust, which can itch when it gets on your skin, but it's not much fun to work in as the lack of air circulation makes one sweat in this heat. She finished the sanding of the offending fiberglass in about 30 minutes. This highlights the differing approaches - the Thai workers prefer to fill and then sand, even when it's much easier (and stronger) to just sand down what's there. Amanda then moved down to sand back patches on the hull that had been filled and glass/epoxy covered. She figured she may as well do all the sweating at one time!
Sue meanwhile was finger‑sanding the starboard deck to fair the edge of the Thai gelcoat into the surrounding fiberglass or filler on the deck. She worked her fingers to the quick, but got most of starboard side done. The deck is now awash in small bits of red masking tape where there are "problems" or blemishes, ready to catch Baw's (or someone else's) attention.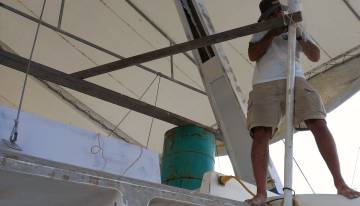 Jon reassembling the scaffolding around the targa-bar
Jon and Amanda strung up the new awning, which is now wrapped around a PVC pipe. They hoisted it to the top of the starboard side of the tent using 6 small pulleys and a new coil of rope they'd bought this morning on their way in. Then Jon went up the long ladder so he and Amanda could lash the awning to the side of our tent, which is about 20' (6m) above the ground.
We had an early afternoon meeting with Mike Cherry from AME Marine, the folks contracted to do our nonskid for the deck. The plan is to put the new "Ocelot white" gelcoat on both the bimini and targa bar tomorrow(!) so we had lots of questions. And work still to do, mostly masking stuff off to avoid overspray.
Mike brought some rolls of plastic wrap and some plastic woven tarp, both of which are good for masking other boats - there are currently 3 in spraying range, as well as our mast and boom and other spars. He examined the targa‑bar and said that with some scaffolding it would be ready to paint. The bimini needed a bit more filler, and a bit more sanding. We asked Baw to please leave the cabin top and come finish the bimini, which he did before 5pm.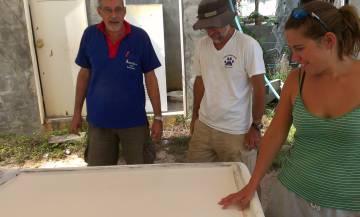 Mike, Jon, & Amanda examine the new non-skid
The guys had taken down the scaffolding around the targa‑bar several days ago, so Jon had to reassemble it all, hoisting 2 big steel drums into the cockpit and lashing beams of wood to each other and to the davit supports until we had platforms fore and aft of the targa‑bar.
The most interesting thing Mike brought was a 1 meter square piece of our very own new "Ocelot White" nonskid! It's only 1.5mm (0.060") thick, and quite pliable, with one layer of biaxial glass and one layer of flat woven roving on the bottom, and minimal polyester resin. It's got a diamond pattern, with the elongated diamonds set to go length‑wise on the deck. This means we are less likely to slip sideways across the nonskid. We all agreed that we should rotate the nonskid 90° for the aft deck and steps, where the slope of the top "step" (actually the engine hatches) is relatively steep. We want the increased slip protection to keep us from sliding down the steps.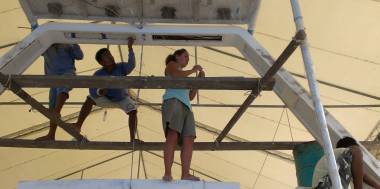 Amanda & the guys on scaffolding, masking the targa-bar
Houa made good progress in the heads. He removed long strips of painted wood and discovered that they look like maple! Sounds like leftovers from the earlier Kronos cats. (Our interior is all teak, but the earlier 11 boats all had light Canadian Maple interiors.) Beneath the painted wood was a HUGE piece of solid teak which really surprised us. It extends vertically up to the cabin top, and is in fact the strong corner board for our cabin. Houa spent time in his workshop planing and shaping all the pieces of "plastic wood" that will replace the maple and plywood on the walls of the bathrooms.
Thursday, January 3:
Oh My Gosh! What a difference a day makes! Off and on spitting rain for much of the day, but not enough to stop the forward progress on Ocelot!
What a great way to begin the New Year on Ocelot! Luckily Sue had no idea what a busy day it would be or she would have gotten even less sleep. Sue and Amanda scootered to the yard at 8am, stopping en route for iced coffee, blue masking tape, and 180 grit sandpaper. Our heads were full of all the things that needed doing on this momentous day when the first of the "Ocelot White" gelcoat was due to be sprayed on.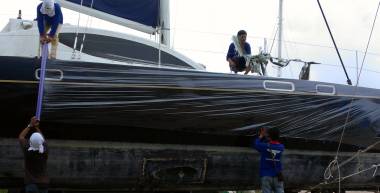 Some of the AME team masking our neighboring catamaran
Baw and 5 of E‑U's team arrived by 8:30, and within 15 minutes we had them busy with plastic cling wrap or white woven plastic cloth setting up the masking of 7 major areas. Chai, Nut and Yoong were the acrobats of the day, squatting, leaning, and balancing on the scaffolding under our solar panels to get plastic wrapped over, under, and around the panels and the supporting bars.
Amanda attacked the last of the blue tape masking on the stainless steel feet on each side of the targa bar. Then she turned her attention to the "hatch" covers in the bar itself. Here she set double‑sided tape inside the rims, then pulled "future board" into place to seal off the openings. Down on the bimini, Amanda marked off the edges of the non‑skid so that the AME team would know where to spray and not spray. We had to stop Baw from putting blue tape along the lines. Turns out that Mike and his team prefer to spray over the needed areas, and not have a sharp delineation which would leave a ridge to be sanded off later.

Lek, Baw & Jack protecting our mast & spars from overspray
Baw and Lek took long rolls of woven white plastic and covered our mast, boom and forebeam. Then with cling wrap they protected the beautiful side of the Portuguese catamaran behind us and the little day‑sailer just off our bows. It is so important not to get gelcoat overspray on the acrylic windows. Solvents might take it off, but it ruins the acrylic, and razor blades scratch it. Better to do 10 minutes of masking, than hours of work or hundreds of dollars of damage control!
Mike and his team of 4 from AME arrived about 10 and set up their work space under Ocelot where they could mix gelcoat and support Mike and Lee in their spraying. Two of the guys put cling wrap on the black catamaran to our starboard side. With the NE monsoon in full swing we would not expect to get a breeze or overspray heading for the black cat, but unexpected gusts can come from anywhere. The AME team then did a final sanding check on the top of the bimini, sent Sue and Amanda for 91 octane gasohol for the compressor, and got ready to spray.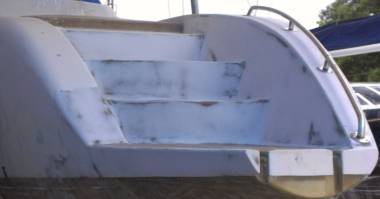 Luck's men finished tacking together the starboard grab-rail
Then we had the unexpected arrival of the stainless steel workers from Luck Engineering. Their sole remaining job for us is to finish the two handrails on the new sugar‑scoops. We would have preferred to have them do their fitting and welding on another day, but it's difficult enough to get them out here, so we welcomed them. Talk about a crazy day at the boat! Two men from Luck, Mike and 4 from AME, Baw and Houa, plus E‑U's team of 5! Oh, and the 3 of us!
The guys from Luck got the starboard handrail bent and set in place, although it still has a bit of a dip at the second foot, which they can work out later when they return to do the final fitting. In the afternoon they worked on port, and still have more work to do. Luckily, our gelcoating work all took place at the bow of Ocelot, downwind of where they had to work.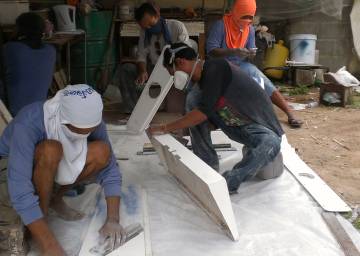 Our men sanding hatches, covers etc in Houa's workshop
The AME guys were very careful with the gelcoat. After stirring the big 5 gallon (20 liter) container, they filtered the gelcoat through a fine mesh. Each batch was carefully weighed on a small scale, and the MEKP catalyst was measured with a syringe to get the ratios exactly right for a 15 minute working time. And the MEKP was added to the pot on the spray gun and mixed there, to maximize working time. We made sure that Baw watched their procedures, which are much more professional than the normal procedures around the Coconuts boatyard. Hopefully he learned something.
Once AME's team started to spray the bimini, our own guys moved over to Houa's workshop, upwind of the spraying. They spread out on the tables and on a cloth on the ground to sand the several loose items like the louvers and hatches that will be gelcoated in the future. Some filler was added to cracks and corners and gouges, and lots of dust was created. We had worried about how to keep them all busy while the spraying was going on, but they were quite happy with their Thai music blaring and lots of companionable chatting while they worked.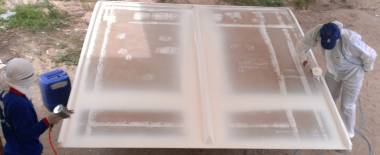 Lee and Mike spraying Ocelot White gelcoat on top of the bimini
The morning spraying of the top of the bimini started out with some awkward moments when Mike tested his new 4mm spray gun, and the water trap cracked. We offered "ours" (the one on Golf's compressor, which we've now commandeered) only to find it was not well cleaned and had lots of oily residue in it. - typical of the low maintenance that most of the gear gets. That could explain the mottling in our Thai gelcoat spray last week. Jon dashed off to the local hardware store and found a new water trap for $25, so we had 2 operating hoses we could use.
Finally the spraying began, and we got to see our first example of "Ocelot White" on a big surface. Mike and Lee sprayed the rims of the bimini, but not the middle, as that's where the non‑skid will go. We had a few moments of panic when the compressor cut off suddenly and we were unable to get it started again. Meanwhile the gelcoat was hardening, and the guns needed cleaning or they would have to be thrown away - an expensive proposition. Jon saved the day by calling in E‑U who got the compressor going in time to save the spray guns, but not in time to get a second coat put on the first coat in a wet‑on‑wet spraying. Not what we hoped for, but not the end of the world. It just means that tomorrow morning the guys will have to hand sand the gelcoat to rough it up for another coat.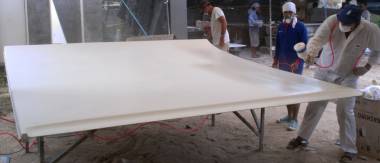 Mike spraying the bottom of the bimini in the afternoon
After a planned 2‑hour break to let the gelcoat harden, Mike and his team returned to flip over the bimini to spray the bottom side. Unfortunately the weather had other ideas, and we got a pretty steady dripping light rain. But with no wind, it meant we could just move the bimini farther under Ocelot's tent and carry on. Jon arranged to borrow a compressor from cruising friends until a mechanic could sort ours out. With the water traps, spray guns and compressor problems solved, the afternoon spraying went really well. While Jon tended the compressor (adjusting the pressure build‑up) Mike and Lee went at it with 2 guns, spraying on 2+ coats in about 45 minutes. Sue and Amanda, perched on the foredeck of Ocelot, watched the white bimini (previously sprayed with Thai gelcoat) turn into the lovely warm cream colored "Ocelot White". Woot! What a great day!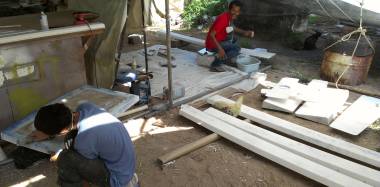 A smiling Baw in the workshop with several bits to be sanded
Friday, January 4:
A sunny day, and highest hopes for a repeat of yesterday's good work.
Amanda and Sue lead Team Ocelot today, commandeering Scooter and leaving Jon to walk in the hot sun. They had to pick up sandpaper and water and acetone on the way in, though. We knew the AME team would be coming about 10am, so the question was, "What to do before that?"
Baw immediately settled into the work shed area and arranged shade so that he and the others could work in comfort on the numerous hatches and louvers that still need sanding. There was someone in that workspace for most of the day, so it must have been cool enough.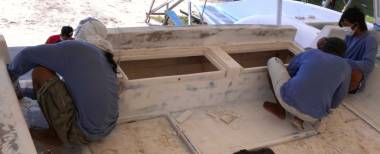 Lek, Yoong & Bank sanding vertical surfaces in the cockpit
Chai examined the starboard sugar‑scoop top wall and used a long stick to determine just where it was still flat or low. Sue and Amanda put in their 2 cents as well, and he got some spatula's of polyester filler splabbed on and even sanded a bit before the AME team arrived.
Lek, Bank, and Yoong worked on the vertical surfaces of the cockpit that still need tending. It has certainly brought home just how much of Ocelot we ripped apart and rebuilt. Once the AME team arrived, all our guys climbed off Ocelot and into the shade of the work shed where they started working once again on the miscellaneous small bits.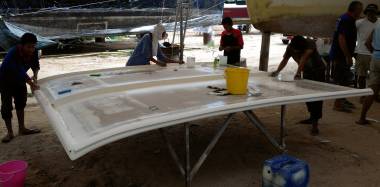 Sanding yesterdays bimini gelcoat so we can spray more
Mike and his AME team split up in the morning. We flipped the bimini over so it was right side up again, and 2 guys worked on sanding the top of the bimini, which had only gotten one coat of gelcoat put on yesterday before the compressor whacked out. That coat had to be roughed up with sandpaper until it was no longer shiny so the new layer of gelcoat would stick. When Amanda and Sue took turns asking for some of our guys to join the AME team in sanding, only Lek volunteered. We had to ask others to join in, so finally we had Lek and Nut and 2 AME guys. But it just wasn't enough man‑power to finish the sanding sufficiently to either put on more filler where needed, or be ready to spray on the next full layer of gelcoat.
The other 2 guys from AME went over the targa‑bar in clinical detail, sanding a bit here and adding a bit of filler there until it was smooth enough to spray. It took an hour to spread out plastic and woven sheeting to mask off the cockpit before we could spray the targa‑bar. It was a breezy morning, and that made it more difficult to control the huge sheets of plastic. We sent a few of our guys over to the Portuguese boat off our stern to replace the plastic sheeting we'd put up yesterday, even though the wind would blow any overspray away from them. You never can tell when the wind might shift.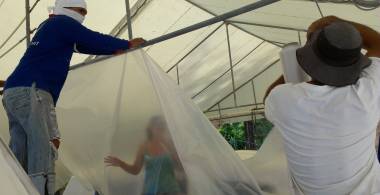 Masking the cockpit from overspray with sheets of plastic
At lunchtime we got caught up in yard politics, and were told that the yard owners didn't want us using the compressor owned by our cruising friends! They want to control how we interact with our friends, even though the yard's own compressor was busy and we couldn't use it! It really helps to know that some things just don't go smoothly. In the end, we used our friends compressor, paid a rental fee of $3/hr to the yard (not to our friends, although they're supposed to get 50% from the yard) and everyone seemed happy.
Further to the compressor saga, Jon scootered up the road and brought back the motorcycle repair guy and his side‑kick, who spent a few hours sorting out "our" compressor. It would sure be nice to just pull‑start it and have it hum away when needed, and by the end of the day our compressor seemed to be working again. Our fall‑back plan is for Mike to bring down the AME compressor from their Boat Lagoon workshop, but this would be a big hassle, as it requires a truck to bring it down (and they need it at their shop to make our antiskid).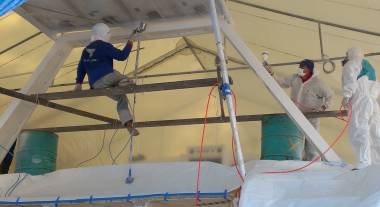 Lee and Mike spraying gelcoat on the targa-bar
After lunch Mike and Lee suited up in Tyvek and masks and attacked the targa bar with 2 spray guns and our lovely "Ocelot White" gelcoat. Jon manned the compressor settings down below, and the other AME guys kept up a running supply of gelcoat and catalyst for the sprayers. 45 minutes later we had 2+ beautiful coats of gelcoat on the targa bar!
Meanwhile, down on the ground in front of Ocelot, Sue and Amanda led Bank and Nut in their sanding efforts. We had to demonstrate finger‑sanding, and chivvy them along, encouraging them to sand harder and more diligently. It worked pretty well, because before the targa bar team was done we were ready to have Jack put on a "nit noi" (thin) layer of filler over the areas that will be "gutters" between the non‑skid. As soon as we called Jack over to put on filler, we had a team of Baw and Lek and Jack all checking the bimini and seeking out pinholes and cracks and places that needed filler. So the day ended with enthusiastic work on the bimini.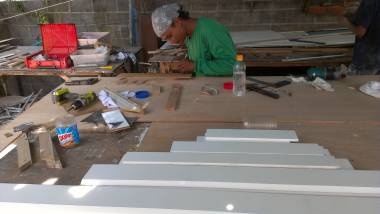 Our wonderful (plastic) wood-master, working in his shop
Houa put in a long hot day inside Ocelot, vacuuming and washing the heads and cabins of all the months of accumulated fiberglass dust from the deck reconstruction. Poor guy. At 5pm he handed down a huge black bag of shavings and fiberglass dust, and was definitely complaining of itchy skin. Tomorrow he will attack port side and do the same. This is all in preparation to install the new panels that he's been making for the past few days in the 4 heads. It will be very wonderful to finally feel that we can go below on Ocelot and get a sense of being, once again, inside our beloved sailing‑home!
Saturday, January 5:
Sunny day, but not so sunny dispositions.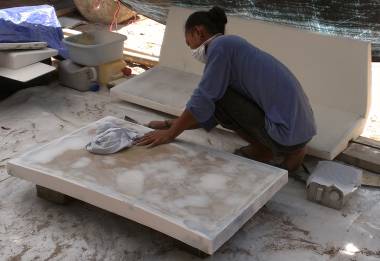 Jack working on an engine hatch and the helm seat
Okay, how to not sound depressed. People problems once again. We never saw Lek today, and Chai left in a huff this morning. They (and apparently several others) had felt bossed around by the AME team yesterday. Cris/Num, the yard manager, apparently talked to our workers after we left this evening, discussing things over beer and sodas that we'd provided as an End of the Week treat.
But the whole thing smacks us as pretty childish. If we have to we can let the AME team work alone on the deck and gelcoat project, letting our yard guys either work on other projects or not bother to come in to work on those days.
We arrived just before Nut and Bank, who immediately got working on the bimini top which had received only 1 of its 2 coats of new gelcoat. To our dismay, the guys had not put on a layer of polyester filler where the gutters will go (we needed those strips smoothed out), but instead had used our new Ocelot gelcoat, spatula‑ed on. And they had only done 3 of the 4 places we requested. Amanda carried the new gelcoat to our locked storage room immediately, so that it wasn't there for temptation. After that, a very awkward Thai/English conversation took place in which we were assured that putting on polyester filler was what had caused the pinholes to appear in the new gelcoat. Hello? Isn't that the stuff they've been putting all over the boat to go under the gelcoat?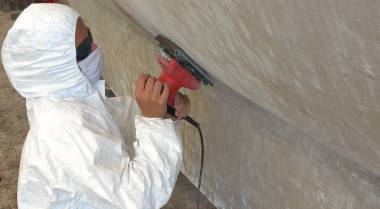 Amanda sanding the hull in her protective bunny-suit
The problem is that there's quite an art to mixing filler. You have to get it wet enough for your particular application, but you don't want it to sag. The classic way is to mix micro‑balloons with the resin, and then add about 20% silica (Cabosil) to prevent the micro‑balloons from rolling over each other and sagging, more if you're going onto a vertical surface. You can add more resin to get a soupier consistency, but if you have to add more powder to get a dryer mix you have to do it in the right proportions. And for polyester, only 1% MEKP catalyst should be added at the last moment. Also, the guys like to add filler to gelcoat, which already has filler in it. Adding filler to gelcoat tends to make it porous, which we don't want at this stage.
But even though most of our guys have been mixing filler for several years, this is all more scientific than they can grasp. They've been adding filler to gelcoat for ages, without realizing the implications. Our guys NEVER measure the MEKP - they just sprinkle a few drops on top of their mixture. And many of them don't want to learn. They think they know all they need to and don't want to change their ways. And we don't speak enough Thai to encourage them in the diplomatic way necessary, so what we say sometimes sounds like irrational orders, which nobody likes.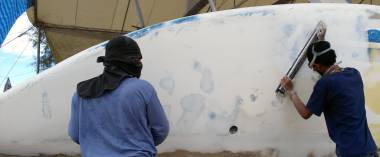 Yoong and Baw working on the starboard sugar-scoop
But some work did get done. Houa moved ahead with the head project, and we're hoping to see a lot of newly mounted plastic‑board on Monday.
Baw and Yoong took over the shaping of the exterior of the starboard sugar‑scoop, the one Chai had been working on. There's a lot of filler going on out there, and we are about to call it "good enough" and ask them to stop. But they have a lot of pride in their work, and it could be bad form to stop them. We certainly don't want to squelch their pride in their work.
Jack settled in under the work‑shed awning all day, working mostly on the engine hatches, which need lots of TLC since they had their teak taken off, had foam inserted where the teak was, and were then fiberglass wrapped.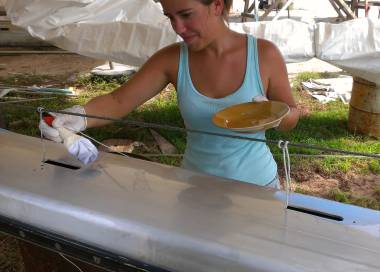 Amanda applying Nyalic to the mast with her make-shift brush
Amanda grabbed an orbital sander and climbed into her bunny suit to attack some more fiberglass patches on the hull, below the waterline. The centerline and the bows still need work, but she got most other areas, including the big patch back where the whale whomped us in the Mozambique Channel. Sue took out her frustrations by hand‑sanding both fo'c's'le hatch rims. These were sort of ignored in the big move to get the foredeck ready, and they needed several hours of sanding.
Tomorrow (Sunday) Sue and Amanda will hit the yard early for more mast work. If it's sunny we hope to get a second full coat of Nyalic on the whole length of the mast.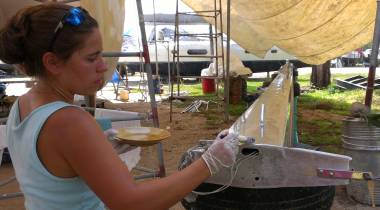 Amanda finishing applying Nyalic to the top of the mast
Sunday, January 6:
Happy Three Kings Day! We typically don't go into the yard on a Sunday - it's the only day we get off, and we find we really need that day of rest. But it's also the only day that there's no dust flying around from workers sanding, and that's what's needed for applying Nyalic to our mast and spars. So today Sue and Amanda went in to put a second (and final) coat of Nyalic on the top (starboard) side of the mast.
Since that whole side already has one coat, no sanding was necessary. Clean the mast with water, wait for it to dry, wipe it with methylated spirits (denatured alcohol), wait for that to dry, and apply the Nyalic. This time, instead of holding a lint‑free rag and applying by dipping the rag in a cup and wiping it on the mast, they wrapped some lint‑free cloth around a paintbrush and used that. This meant no gloves to disintegrate and a cleaner overall experience. It gave us a thicker film, perhaps twice as thick as with just a rag, but not as thick as a regular brush would have done, and no bristles falling out either (a chronic problem with Thai brushes).
After an hour of preparation and another hour of application, they had applied a second coat to the entire side of the mast. We could then all meet at our favorite bakery for our celebratory Sunday Brunch! Start the Weekend!
Thai Refit: Next | Up | Previous | 122 Launch! | 121 Final Frenzy | 120 Mast & Boom | 119 Polish & Wax | 118 Mount Cleats | 117 Furnish Cockpit | 116 Bimini Legs | 115 Stern Jewelry | 114 Start Headliners | 113 Cockpit Hatches | 112 Decks Washed | 111 Tomcat Painted | 110 Gelcoat Salon | 109 Diamonds On | 108 Foredeck | 107 Anchor Platform | 106 Prepare Mast | 105 Mount Forebeam | 104 Worker Walkout | 103 Bimini Up! | 102 Spray Bimini | 101 Spray Forebeam | 100 Sanding Deck | 99 Spray Port Deck | 98 Spray Stbd Deck | 97 Cabin-top Gelcoat | 96 Start Deck Gelcoat | 95 More Varnishing | 94 More Varnishing | 93 Varnishing | 92 Finish Nonskid | 91 Epoxy Hulls | 90 Broken Finger | 89 Teak & Varnish | 88 Varnishing Started | 87 Start Cockpit Teak | 86 Bow & Stern Molds | 85 Laying Nonskid | 84 Polishing Cockpit | 83 Laying Nonskid | 82 Cockpit Gelcoat | 81 Finish Templates | 80 Spraying Gelcoat | 79 Rudder Tubes | 78 Cut Teak Blocks | 77 Start Templates | 76 Teak Chain Lattice | 75 Shower Controls | 74 Chip Cabin Top | 73 Cockpit Drains | 72 Polish Bridgedeck | 71 Port Aft Cabin | 70 Spray Bridgedeck | 69 Spray Portside | 68 Rudder Bearings | 67 Spray Starboard | 66 Fair Starboard | 65 Bad Epoxy Filler | 64 Spray Foredeck | 63 Spray Deck Gutters | 62 Prep for Gelcoat | 61 Spray Targa-Bar
Ocelot Pages: Rebuild Decks | Extend Transoms | Cockpit Area | Below Waterline | Bimini | Spars | Deck Hardware | Exterior Lockers | Salon | Galley | Cabins | Heads | Interior Floors | Electrical | Maintenance | Weekly Logs 2012 | Weekly Logs 2013
Top Level: Home | Destinations | Cruising Info | Underwater | Boat Guests | Ocelot | Sue | Jon | Amanda | Chris | Site Map | Make a Comment
---
Lifetime
Commodores
of the
Seven Seas
Cruising
Association

If our information is useful,
you can help by making a donation
Copyright © 2000‑ Contact: Jon and Sue Hacking -- HackingFamily.com, svOcelot.com. All rights reserved.