Dancing & Diving
2 Sept 2006, Komodo National Park, Indonesia
Dear Friends and Family,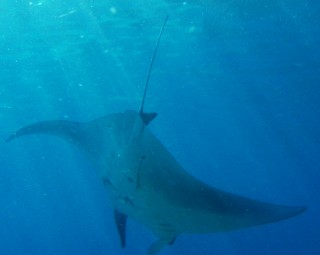 We were able to swim with the manta rays
We're currently anchored off the north end of Komodo Island in 20 feet (6m) of crystal clear water over fields of vibrant coral. If you want to have a look with Google-Earth, we're at 8°26.9'S 119°34.1'E. It's so nice to be in clear water again and the snorkeling is superb. In the afternoons a flight of about 3 manta rays often come into the anchorage to play. When we jump in to watch them they're so intent on feeding that they more-or-less ignore us.
In the evenings the cruising boats often get together for pot-luck dinners, sing-alongs, or just quiet conversations - discussing the joys of the previous day and planning what we want to do tomorrow. Since we have a great cockpit for such things, these get-togethers are on Ocelot as often as not. At night we can see no lights ashore - just the Milky Way, the silvery moon, and perhaps the anchor lights of cruising friends.
This area also has excellent scuba-diving and recently we dove on a pair of underwater sea-mounts called Castle Rock and Crystal Rock. On both dives we swam down to about 70 feet (20m) to find ourselves in clouds of fish - schools and schools of different types, all intermingling and some quite large. We'd never seen a whole school of Moorish-Idols before. There were so many fish that when we tried to photograph a specific fish, another would often get in the way! We saw huge plate-corals almost 14 feet (4m) across, Lion-fish with their long poisonous spines, giant sponges we could put our whole heads into, poisonous cone shells, Tiger Cowries, sea-anemones with their attendant Nemo-esque anemone-fish, giant sea-fans, and vast fields of colorful soft corals.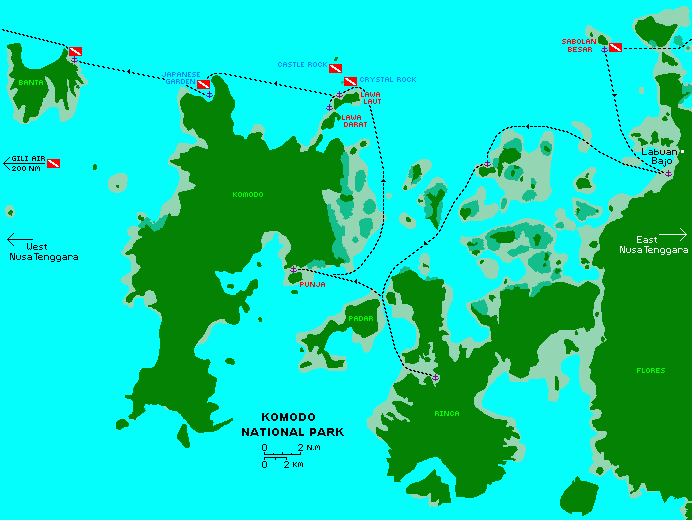 Our track through Komodo National Park. Click on a dive-flag to go to our description of that dive.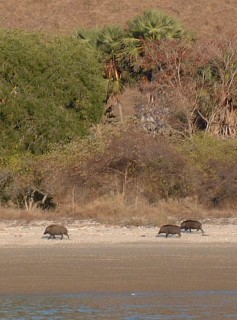 Wild pigs were abundant on
Rinca and Komodo
Komodo National Park covers several nearby islands and is a wildlife sanctuary, despite some fishing villages. On our hikes and dinghy explorations we've seen macaque monkeys fossicking on the beach, Sunda deer with nice antlers bounding through the underbrush, water buffaloes, lots of wild pigs, and even wild horses. Overhead we've seen Brahminy Kites and White-Bellied Sea Eagles diving on fish with their talons extended.
Komodo National Park is, of course, home to the famous Komodo Dragons. These giant carnivorous monitor lizards can grow to 14 feet (4m). They're not poisonous per-se, but their mouth bacteria is often fatal if untreated. A pack of dragons will occasionally attack a water-buffalo, skeletonizing it in only a few hours, but the ones we've seen have been more docile, content to just get out of our way. Even so, we carry big sticks when we're out hiking.
For the past couple weeks we've been sailing slowly west along the north coast of 200-mile long Flores Island, with its many volcanoes, few roads or towns, but many small fishing and farming villages. Flores is predominantly Christian but many villages have both mosques and churches. The people have been wonderfully friendly.

Kids from a village on Flores gather to see us off
In the town of Riung we enjoyed three days of Rally events: delightful dances performed every night (not just for the cruisers, but for the townspeople, too) with dancers coming from up to 12 hours away to perform. Their hand-woven "ikat" costumes were amazingly complex and colorful. We cruisers were honored with gifts of ikat weavings and flowers, then a huge feast of elaborately prepared and presented local foods before the dancing started. This was the first place we saw the traditional bamboo dancing, where dancers jump between bamboo poles at neck and ankle level, and then jump out again just before the poles crash together. From Riung we also took a long day trip into the interior past small farming villages with their rice-paddies and water buffaloes, having lunch at a nice restaurant ($10 for the 3 of us with beer and sodas), climbing a volcano that erupted in 2001, visiting a very traditional animistic village where buffaloes and pigs are sacrificed, and dinner back in town before the long and somewhat hair-raising ride back to the coast (in the dark, down what should really only be a 1 lane road).
Fair winds and calm seas -- Jon, Sue and Amanda Hacking
Indonesia Letters: Up | Triton Bay 2017 | Baliem Valley | Raja Ampat & Kofiau | Through South Indo | Yacht Wreck! | To Dili, East Timor | Triton Bay 2015 | Whale Sharks! | Banda | Ambon | Raja to Balbulol | Xmas in Raja Ampat | Raja Underwater | Raja Ampat | Crossing the Equator | Arrive Raja Ampat | To Morotai | To Sulawesi | Jungles of Borneo | Beautiful Bali | Dancing & Diving | Venting Volcanos | Indonesia Arrival | 24 July 06 | 22 July 06
Related Pages: Indonesia Home | Diving Indonesia | Cruising N&E Indo | Cruising S&W Indo | Indonesia Letters | SE Asia Flora/Fauna
Indian Ocean: Laos Letters | Vietnam Letters | India Letters | Nepal Letters | Indonesia Letters | Malaysia Letters | Thailand Letters | Sri Lanka Letters | Maldives Letters | Chagos Letters | Seychelles Letters | Madagascar Letters | Mayotte Letters | Africa Letters
Top Level: Home | Destinations | Cruising Info | Underwater | Boat Guests | Ocelot | Sue | Jon | Amanda | Chris | Site Map | Make a Comment
---
Lifetime
Commodores
of the
Seven Seas
Cruising
Association

If our information is useful,
you can help by making a donation
Copyright © 2000‑ Contact: Jon and Sue Hacking -- HackingFamily.com, svOcelot.com. All rights reserved.